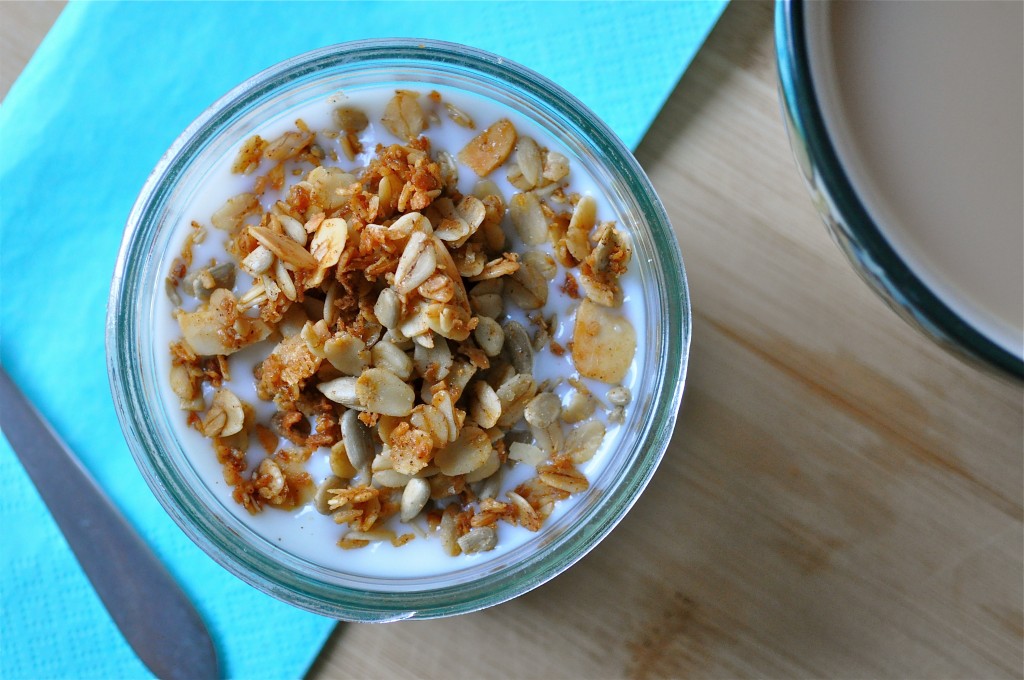 So…I may have overdone it this weekend. You know, with the whole eating thing. One word: bruleedlemontartbananacreampiehotcrossbunscarrotcakechocolatejellybeans. Please tell me that your weekend was like this too.
It was?! Excellent! I have the perfect recipe to help you get back on track.
After every holiday, I find myself itching to get back on the healthy eating wagon. Let's face it – every holiday is practically an excuse to stuff your face with All. The. Things. At least, it is for me. And I've discovered that when I start my day with a healthy breakfast, I am much more inclined to keep eating healthy throughout the day. Likewise, if I start the day off with something unhealthy, or unfulfilling, then my habits throughout the rest of the day tend to snowball into something less than pretty. Funny how that works. I know I haven't rubbed the following fact in your face for a while, but I'm going to Hawaii in a mere eight days.  And I intend to live in my bikini by the pool or beach for a large portion of my two week holiday. It's time to detox from Easter Feaster.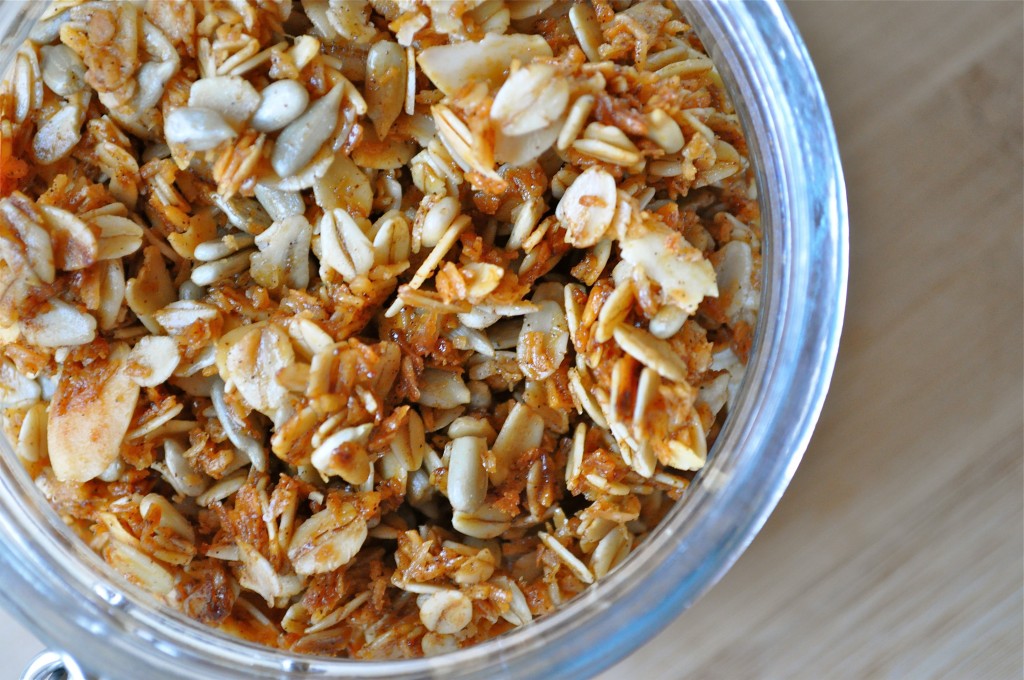 One of my absolute favorite breakfasts is granola with yogurt and fruit. And dudes, granola is darn easy to make yourself! In fact, you're likely to save yourself a bunch of fat, calories, and sugar when you make your own granola versus buying the packaged crap filled with ingredients that you can't pronounce. I have been making this granola for a couple of years now, and it was my go-to granola recipe…until I came across the recipe you see below. I have been using coconut oil more often in my baking and couldn't wait to try using it in granola.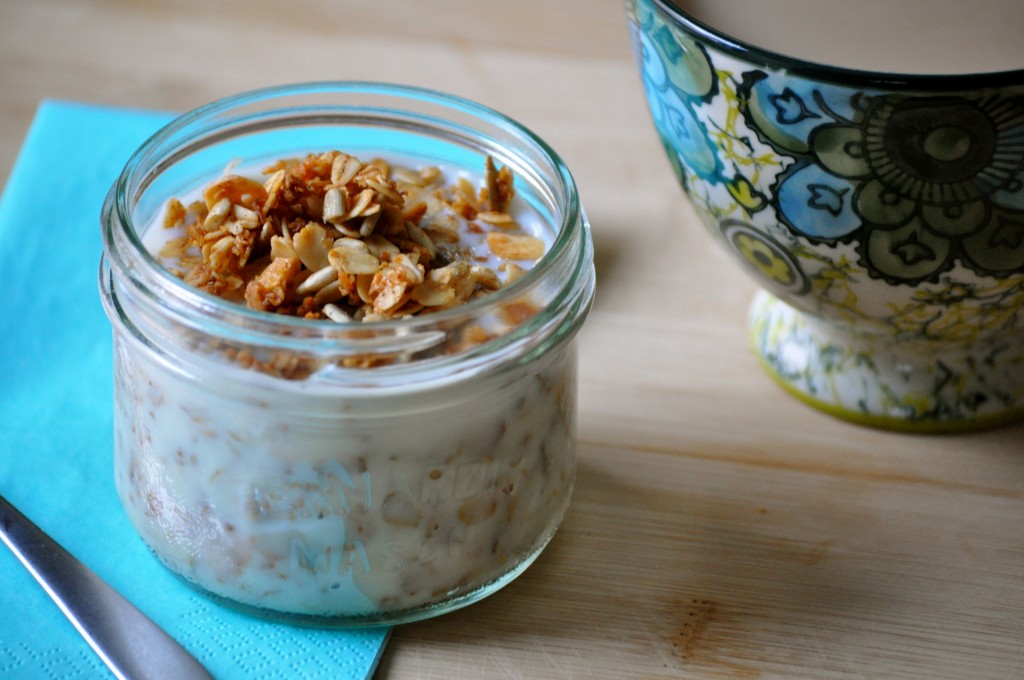 Furthermore, the recipe comes highly recommended by two ladies that I trust when it comes to all things food. Why? Because they just know what's up. If you haven't already visited Megan or Cindy, get on it, STAT. I have never been disappointed by a recipe shared by either one of these lovelies, and this granola was no exception.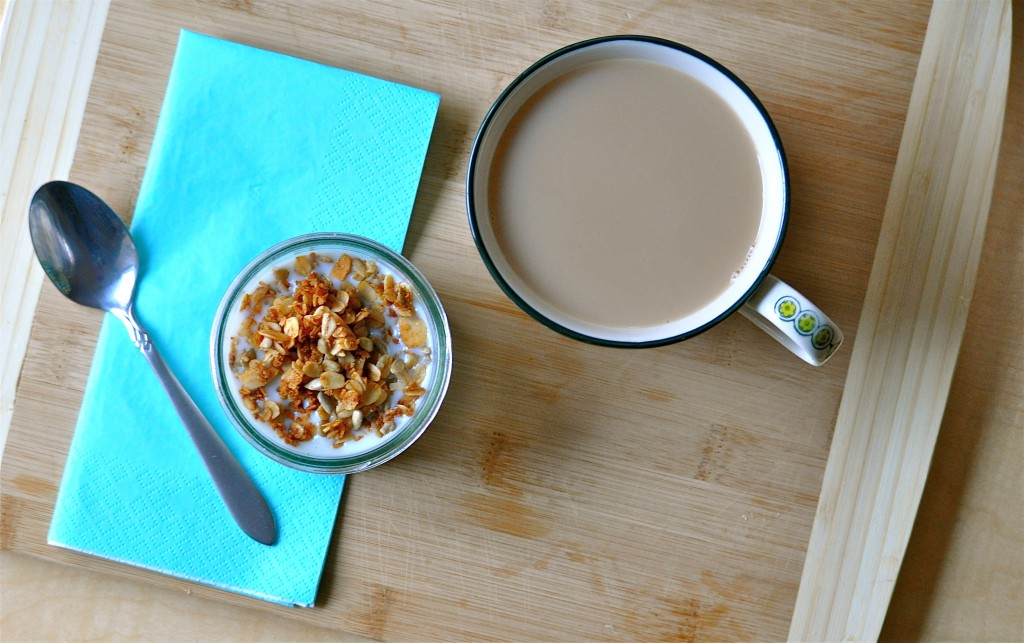 It is such a simple recipe, yet it packs so much flavor and crunch. Oh, the crunch! I seriously could not stop eating it by the handful the first time I made it. The coconut oil imparts a nice flavor, yet isn't overpowering. Don't take my word for it, try it for yourself! Jump aboard the healthy granola train!
Coconut Oil Granola (slightly adapted from Take a Megabite, which was adapted from Hungry Girl Por Vida)
3 cups oats
2/3 cup sliced almonds
2/3 cup sunflower seeds
1 cup shredded unsweetened coconut
1/4 tsp. salt
1 tsp. cinnamon
1/2 tsp. ground cardamom
A pinch of nutmeg
1/2 cup coconut oil
1/4 cup honey
1/4 cup brown sugar
1 tsp. vanilla
1 cup dried fruit (optional)
Preheat your oven to 325°F. Line a large baking sheet with parchment paper.
In a large bowl, stir together the oats, almonds, sunflower seeds, coconut, salt, and spices. In a small saucepan over medium heat, melt the coconut oil with the honey, brown sugar, and vanilla. Pour over the oat mixture and stir to evenly coat.
Spread the mixture out evenly on the prepared baking sheet. Bake for 15 minutes. Stir and continue to bake at 10 minute intervals until golden brown. (Mine took 15 extra minutes).
Megan and Cindy suggest adding one cup of dried fruit after baking, if desired. I added dried cranberries and chopped dried apricots the first time I made this recipe, and it was delicious. Serve your granola with milk, over greek yogurt with fruit, or from hand to mouth. It will be pretty much impossible not to do the latter.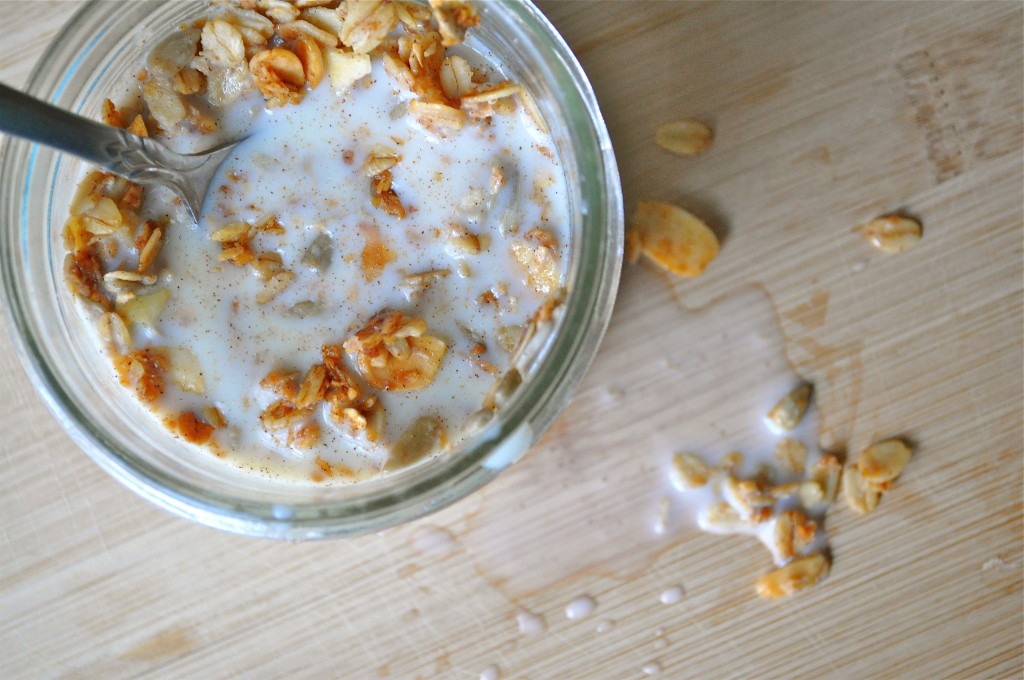 Sometimes I eat as though I was raised in a barn. So sue me.