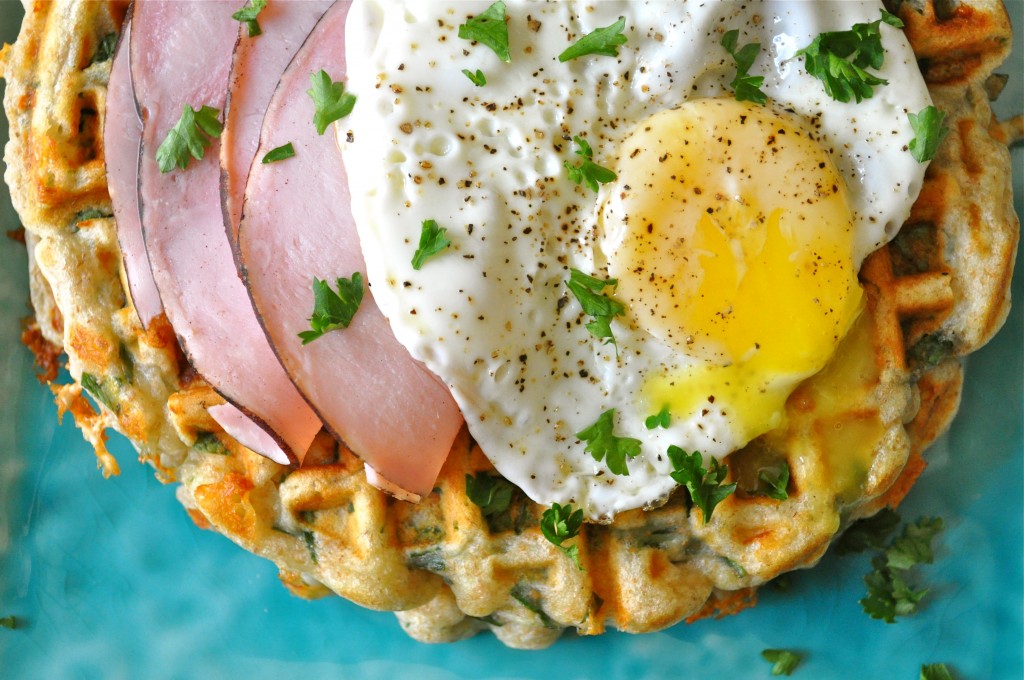 Friends, I am reeeeeeeally struggling to write this post. I mean, look at that pile of breakfast heaven right up there. It has everything. Carbs, cheese, meat, an egg. I am currently finishing up day 1 of a 3-day juice cleanse. The almond milk beverage that is my last "meal" of the day tastes much less like a milkshake than I'd worked it up to be in my mind. Yes, that's right, give me a day of drinking vegetables and fruit and to my ears almond milk sounds like a straight-up milkshake. (Sadly, it doesn't taste like one, not even after a day of juice).
And thus, editing these photos was a test in restraint and willpower.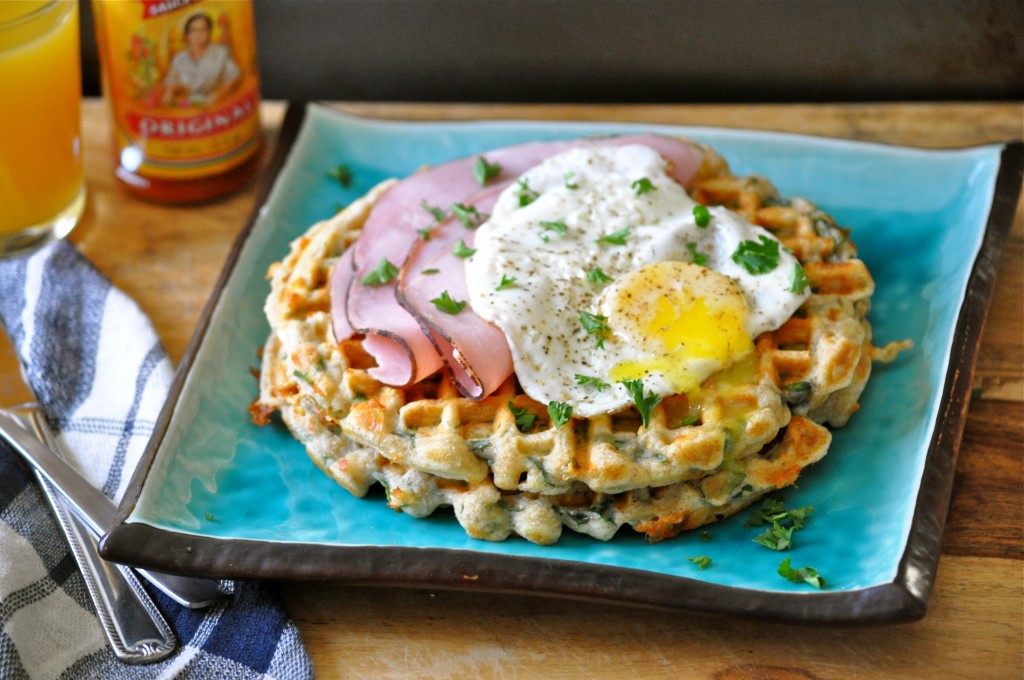 These waffles are of the savory variety. And they are freaking delicious. Don't run away, allow me to explain!
These waffles are packed with whole wheat flour and spinach. But I promise they don't taste healthy! They crisp up all nice on the outside, but have such a tender interior. And that tender interior is made even more delicious by little pockets of cheese, some of which hit the waffle iron directly and get all crispy too. The first time I made these waffles, I enjoyed them straight off the iron, while still hot and crisp. I burnt my fingers and my mouth, and the pain was completely worth it.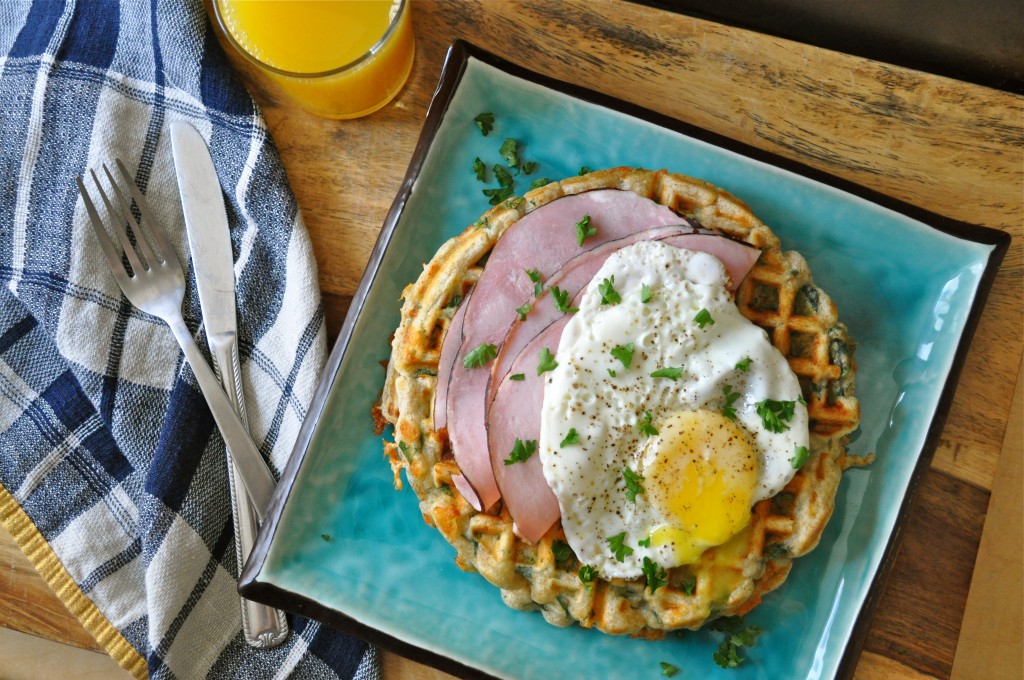 But the second time around, I topped the waffles with a couple slices of black forest ham and a fried egg. Now we're talking! Eating the waffles this way also forced me to use cutlery, which was perhaps a blessing in itself. I'm a lady, I swear.
Do not fear this savory waffle concept! Breakfast, brunch, brinner, a snack – whatever tickles your fancy. Get into it!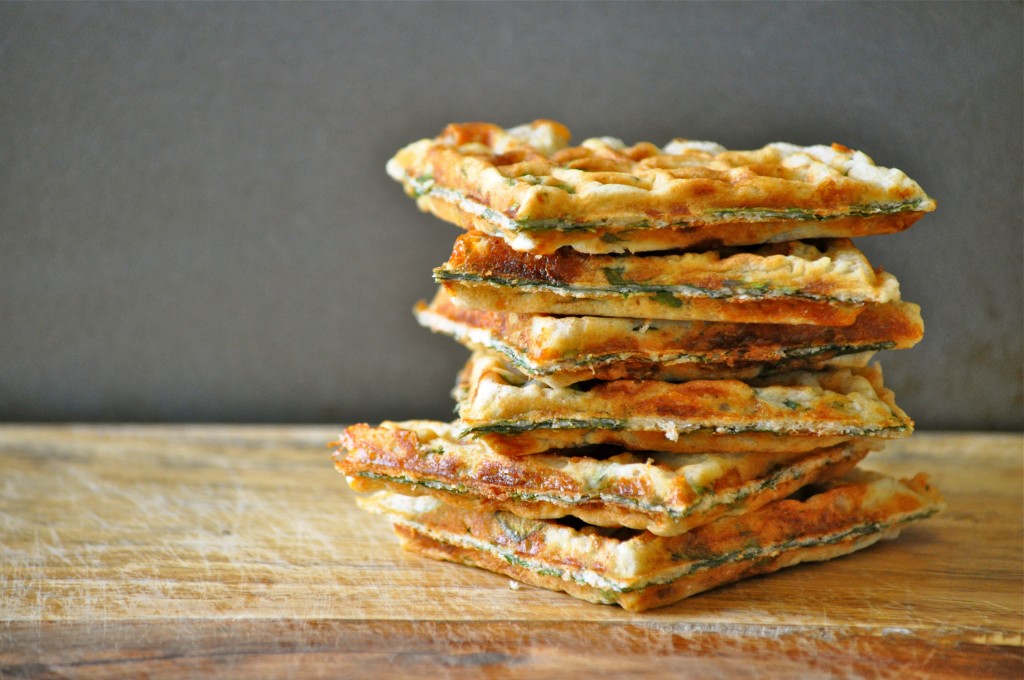 Savory Spinach & Cheese Waffles (slightly adapted from The Mrs. Writes)
This recipe will yield about 6 large waffles, depending on the size of your waffle iron. If you're serving the waffles with toppings, one waffle is probably an adequate serving for the average person. However, if you're serving them on their own, plan for two waffles per person (for hungry eaters). The recipe can easily be doubled, if needed. Feel free to experiment with different cheeses too, depending on what you have on hand. 
1 1/2 cups whole wheat flour
2 tsp. baking powder
1/2 tsp. sea salt
1 TBSP. sugar
1 egg, beaten
1 1/2 cups milk
1/3 cup vegetable oil
4 oz. Monterey Jack cheese, freshly grated
4 cups fresh spinach, chopped
Toppings (optional): black forest ham, a fried egg, avocado, salsa, hot sauce
Preheat your waffle iron. Again, the appropriate heat setting will vary for each different waffle iron (I used heat setting 4 out of 6).
Combine the flour, baking powder, salt, and sugar in a bowl and whisk to combine. In a separate bowl, combine the egg, milk, and oil. Add to the flour mixture and stir gently until the mixture comes together. Fold in the cheese and the spinach. Spray the hot waffle iron with non-stick cooking spray (between each waffle) and cook waffles according to your waffle iron's directions. Serve with your choice of toppings or straight off the iron. If you're cooking for a larger group, keep waffles warm in the oven as you go. But they do taste best hot and fresh! Leftovers also reheat very well in the toaster or in the oven.