Happy Sunday, friends!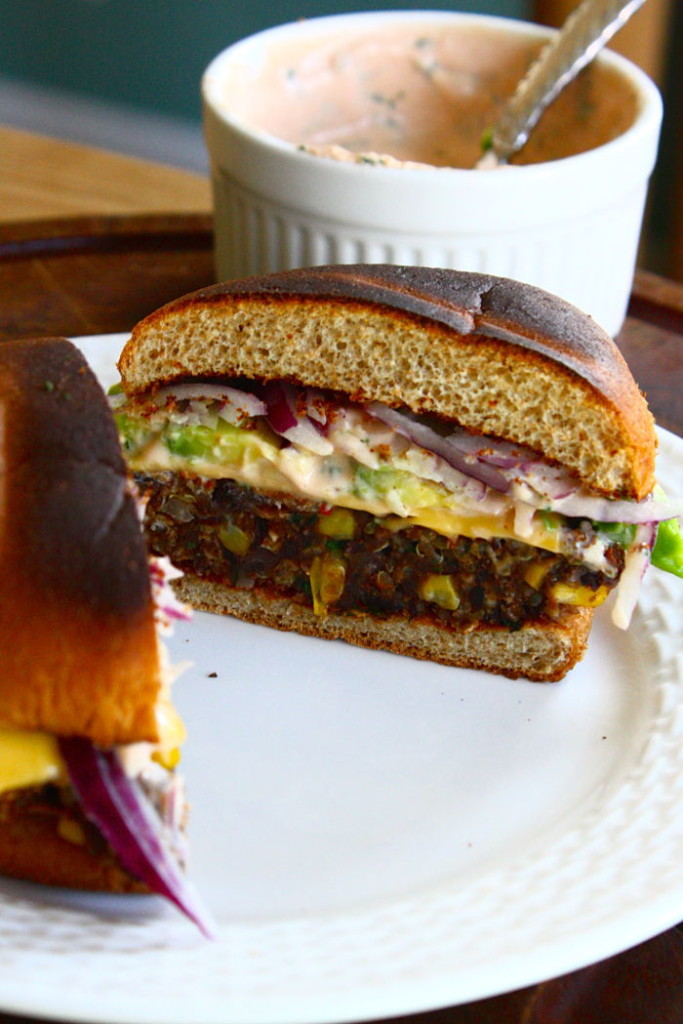 Black Bean, Quinoa & Sweet Potato Veggie Burgers c/o Feast on the Cheap
Several months ago – over five to be exact (it makes me cringe to say that) – I was featured over on Feast on the Cheap as part of Mariel and Mary Anne's Culinary Blog Tour. It was quite an honour to be chosen as one of these incredible ladies' top blogs to follow. Mariel and Mary Anne are a mother-daughter duo focused on the idea that "delicious, healthy, homemade food should be easy and accessible – and shouldn't require a massive bank account." They achieve this goal over and over again, as Mary Anne brings her catering skills to the table, and Mariel contributes "less expensive, space-conscious renditions that are easy enough for even a fledgling foodie." When visiting their site, be sure to check out the Cinnamon Streusel Baked French Toast, the One-Pot Chili Mac & Cheese, and the Pear, Pancetta & Gorgonzola Quiche with Toasted Walnuts. I have been following Feast on the Cheap since its early days and can also tell you that the Black Bean, Quinoa & Sweet Potato Veggie Burgers are not to be missed! A very belated thank you to Mariel and Mary Anne for the feature! My apologies for my extreme tardiness, but…better late than never?
Now it's time to pass the torch to three of my favourite Internet food stops! I read literally hundreds of food blogs, so it's very hard to choose, but here are three of my current loves.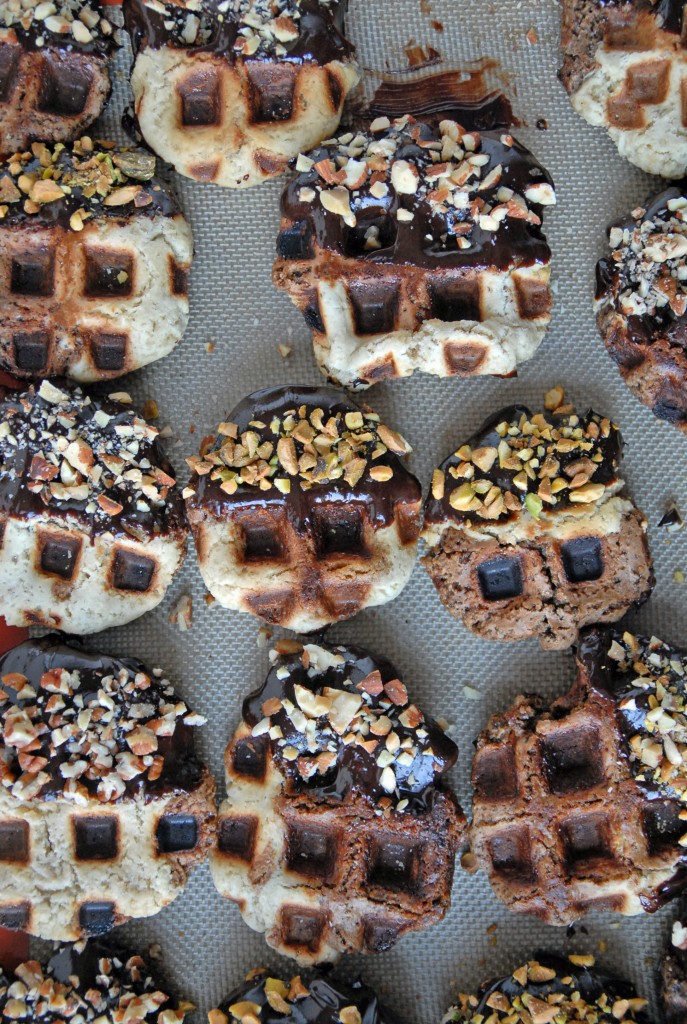 Chocolate Dipped Vanilla + Chocolate Waffle Cookies from The Frosted Vegan
1. The Frosted Vegan: Abby's blog is a recent find for me. Bless the powers of Instagram for connecting me to more beautiful food blogs! Abby focuses her culinary energy on showing "vegans and non-vegans alike that even if you are eating vegan or plant based, you can still enjoy a lovely and delicious dessert, without the hassle." Mission accomplished, Abby. From Chocolate Dipped Vanilla + Chocolate Waffle Cookies, to Loaded Baked Potato Pizza with Vegan Cheese Sauce and Bacon Bits, to Brown Sugar Banana and Toasted Almond Cinnamon Rolls, Abby will change your mind about vegan food altogether.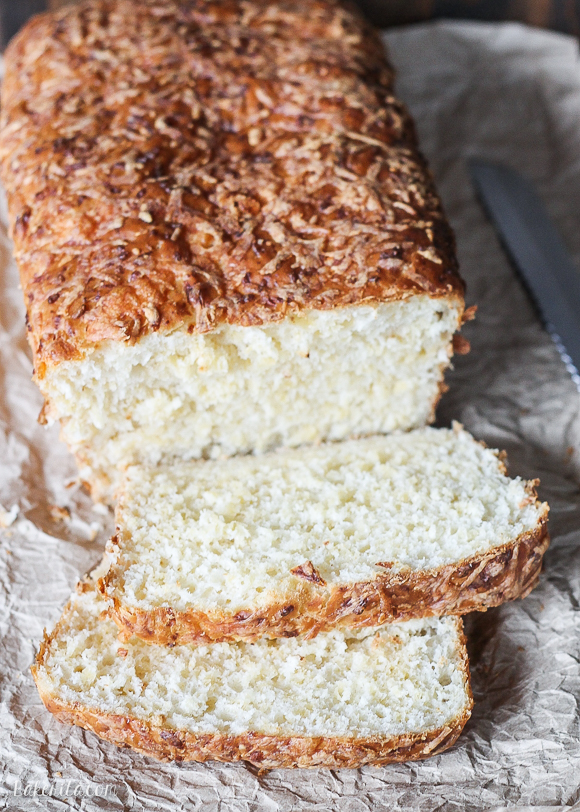 Cheesy English Muffin Bread from Bakerita
2. Bakerita: I've been swooning over Rachel's food photos for some time now. Rachel is a University student with "a major addiction to creating delicious, sweet treats." Umm, I'll say. Not only does Rachel have plenty of butter and sugar-laden recipes; she also has quite the selection of paleo, gluten-free, and vegan recipes that look and sound equally amazing. There are so many incredible recipes to choose from on Rachel's site, but her most recent posts for Pepperoni Pizza Pull Apart Bread, Raspberry Coconut Crumble Tart, and Cheesy English Muffin Bread have me wanting to drop whatever I'm doing and just bake.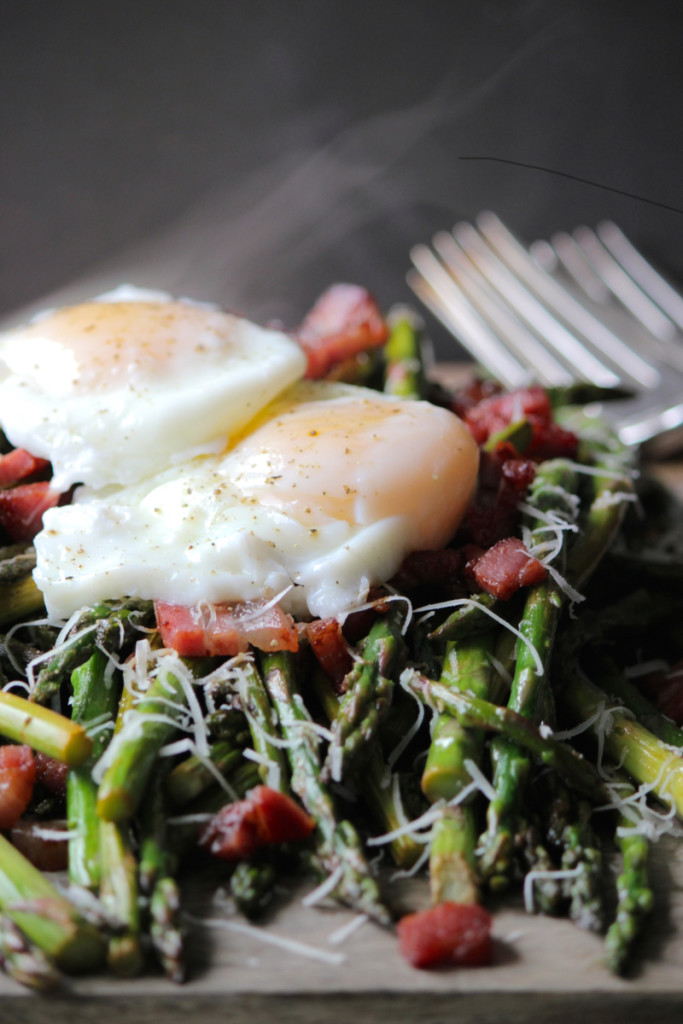 Beautiful Pan Asparagus & Perfect Poached Eggs from She Eats
3. She Eats: I would be remiss to have a culinary blog tour without making stop over at my homegirl Kristy's blog. Not only is Kristy a fellow Canadian, but she believes strongly in "eating & drinking organically local, regionally in season and when it comes to meat and dairy, pastured. CSAs and farmer's markets are brilliant and second only to growing our own food. Or at the very least, knowing someone who grows our food. Farmers really are the best kinds of people." Her writing is hilarious, her recipes are delicious, and she loves wine. A girl after my own heart, really. I encourage you to pop on over to Kristy's site and take a gander at the Grilled Salted Caramel Dark Chocolate Coffee Sandwiches (I mean, !!!), Savory Crepes with Broccolini, Mushrooms, and Ricotta, and Pan Asparagus & Perfect Poached Eggs.
Now I'm hungry.
What are your favourite blogs to read? Enjoy the day!