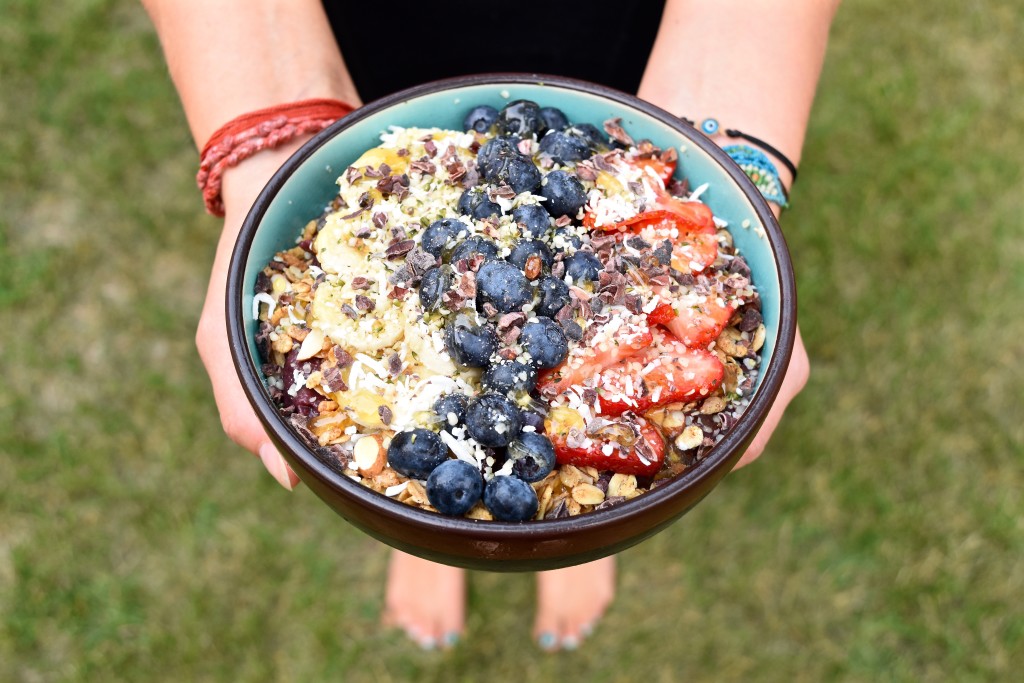 Oh friends, I have waited so long to share these açai bowls with you! Sadly a series of unfortunate events sabotaged my plans.
But first, allow me to start at the beginning. I first became obsessed with açai bowls during my trip to Maui this past February. And when I say obsessed, I mean eating-an-açai-bowl-every-day obsessed. Feeling-sad-when-the-açai-bowl-was-gone obsessed. Plotting-the-next-opportunity-to-eat-an-açai-bowl obsessed. You get the idea. My friend K and I searched the island for the best açai bowl available and when searching for the best, one must be committed, you know? Açai bowls run aplenty in Maui. I didn't taste one that I didn't enjoy, but if you ever find yourself in Maui and in search of a truly satisfying, delicious, and totally good-for-you breakfast, snack, or even dinner, please make your way to one of the Wow Wow Lemonade locations. They offer several different varieties of açai or pitaya (dragon fruit) bowls, all of which are amazing. Apparently their lemonade is bomb as well, but I was too busy eating açai bowls to drink any lemonade.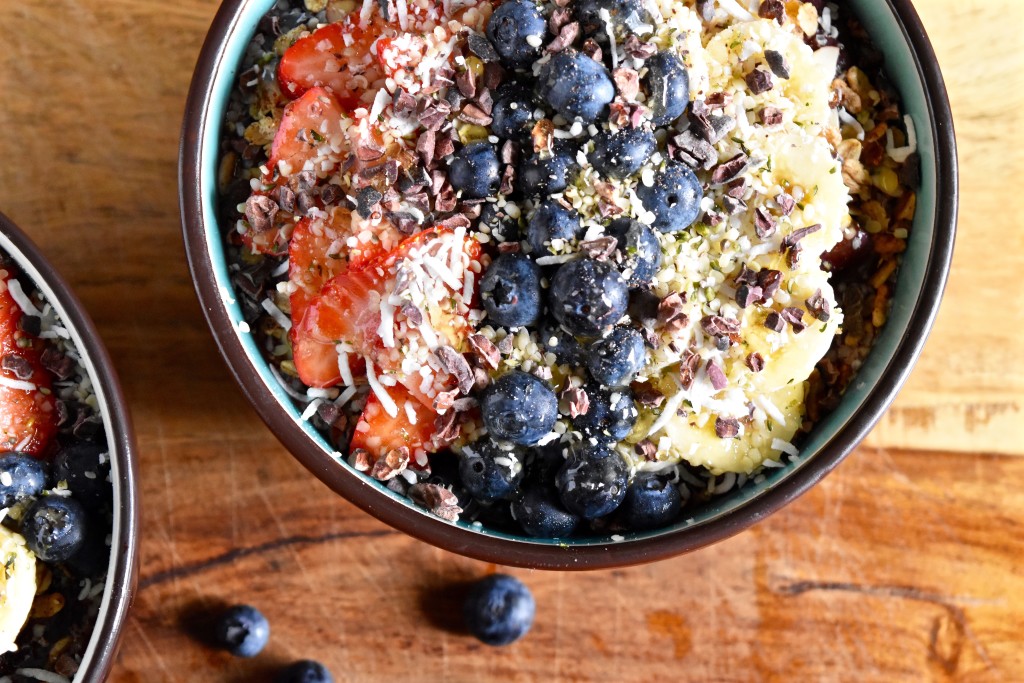 What is an açai bowl you ask? Well, an açai bowl is essentially a refreshing, naturally sweet and energizing smoothie bowl topped with fruit and granola and other delicious things. I like to think of it as the healthy cousin to the ice cream sundae. The base is generally comprised of a combination of açai purée and other frozen fruit. Then comes the granola, fresh fruit, and other toppings – and the possibilities here really are endless. Açai – pronounced "ah-sigh-ee" – berries are harvested from açai palm trees, which are native to the rainforests of South America. Açai berries are considered a superfood, and are full of antioxidants, fiber, and heart-healthy fats. They help to promote cardiovascular, digestive, and immune health. Boom! In North America, you can typically find açai berries in the form of puréed smoothie packs in the frozen section of organic grocery stores and health food stores. My favourite frozen açai smoothie packs, and the ones most available to me, are made by Sambazon, and they seem to be widely available throughout Canada and the US. Here in Edmonton, they can be found at places like Planet Organic and Earth's General Store. In the US, you can find them at Whole Foods. Açai juice and freeze-dried açai powder are other options, although I have not tried them myself. Açai bowls are not a cheap treat – most of the bowls we enjoyed in Maui were around the $12 mark – but you can make them at home for a fraction of the cost.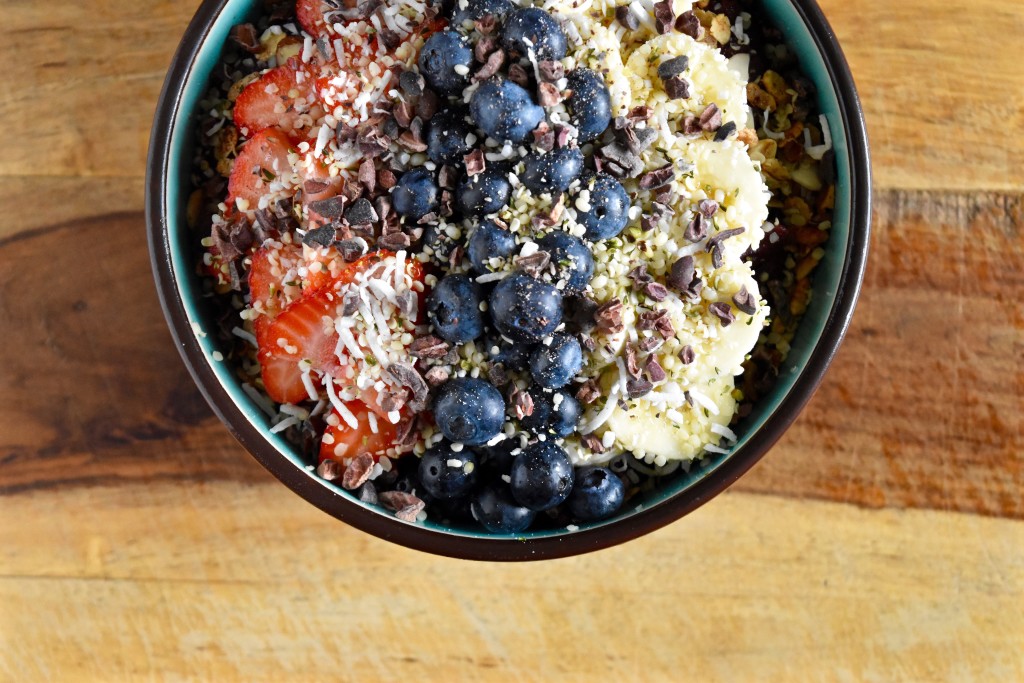 When we returned from Maui, K and I set out to perfect our recipe for homemade açai bowls. We have yet to find a spot in Edmonton that sells these bowls of goodness (if you know otherwise, pleeeeeeease let me know asap) so there was definitely some urgency to figuring out how to make them at home. The cravings were intense! After several trials, we figured out our perfect combination. One evening in March, we crafted our perfect bowl and I snapped some photos of the process. A few weeks later, my house was broken into and my laptop and camera (and all of my photos), among other things, were taken. PS. This is an ideal time to recommend routinely backing up your photos on an external hard drive, or via something like iCloud. Idiot me had not done a thorough back-up of my files for longer than I wish to admit, and many of my photos were lost to those punk criminals. It took me several months to replace my laptop and camera, and by that time, my previously mentioned blogging rut had set in.
But alas, K and I had another açai bowl night last week and now I can finally share this recipe with you. Hooray!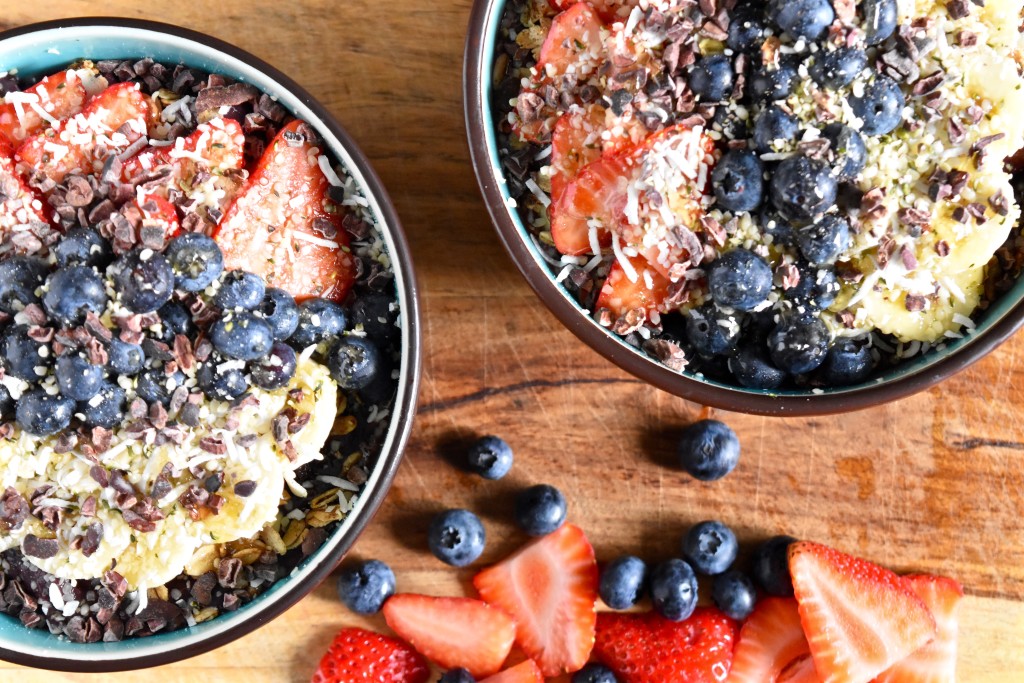 The possibilities for personalizing your açai bowl are limitless. You can change up the frozen fruit in the smoothie base, the fresh fruit you use, as well as the toppings. Next time I might try adding some greens to the smoothie base, like kale or spinach. A high speed blender works best for creating a nice thick smoothie base (aim for a sorbet consistency), but if you don't have a blender, I'm sure that a food processor would give you similar results. I added maca powder for an extra superfood boost, but it certainly is not essential to this recipe. Maca is also expensive and can be difficult to find, so don't sweat it if you can't get your hands on it. For the granola, use your favourite stuff – whether it be store-bought or homemade. Looking for an excellent granola recipe? Might I suggest coconut oil granola, cherry hazelnut granola, or an old favourite, appropriately called favourite granola?
Alright, enough talk. Let's make some açai bowls!
Homemade Açai Bowls
Makes 1 small bowl. Double the ingredients for a large bowl or for 2 servings. Exercise your creativity here, and have fun with different fruit and topping combinations!
1-100g pure unsweetened açai berry superfruit pack
1/2 frozen banana
1/2 cup frozen berries
1/4 cup almond milk
1 tsp. maca powder (optional)
Toppings:
1/2 cup granola, divided
Sliced strawberries, bananas, and blueberries
1 tsp. shredded coconut
1 tsp. hemp hearts
1 tsp. cacao nibs
A drizzle of honey
While you are assembling your smoothie base, place the serving bowl in the freezer. This will help to keep your smoothie thick and cold, and will prevent it from melting too quickly. In a high-speed blender, combine the açai purée, frozen banana, frozen berries, almond milk, and maca powder. Blend until smooth.
Remove your bowl from the freezer. Sprinkle some of the granola on the bottom of the bowl. Spread your smoothie base into an even layer in the bowl. Top with the remainder of the granola, fresh fruit, and your desired toppings. Enjoy immediately!