Have you ever eaten something at a restaurant that is just so damn good that you cannot stop thinking about it? And so then you create excuses find good reasons to go back to that same restaurant to enjoy that same thing over and over again? And then, after the tenth time going to that same restaurant and eating that same thing, you start to wonder if maybe you could make the thing at home, saving yourself some cash and also freeing yourself up to possibly eat out elsewhere and discover new obsessions?
Cool. I'm glad we understand each other. That's totally what happened with this soup!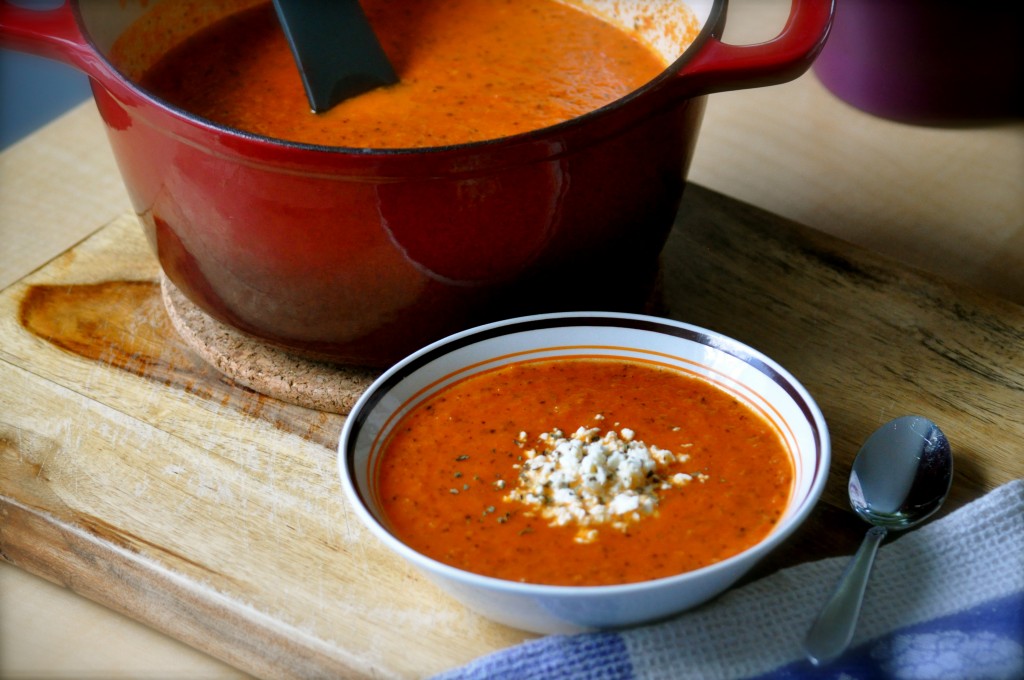 There is a great little pizzeria franchise here in Alberta, BC, and Ontario called Famoso, which specializes in authentic Neapolitan pizza. The pizza is totally killer. Now, I have to preface the rest of this story by telling you that I rarely order soup in restaurants. I'm just not really a soup girl. Plus, when up against something like pizza (hello cheesy, carby goodness), the soup is going to play second fiddle every time. A friend recommended that I try the fire-roasted tomato bisque and when she claimed that it was something along the lines of "best ever," I decided to put it to the test.
And then I proceeded to go back to Famoso to eat this soup more times than I would like to admit over the couple of months that followed. (Don't worry, I still ordered a small pizza alongside it!)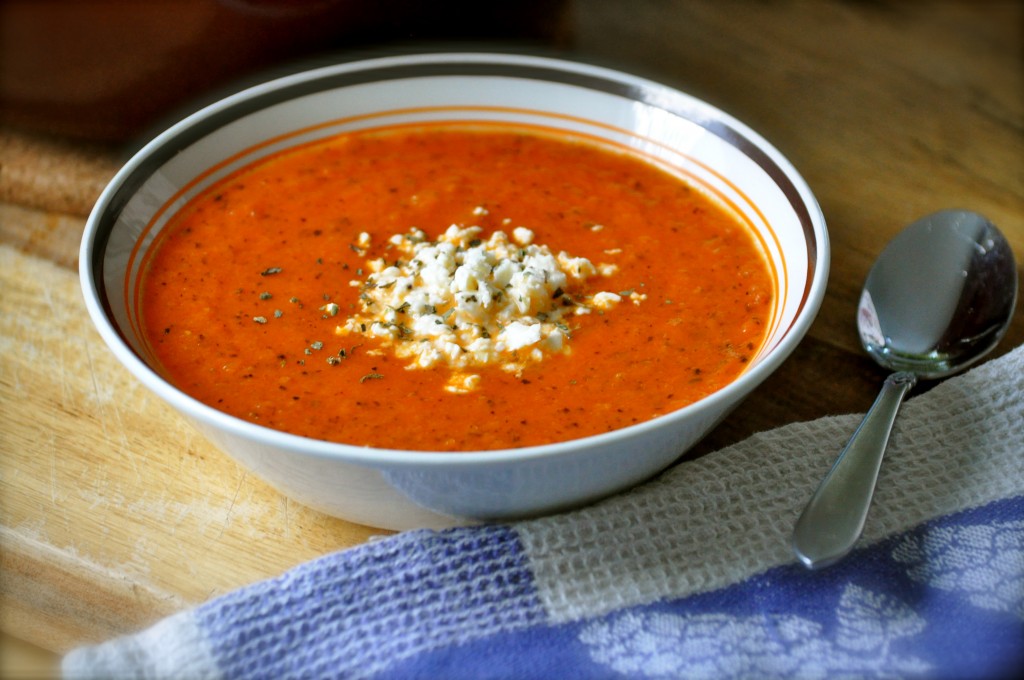 This soup. Well, it's a bisque really, and I must confess that I did not know the difference between a soup and a bisque until about 29 seconds ago when I turned to Google for help. Apparently, a bisque is a type of rich, thick, creamy soup that has been pureed so that it has an even texture. Although, according to Wikipedia, a traditional bisque is "a smooth, creamy, highly-seasoned soup of French origin, classically based on a strained broth (coulis) of crustaceans." Well excuse me, fancy pants. 

Whether this is truly a soup or a bisque, I have no idea. But what I do know is…it's freaking delicious. After scouring the Internets for recipes that seemed to resemble the taste of the soup from Famoso that I had essentially committed to memory, I found one that, coupled with a few little tweaks, seems to be pretty darn close. It's not quite as creamy and dreamy as the restaurant version, but I am rather certain that Famoso uses a much more generous amount of half & half, or likely even cream in their soup. So let's just call this the lighter and tighter cousin to Famoso's soup. Bisque. Whatever. Just make it! 'Tis the season for soup, after all.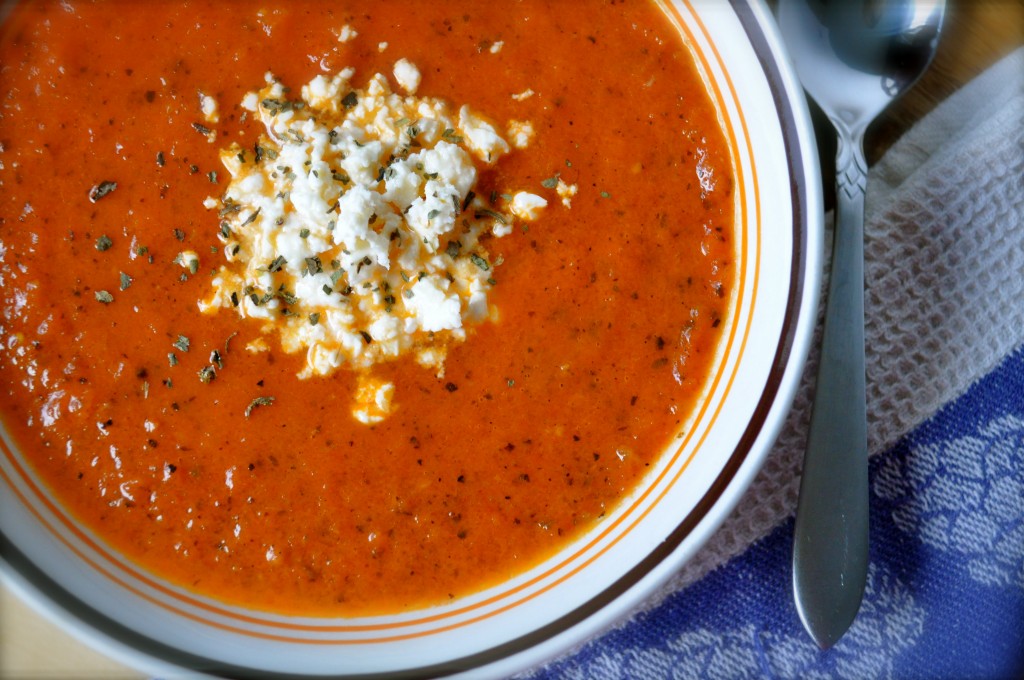 Fire-Roasted Tomato Bisque (adapted from The Novice Chef)
This bisque packs a flavorful punch. The use of fire-roasted tomatoes is key – don't go trying to sub in regular 'ol tomatoes. They just won't cut it here. I found fire-roasted tomatoes alongside the other canned tomatoes in my local grocery store, but any Italian grocer should carry them. Also, fresh basil will make this bisque even more fantastic, so if it's available to you, go ahead and use it. The fresh basil at my local grocer was looking rather sad and pathetic. And finally, the generous serving of crumbled feta cheese really takes this soup over the top, so please don't leave it out. 
1/4 cup herb-infused olive oil (or EVOO)
1 onion, diced
8 garlic cloves, minced
3 (14 oz.) cans of fire-roasted tomatoes (ie. Scarpone's)
2 cups stock (chicken or vegetable)
1/2 cup half & half
2 tsp. dried basil
Pinch of cayenne pepper
Salt and pepper, to taste
Crumbled feta cheese, for topping
In a heavy pot over medium high heat, heat the olive oil and saute the onion until translucent. Add the minced garlic and cook with the onion for a few minutes. Add the cans of fire roasted tomatoes (juice included) and cover for about 15 minutes, stirring every few minutes.
With the lid off the pot, add the broth and half & half and bring the soup to a simmer. The mixture should start to thicken as it reduces (~10-15 minutes). Once slightly thickened, season to taste with salt and pepper. Lower the heat to medium and cook for 5 minutes more.
Time to puree! Using either an immersion blender (if you're lucky), or a regular blender, puree the soup until smooth. Be careful if using a regular blender as the soup is (obviously) hot! You may need to puree the soup in several batches.
Serve with a generous mound of crumbled feta cheese (and fresh basil if you've got it), and stir it into your soup as you eat. Buon appetito!