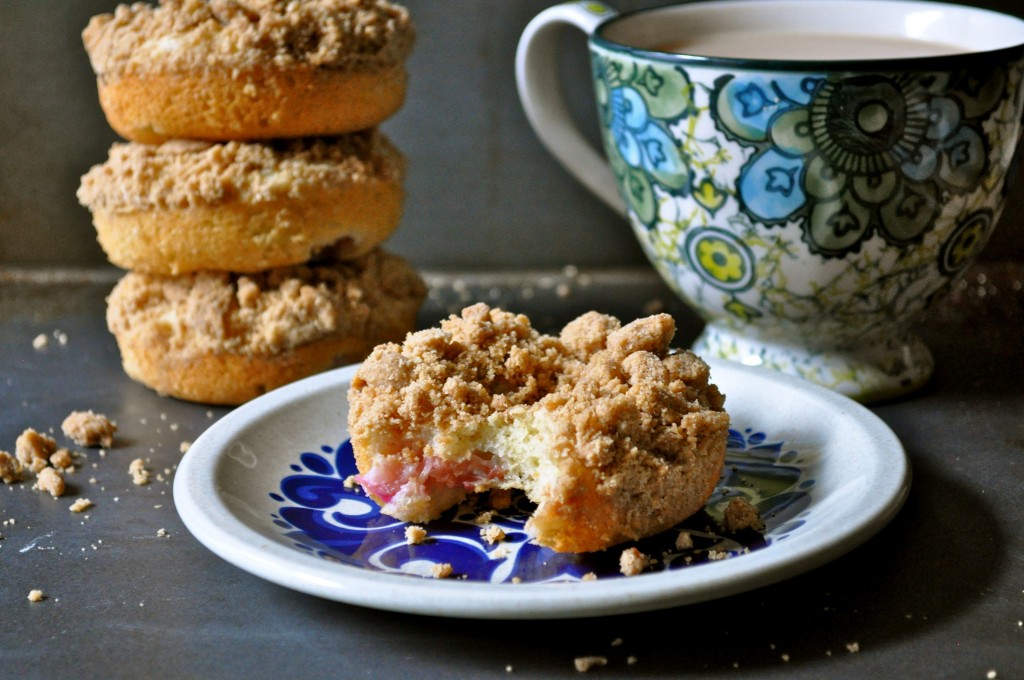 Hello friends!
Spring has sprung! Our Easter weekend started with a snowfall (yes, SNOW), but thankfully Mother Nature smartened up and we were rewarded with a couple of beautiful days of sunshine and warm temperatures. I went out in a t-shirt, soaked up some sun, and all felt right in the world. I ate my way through two Easter dinners and a brunch, swore I would never eat again, and then promptly broke that oath a couple of hours later. It was a glorious weekend, I tell you. How was your weekend? Did you eat all the things too?
These donuts were part of my glorious weekend. When I first spotted glorious red stalks of rhubarb at the grocery store a couple of weeks ago, I internally squealed with delight. I adore the stuff and enjoy baking with it so much. I knew immediately that I wanted to make some type of rhubarb coffee cake (among other things). The tart rhubarb pairs so well with the buttery and sweet crumble that tops most coffee cakes. But then came the idea to create these rhubarb crumble donuts. Quick to bake, and easy to stuff from hand to face – what more do you need in a baked good?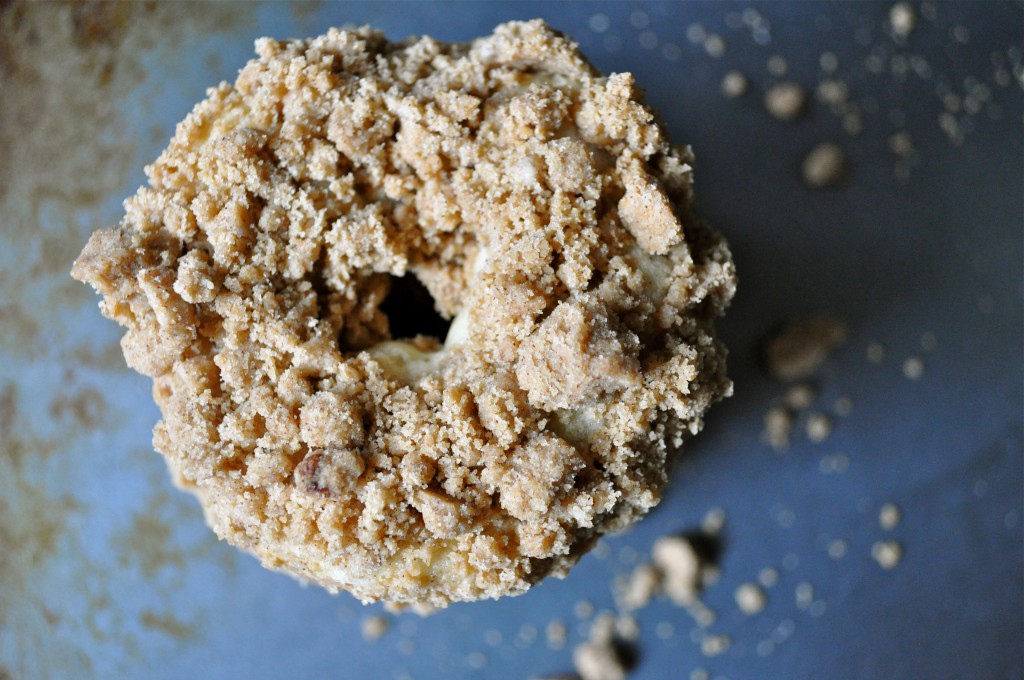 I played around with the recipe a few times in search of maximum rhubarb flavor. I've crammed a whole cup of rhubarb into these donuts, which was no easy feat considering how small the cavities of my donut tin are. And the donut to crumble ratio is pretty ridiculous, in the best way possible. I'm really pleased with the end result.
These little gems are the perfect lazy weekend breakfast, yet also make a great afternoon pick-me-up snack with a hot cup of coffee or tea. I suggest you get your hands on some rhubarb as quickly as possible and then make yourself some rhubarb crumble baked donuts. Cool?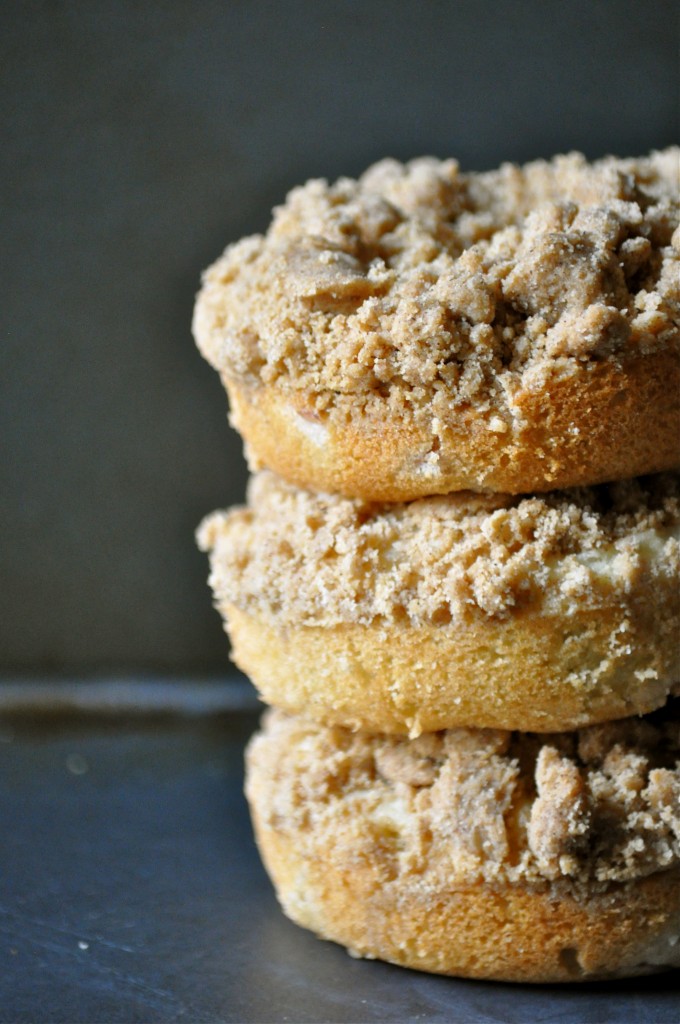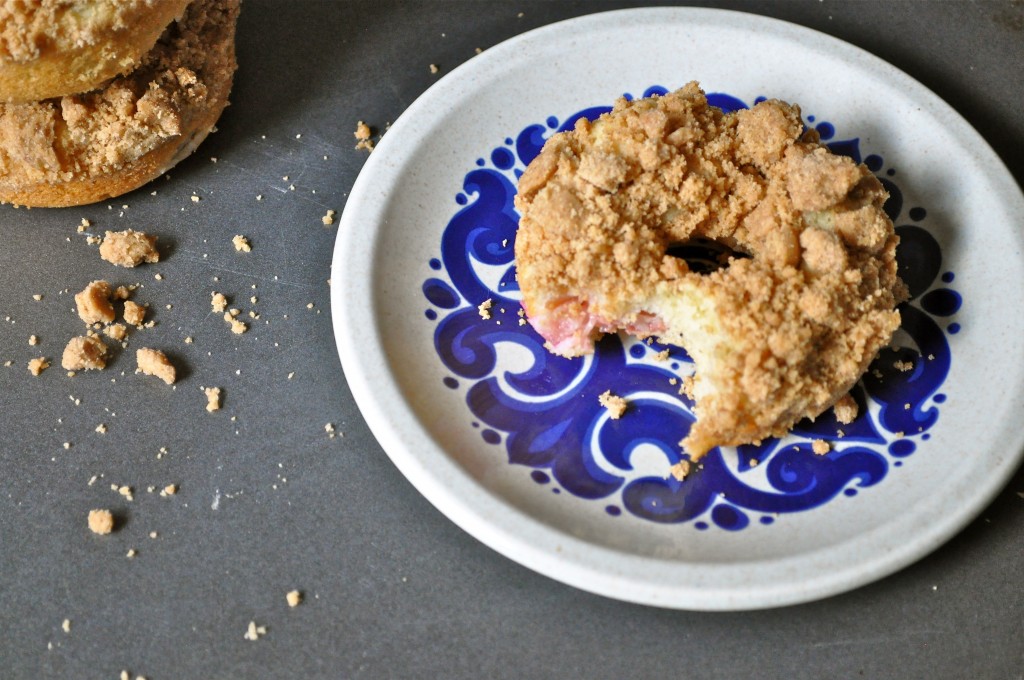 Rhubarb Crumble Baked Donuts (donut recipe adapted from Offbeat + Inspired, crumble recipe adapted from The Sugar Hit)
These donuts taste best when still warm from the oven, but they will keep just fine for a couple of days in an airtight container. I do recommend sticking them in the fridge though, as I find that rhubarb tends to get a bit dodgy when it sits at room temperature after being baked. Makes 6 donuts. 
For the crumble:
1/3 cup brown sugar
1 tsp. cinnamon
Pinch of salt
1 cup cake flour
1/3 cup butter, melted
For the donuts:
3 TBSP. butter, softened
1/4 cup sugar
1 egg
1/2 tsp. vanilla
3 TBSP. plain Greek yogurt
½ cup + 2 TBSP. cake flour
¼ tsp. baking soda
Pinch of salt
1 cup rhubarb, chopped small
Preheat oven to 325°F. Spray a 6-count donut pan with non-stick spray. Combine the crumble ingredients in a small bowl and set aside. In a separate bowl, combine the sugar and butter and mix with a hand mixer until fluffy. Add the egg, yogurt, and vanilla and mix again. Add the dry ingredients and mix until just combined. Gently fold in the rhubarb.
Pipe the batter into the donut tins using a piping bag or Ziploc bag with the end cut off. Very generously top each donut with the crumble topping (like seriously pile that crumble on). Bake for about 20 minutes, or until a toothpick inserted into the donut comes out clean. Allow the donuts to cool in the pan for a good 15 minutes or so before carefully removing them from the pan. Cool completely on a wire rack – or preferably, enjoy while still warm!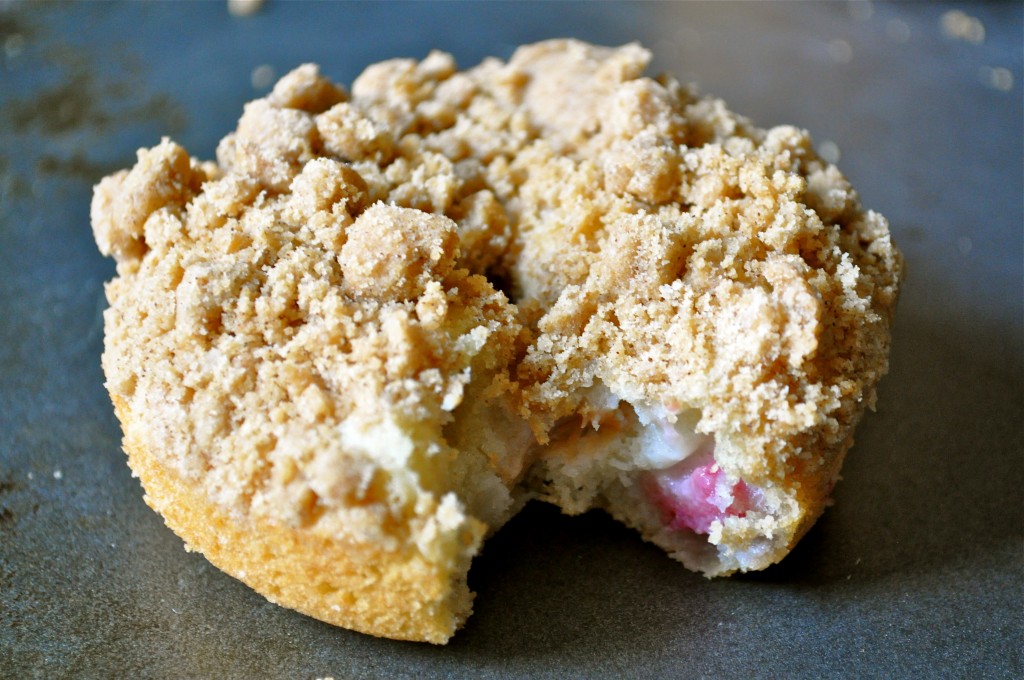 Enjoy your week! xo