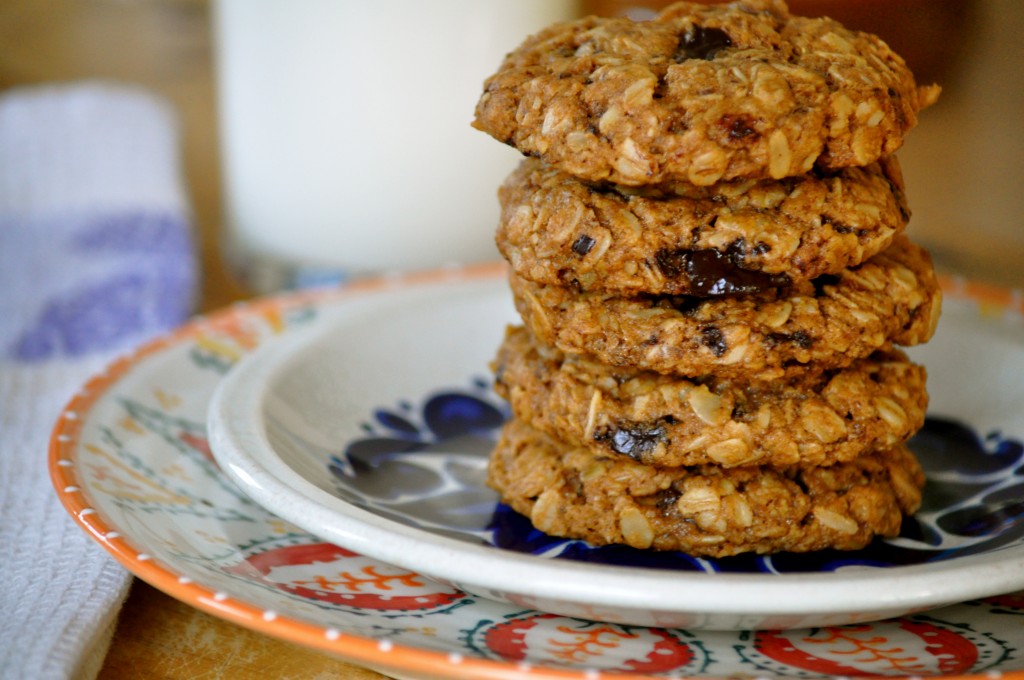 I'm a bit of a cookie snob. I mean, not all cookies are created equal. You know?
For me, a good cookie has three requirements. First of all, and most importantly, a good cookie has to be chewy. Not hard, not cake-y, not crispy, but chewy. Secondly, I like cookies that have some heft. Don't get me wrong, a good buttery chocolate chip cookie can easily win my heart. But most often, I love a cookie that's got substance – oatmeal, coconut, raisins, chocolate – you know, good mix-ins! And finally, I really prefer cookies that are thick as opposed to thin. Thickness matters.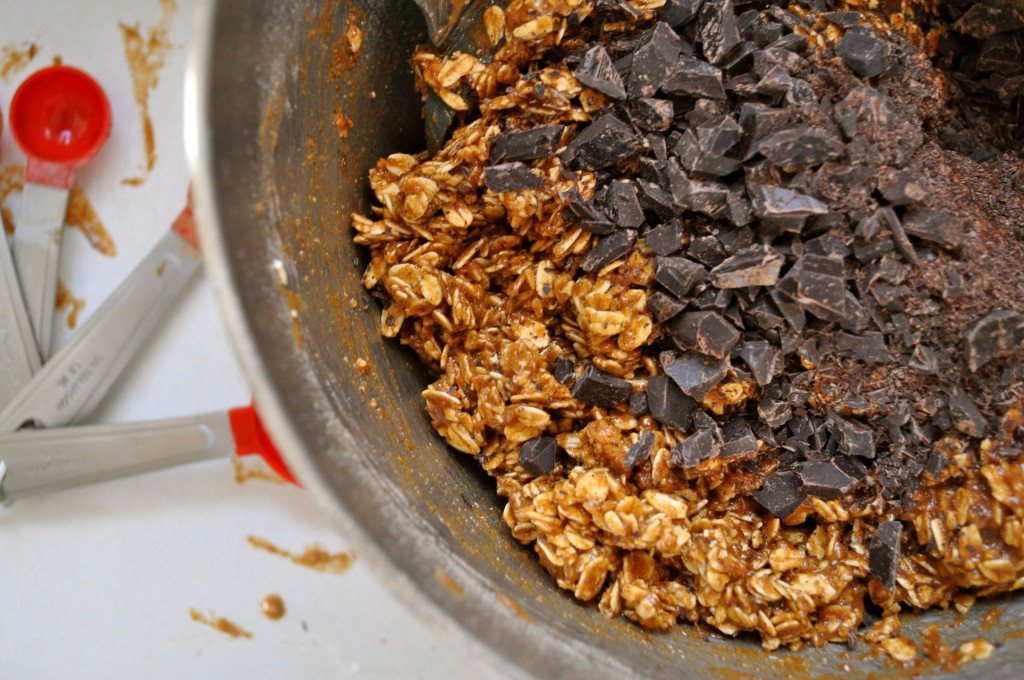 We're still talking about cookies. Don't get distracted!
And if the cookies can maybe possibly be considered healthy…even better. Now, I'm going to use the term "healthy" quite loosely here. These cookies do have plenty of sugar. BUT! They are filled with many good-for-you ingredients like oats, flax, almond butter, coconut oil, and dark chocolate. If you use gluten-free oats, you can call these gluten-free. And if you use vegan chocolate (most good-quality dark chocolate is considered vegan), then they become vegan too. Which means we can share these cookies with all of our gluten-free and vegan friends! Bonus!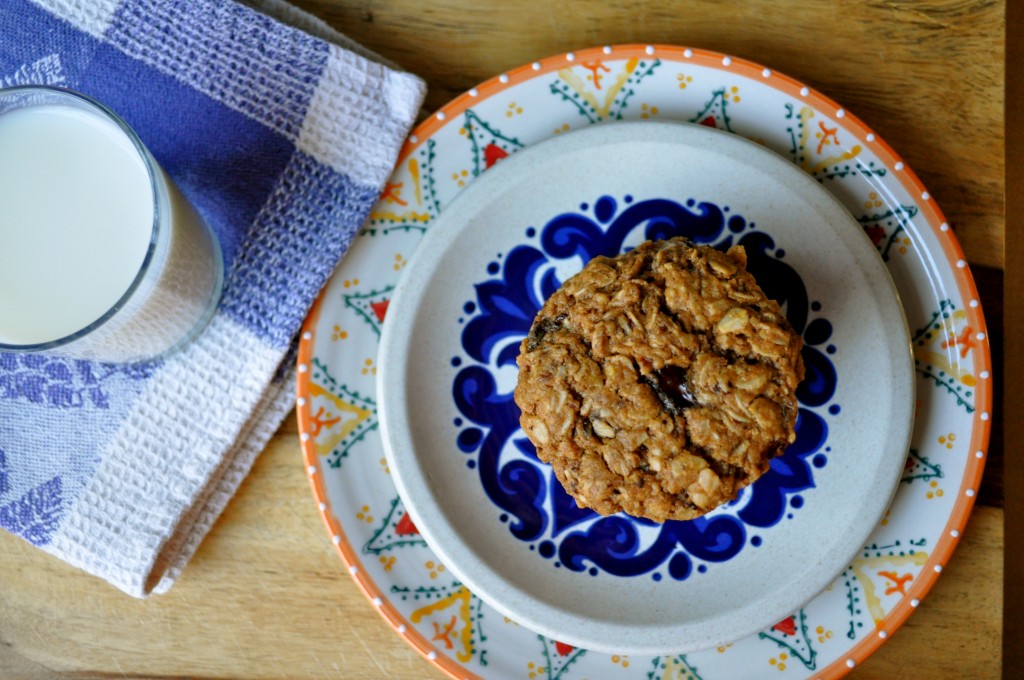 This is really good news for me because when I make a batch of cookies this good, I need to get them out of my house, like, immediately. Otherwise I will eat more than the daily recommended intake of cookies. Unless that number is somewhere in the double digits. In that case, I'm doing fine.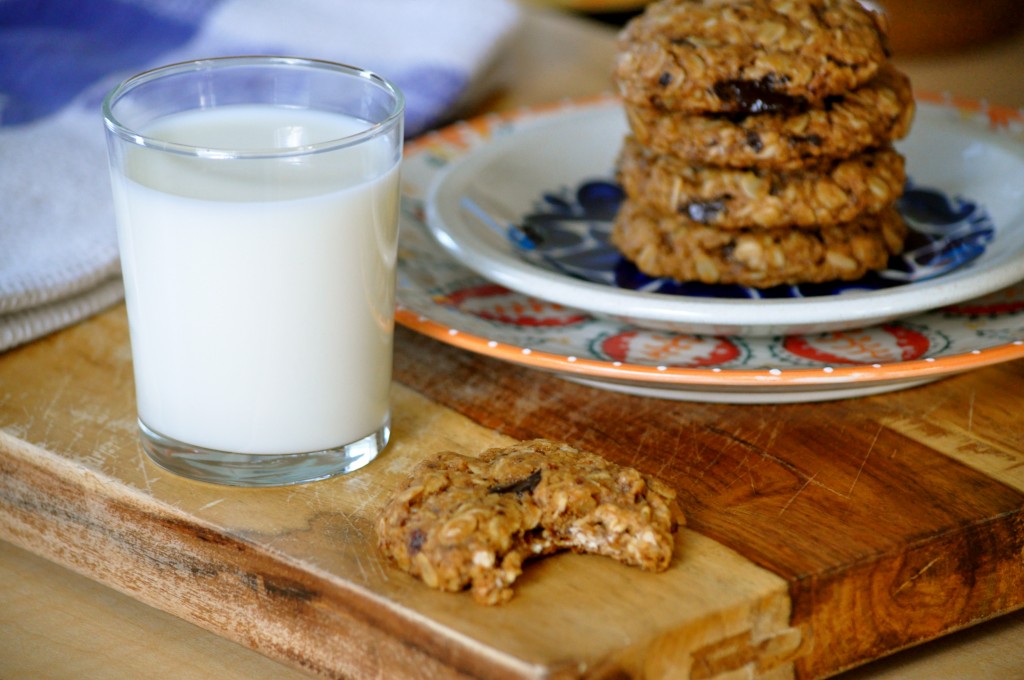 These cookies are so darn chewy and so freaking good. Seriously. But please don't take my word for it. Mix up a batch for yourself and then invite me over to help you eat them. I'm real considerate like that.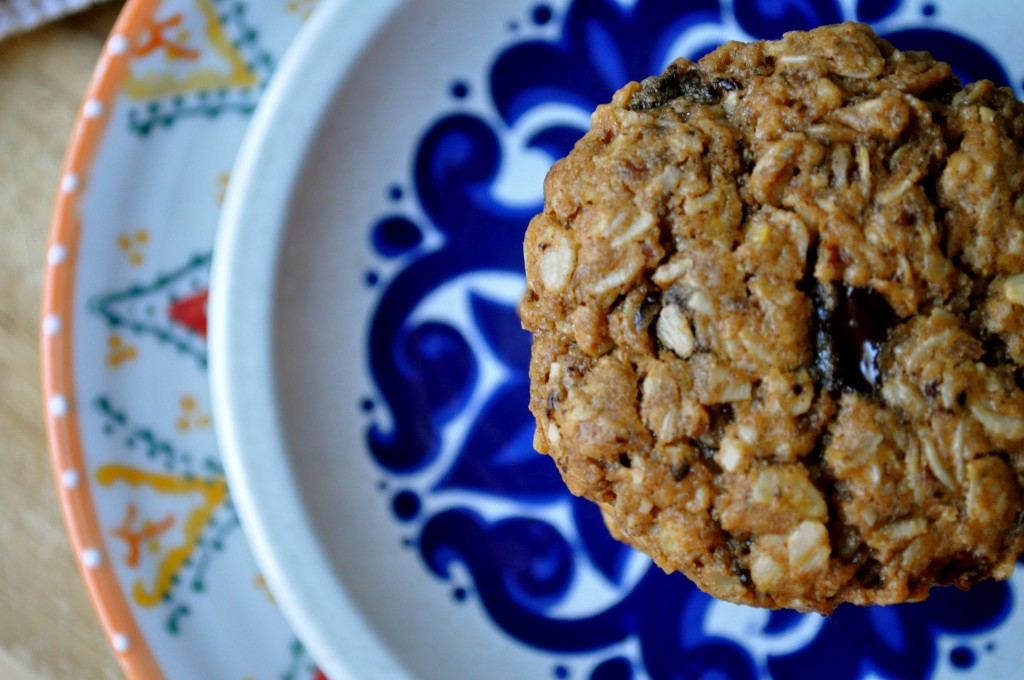 Chewy Almond Butter Oatmeal & Dark Chocolate Cookies (adapted from Eat Live Run)
You have the option of making these cookies gluten-free, if desired. Just use gluten-free oats! If you want to make them vegan-friendly, just be sure to use vegan chocolate. Makes about 30 cookies. 
1/4 cup coconut oil, room temperature
1/2 cup granulated sugar
3/4 cup brown sugar
1 1/4 tsp. baking soda
1 tsp. cinnamon
3/4 tsp. salt
3 1/2 cups regular oats (or gluten-free, if desired)
1 cup dark chocolate chips (or chopped dark chocolate)
1 cup almond butter
2 TBSP. ground flax mixed with 6 TBSP. warm water (aka. a flax "egg")
2 tsp. vanilla
Preheat the oven to 350°F. Prepare your cookie sheet(s) by lining them with a Silpat or parchment paper.
Cream together the coconut oil, almond butter, granulated sugar and brown sugar until well blended. Add the vanilla and ground flax + water mixture. Mix well.
In a separate bowl, combine the oats, baking soda, salt and cinnamon. Add to the wet ingredients along with the dark chocolate chips. Mix until just combined.
Roll the dough into small balls (golf ball size) and place three inches apart on the cookie sheets (12 per sheet). Do not flatten the dough balls. Bake for 10-12 minutes until puffy and just barely beginning to brown around the edges. Let cool for 5-10 minutes (or until set) on the cookie sheet before transferring to a cooling rack to cool completely. Store in an airtight container with wax paper between each layer. I imagine these would freeze well too, but they were eaten too quickly for me to need to do such a thing!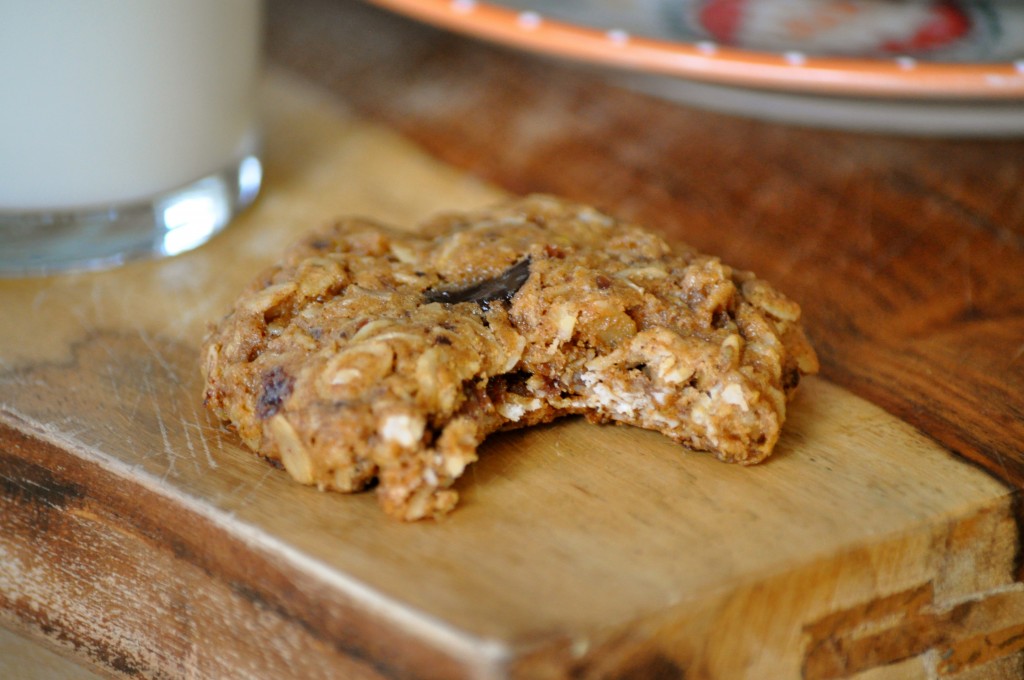 Have a great weekend friends!