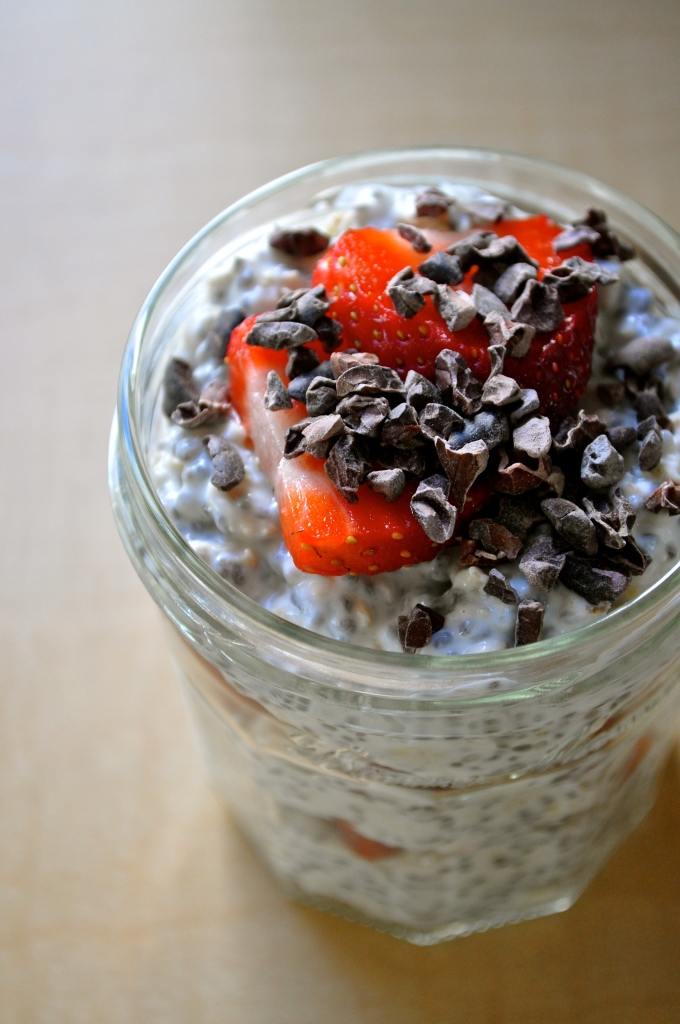 Hiiiiiiiiiiiii.
It feels strange to be sitting here writing this post. Strange in a good way. Familiar yet new. I'm hoping that blogging is like riding a bike because daaaammmmnnnnn, I've been gone a long time. So umm, a belated Merry Christmas, Happy New Year, and Happy Valentine's Day to you! I'll jump in here with an early Happy St. Patrick's Day, just in case.
I could insert approximately 47 reasons here to explain my two+ month blogging hiatus, but let's not waste our time with that boring stuff. The important thing is that I'm back here sharing a recipe and my ramblings with you. My hope is that this post will kick-start a much more reliable and frequent schedule of recipe-sharing, so…fingers crossed! Let's just jump right in.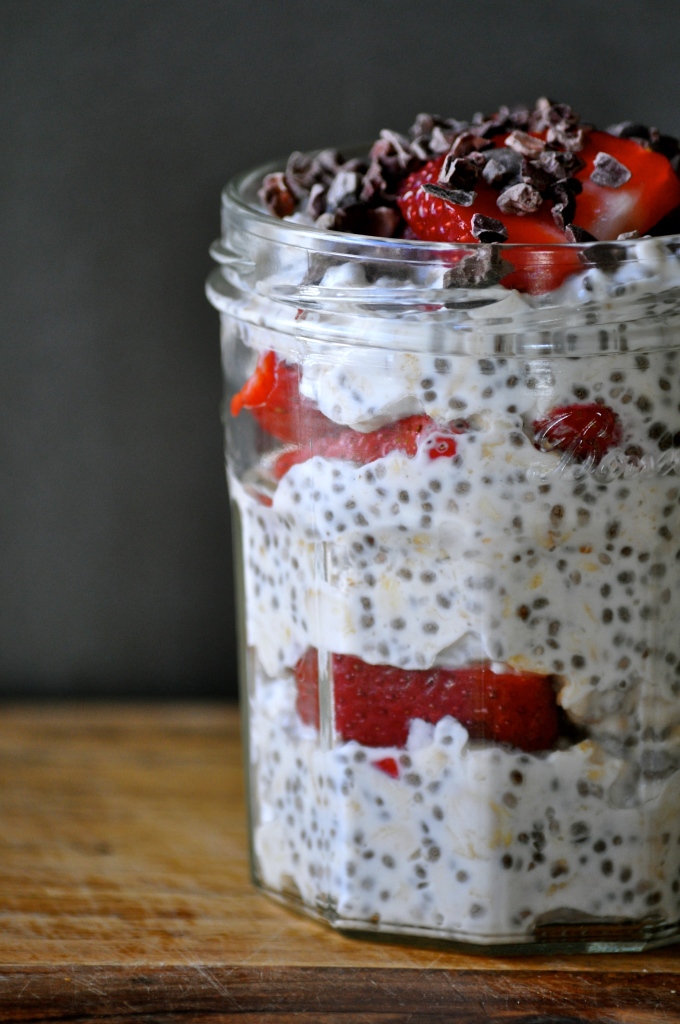 Overnight oats.
I realize that I'm a little late to the overnight oats party. They've kind of been a thing now for a while. And being the oatmeal lover that I am, when recipes for overnight oats started popping up a couple of years ago, I was eager to give them a try. I mean, throw a few ingredients in a jar, put the jar in the fridge overnight, and wake up to a delicious breakfast? Sign me the heck up!
Sadly, my first experience with overnight oats was not a good one, and it turned me off of the whole idea for a long time. The texture was really off – kind of watery, yet chunky – and I couldn't get over it.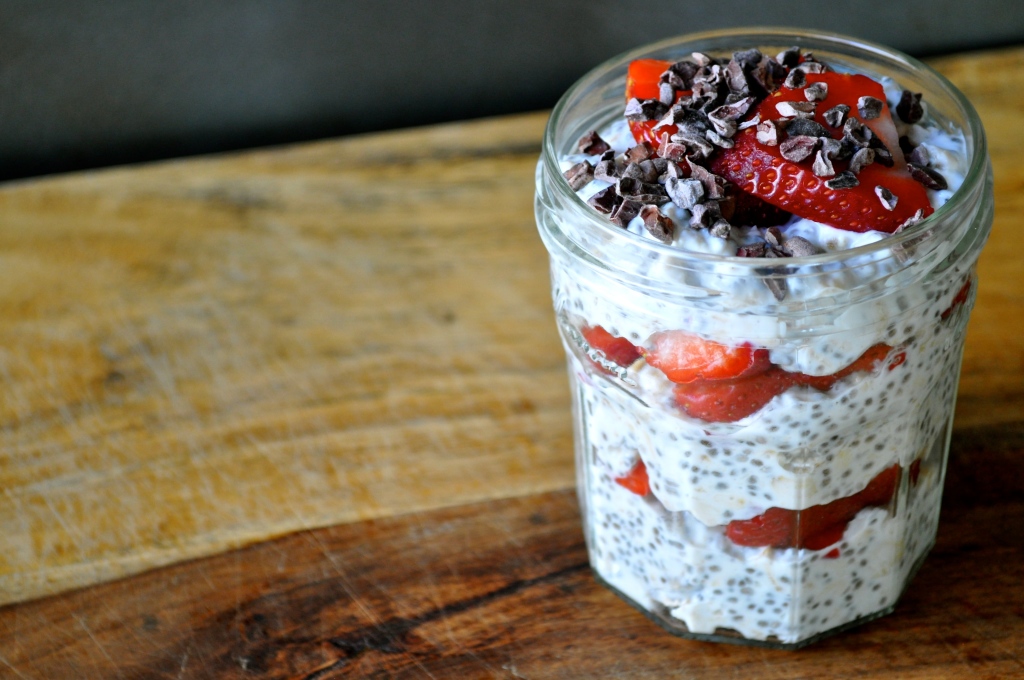 Fast forward to a couple of months ago when I decided to give them another try. The game changer for me was the addition of Greek yogurt and chia seeds – the original recipe that I had tried just called for almond milk, oats, and fruit. But the Greek yogurt and chia seeds give the mixture a much creamier texture, similar to that of traditional hot oats. And with the right toppings, you can turn overnight oats into a downright satisfying, decadent, yet still super healthy breakfast. Seriously, I feel a little nip of sadness after I take the last bite. But the best part is that these overnight oats hold me over all morning until lunch time.
The recipe below lists the base ingredients – I always use oats, Greek yogurt, almond milk, and chia seeds. You can certainly substitute another milk for the almond milk, if you prefer. And then I add whatever fruit I have on hand. The toppings are up to you, but I've included some of my favourite additions. Best combo to date: fresh strawberries, crunchy natural peanut butter, hemp hearts, and cacao nibs. It was like breakfast dessert!
Side note: I can't stop putting cacao nibs on everything. Help.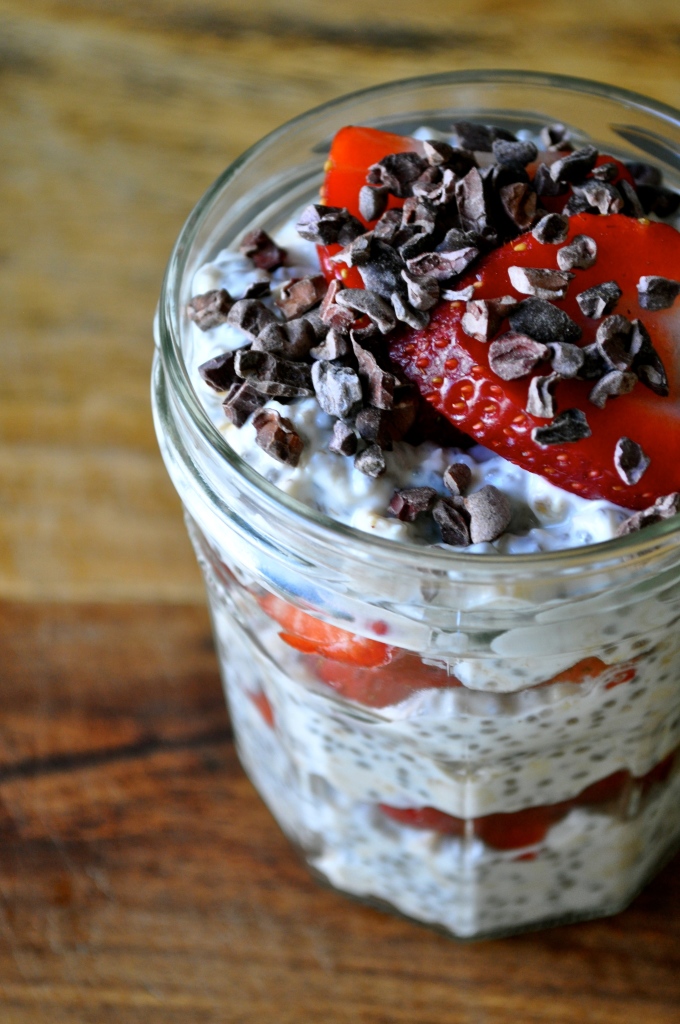 Overnight Oats!
This recipe makes one serving; however, you can multiply to create as many servings as you'd like. These oats keep well in the fridge for a few days, so feel free to make a bunch of servings at the beginning of the week and store in the fridge for quick and satisfying breakfasts all week long. If you're using plain Greek yogurt, you may wish to add your favourite sweetener, or other flavours like vanilla extract. I tend to use flavoured Greek yogurt (usually vanilla or strawberry). 
1/3 cup oats
1/3 cup non-fat Greek yogurt (flavour of your choice)
1/3 cup unsweetened almond milk (or milk of choice)
1 TBSP. chia seeds
1/3-1/2 cup fruit (ie. fresh or frozen berries, banana, chopped apple)
Optional mix ins: 1 TBSP. natural peanut butter, 1 tsp. hemp hearts, 1 tsp. cacao nibs, 1 tsp. shredded coconut, nuts, etc.
Combine the oats, Greek yogurt, almond milk, and chia seeds and stir together in a mason jar or sealable container. I usually add my fruit here too, as well as peanut butter if I'm using it. The mixture shouldn't be too thick at this point – if it is, add a bit more almond milk. Refrigerate overnight. Add your favourite toppings and enjoy!
Nutritional info for base recipe (before fruit and mix-ins): 216 calories, 7.0 g fat, 0.5 g saturated fat, 30.2 g carbohydrates, 11.4 g protein, 7.7 g fibre, 8.7 g sugars.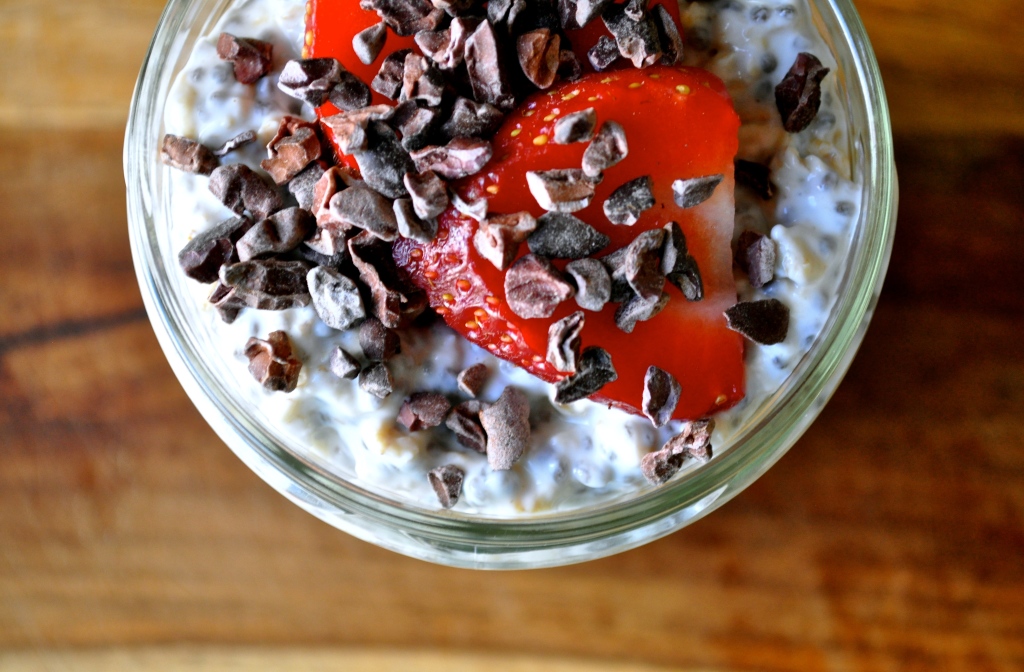 It's good to be back, friends!