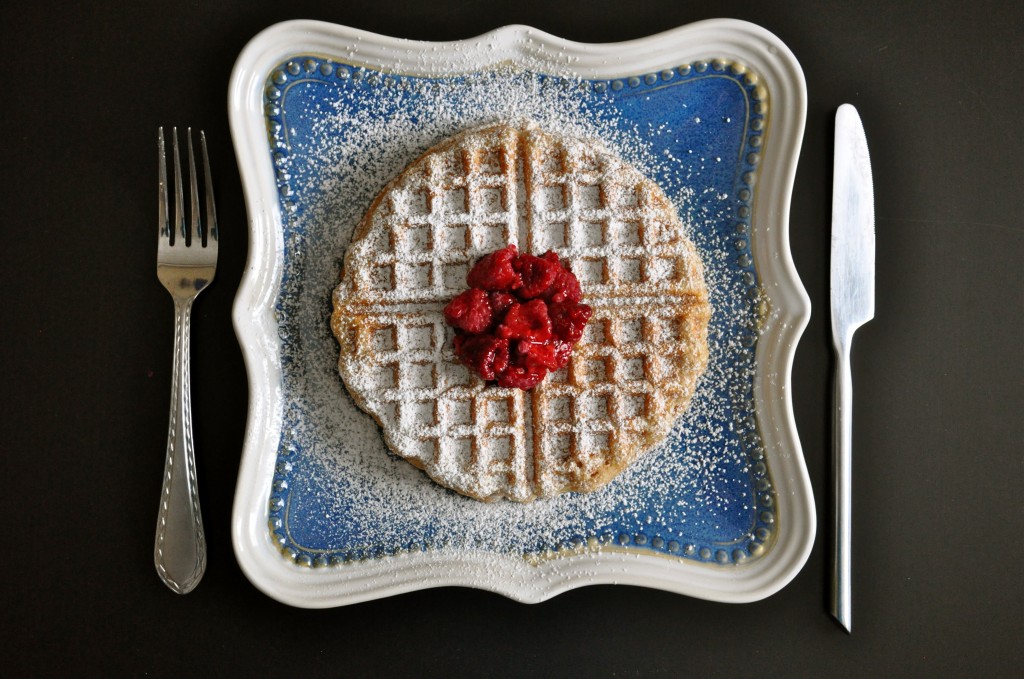 Weekends are for making things a little extraordinary. Weekends are for sleeping in and lounging around. Weekends are for not getting dressed until you damn well feel like it. And if you don't damn well feel like it until 4pm, that's totally cool. Weekends are for slowly sipping hot coffee and enjoying that extra cup. Weekends are for reading a good book or catching up on your favorite TV shows. Weekends are for indulging a little. Weekends are for waffles.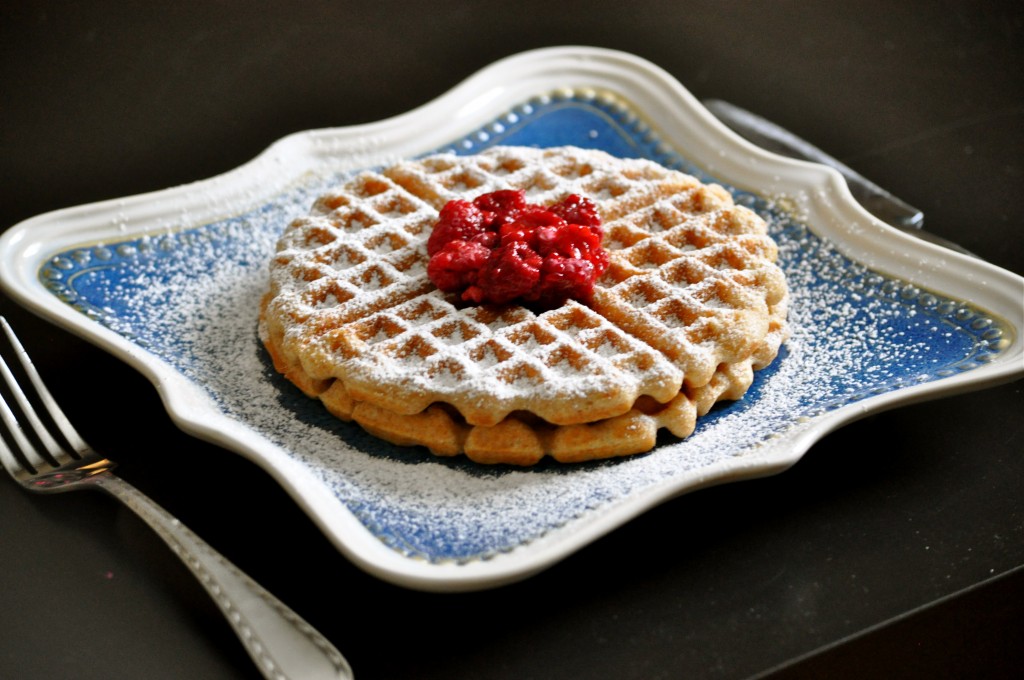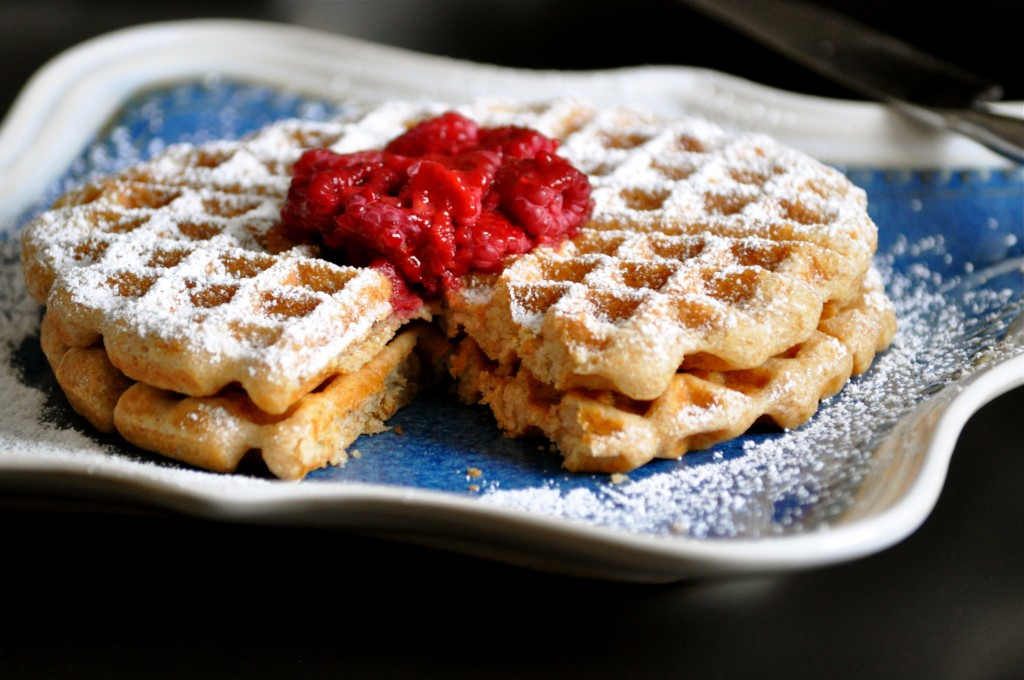 Yesterday morning, I was craving something a little extraordinary for breakfast. Sadly, my fridge and cupboards were practically bare after a long and busy week. No milk. One egg. No fruit or vegetables aside from a few frozen raspberries. However, I did have a can of coconut milk gathering dust in the very back of my pantry. (At one time, it shared space with this dreamboat.) Whole wheat coconut waffles were born!
Simple to prepare, healthy, and most importantly, delicious – these waffles satisfied my extraordinary Saturday morning craving and fueled me up for a little Christmas shopping. I'm certain they made me more patient too. And trust me, at this time of year, we could all use a little extra patience.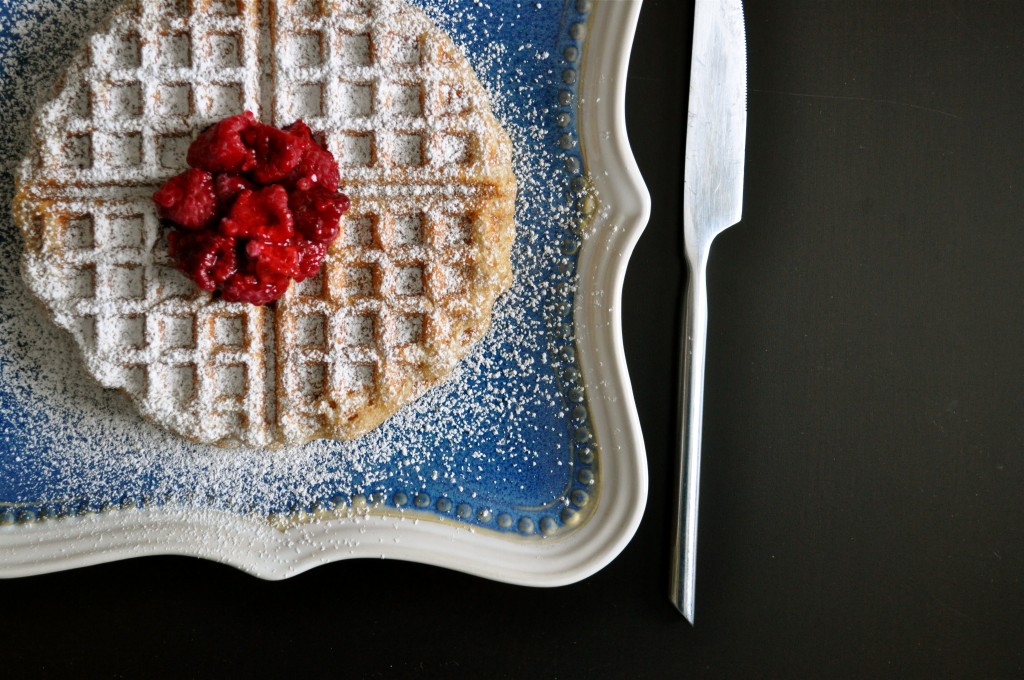 It's a hectic time of year, I get it. But do consider taking a morning time out during the coming couple of weeks to enjoy an extraordinary breakfast!
Whole Wheat Coconut Waffles
Despite the use of both coconut milk and coconut oil, the coconut flavor in these waffles isn't overwhelming. They tasted delicious with a dusting of powdered sugar and some fruit. Makes about 4 large waffles. 
1 1/2 cups whole wheat flour
2 tsp. baking powder
1/2 tsp. salt
2 TBSP. raw cane sugar
1 large egg
1 can light coconut milk
1/4 cup coconut oil, melted
1 tsp. vanilla
Preheat your waffle maker according to the manufacturer's instructions.
In a large bowl, whisk together the flour, baking powder, salt, and sugar. In a large measuring cup, whisk together the egg, coconut milk, coconut oil and vanilla. Add this mixture to the dry ingredients and mix just until barely combined. The batter will be lumpy.
Fill the wells of your waffle maker and cook according to the manufacturer's instructions (about 4 minutes in my waffle maker). Serve with your favorite toppings. Happy weekending!