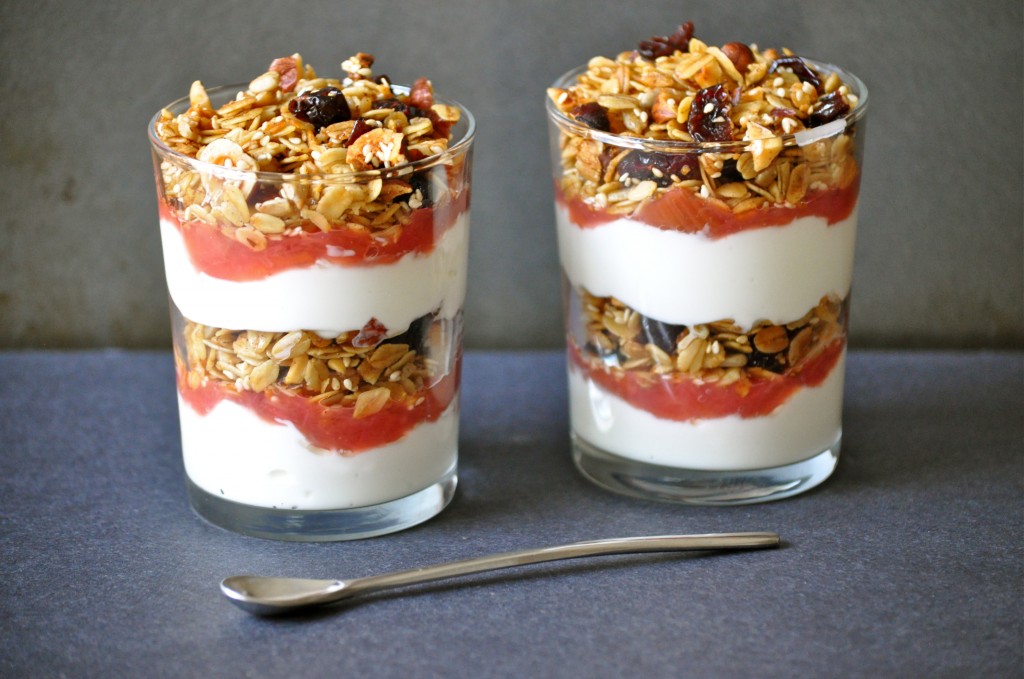 Friends, by the time you read this, I will be flying high in the sky en route to Thailand! I can't believe this day is finally here! It all still feels surreal to me that I get to jet off for a whole month to enjoy sand, sun, and adventure.
But before I bid you adieu for a few weeks, I wanted to share my new favorite granola recipe with you. It comes from Megan Gordon's Whole Grain Mornings cookbook (aka. my new favorite thing). I love breakfast and brunch recipes, and Megan's book is packed with exactly that – and they're all made with whole grains. Holla!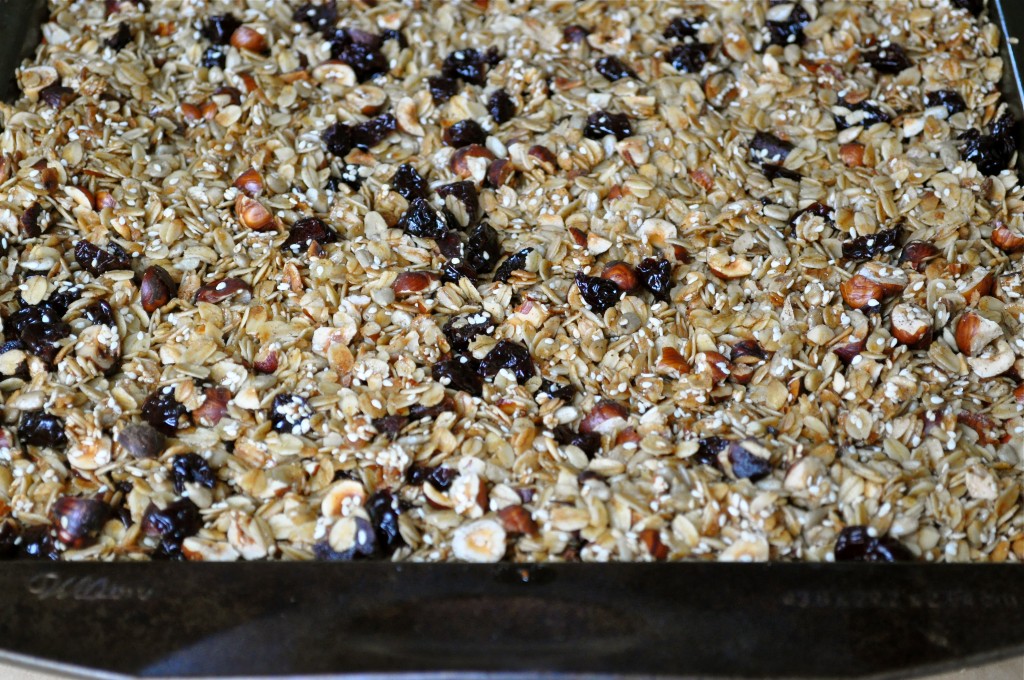 Granola might just be my very favorite breakfast. I feel like I could eat it every day and never tire of it. So naturally, Megan's recipe for making your own "signature granola" was first on my list to try.
This granola is good, friends. Like, really good. Amazing! The dried cherries and hazelnuts work so well together, and the sesame seeds give a little extra crunch that take this granola up a notch. I've already made this recipe three times in the past few weeks. A batch doesn't last long around here, between sprinkling it on top of yogurt, eating it by the handful, and putting it into these yogurt parfaits.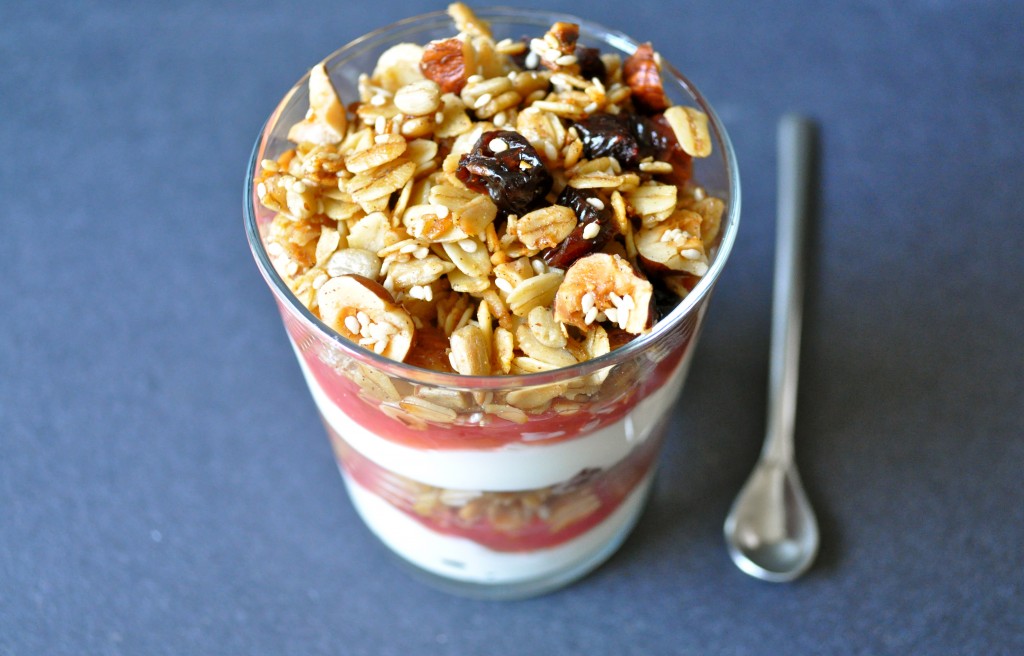 These parfaits were born out of necessity. You see, I had a bit of rhubarb sitting in my fridge just begging to be used before my departure to paradise. I decided to turn the rhubarb into a quick jam, layer it between Greek yogurt and this amazing granola, and baddabing baddaboom. Granola rhubarb yogurt parfaits, yo!
I was tempted to make a batch of this granola to take to Thailand (I love it that much) – however, I'm saving room for ALL THE THAI FOOD. Seriously friends, I am aiming for maximum pad thai/curry consumption. Wish me luck!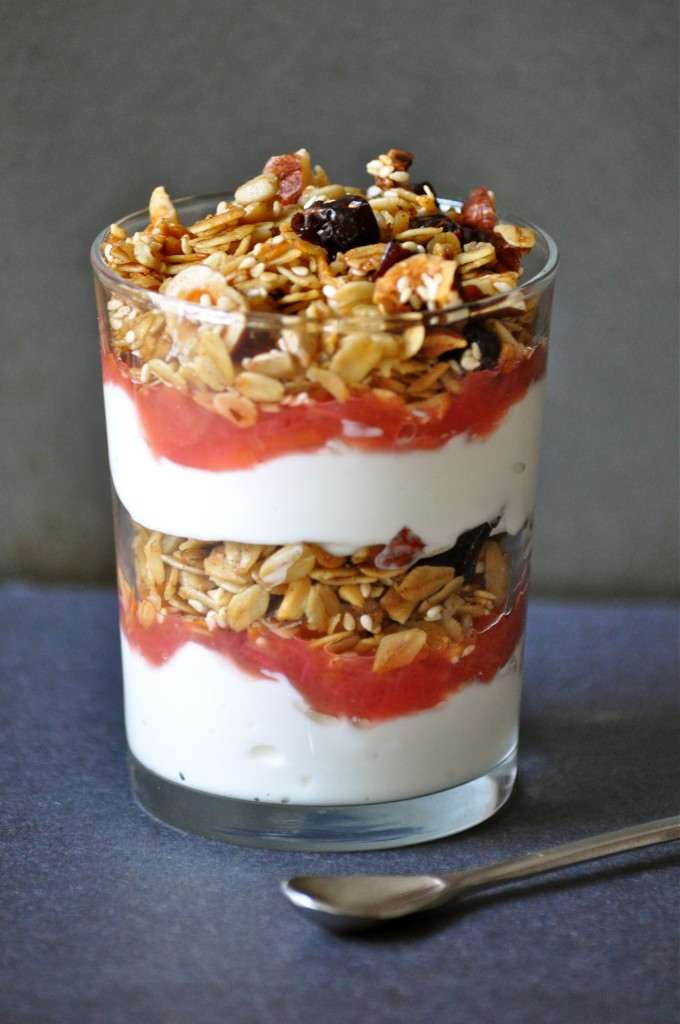 Cherry Hazelnut Granola + Granola Rhubarb Yogurt Parfaits
The components of this recipe can be enjoyed together or separately. The granola tastes great as is or sprinkled over yogurt and fruit or with your favorite milk. The "jam" is lovely when spread onto toast or an English muffin, or stirred into plain yogurt. The granola makes about 8 cups. The jam makes about 1 cup. 
For the granola (adapted from Whole Grain Mornings: New Breakfast Recipes to Span the Seasons by Megan Gordon)
3 1/2 cups oats
1 cup hazelnuts, roughly chopped
1/2 cup sunflower seeds
1/2 cup sesame seeds
1 1/2 tsp. salt
1/2 tsp. cinnamon
1/4 tsp. ground cardamom
1/2 cup extra virgin olive oil
1/2 cup maple syrup
3/4 tsp. vanilla
1 cup dried cherries, roughly chopped
Preheat the oven to 350°F. Prepare a large baking sheet with parchment paper or a silicone mat. In a large bowl, combine the oats, nuts and seeds, salt, and spices. In a separate bowl, combine the olive oil, maple syrup, and vanilla. Add the oil mixture to the oat mixture and stir well.
Turn the granola out onto the prepared baking sheet and spread evenly. Bake until the mixture is lightly browned and fragrant, about 35-40 minutes. Stir the mixture every 15 minutes to ensure even cooking. Remove the granola from the oven and cool completely. Add the dried cherries and mix well. Store in an airtight container. Enjoy!
For the Rhubarb "Jam" (from Gardenista)
1/2 pound rhubarb, chopped
1/2 cup sugar
1 TBSP. cornstarch
1/2 tsp. vanilla extract
Pinch of salt
Remove any leaves from the rhubarb and wash the stalks. Slice the rhubarb into 1/2 inch pieces and toss with the sugar and cornstarch. Put the mixture into a skillet and heat until gently boiling over medium heat (about 10 minutes). When the rhubarb has become soft and the mixture has thickened, remove from heat and add the vanilla and salt. Transfer to a small bowl (or mason jar) and put in the fridge to cool.
To assemble the parfaits: In a small glass or serving bowl, layer the granola and "jam" with plain Greek yogurt. You can even make these parfaits ahead of time (and refrigerate them), although the granola will soften up a bit.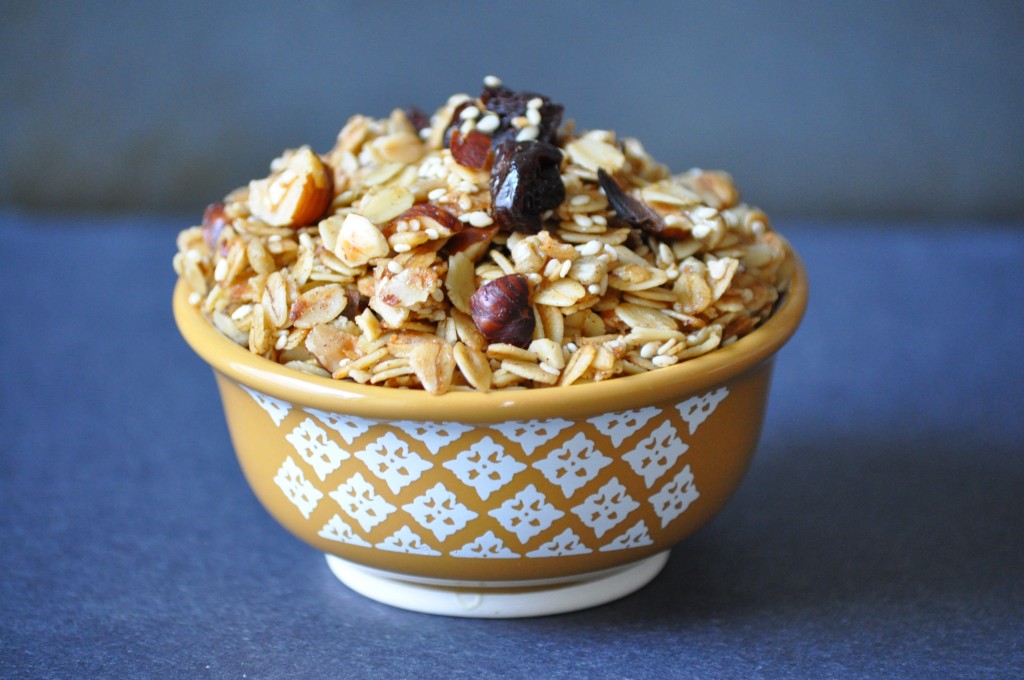 If you'd like to tag along on my Thailand adventures, you can find me on Instagram (@onceuponarecipe). Have a great month, loves!