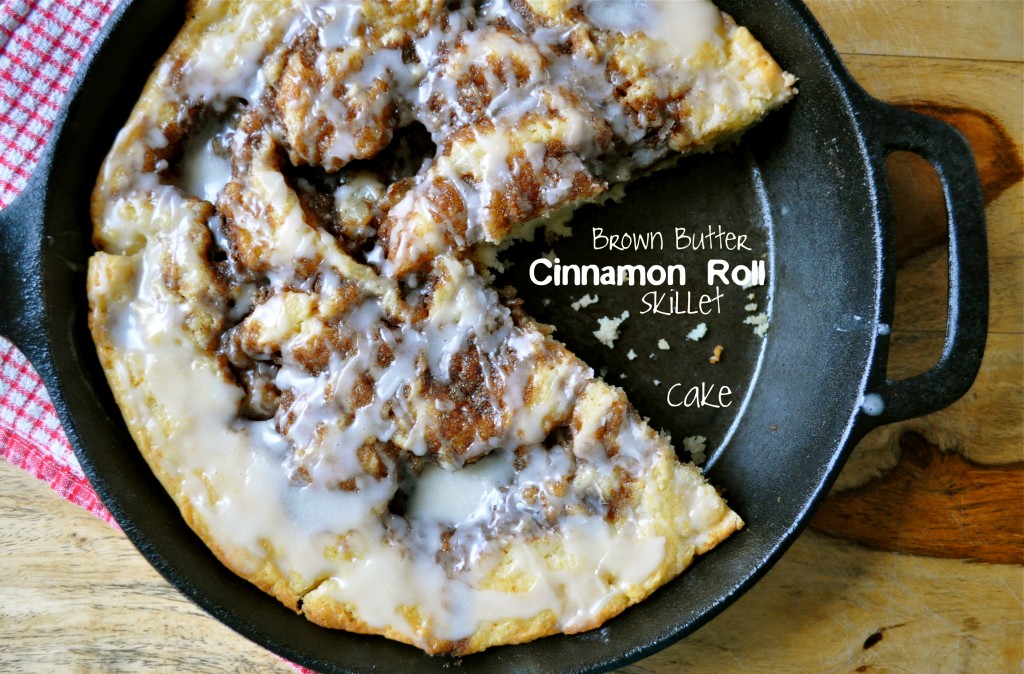 Dear Time,
Why is there not more of you? Why must you move so quickly when I'm having fun and so slowly when I'm not? I'd like to please have the body of Halle Berry, but I don't have the time to exercise like a maniac and count all of my calories (nor do I want to). I mean, I have time, but not that much time. I'd like to take up knitting and soap making and I'd like to really learn to play the guitar (and not just stumble my way through a few simple songs). I'd like to volunteer more. I'd like to take my pup to the dog park every morning so she can burn off more of her boundless energy. I'd like to organize my closet because it's a jungle in there (and maybe a mouse. Help, I'm scared!). I'd like to read the 78 books on my "List of Books to Read" before I'm 78.
I'd like to keep my house in a more constant state of clean, rather than its constant state of chaos. I'd like to learn more about wine and beer and maybe even make my own. I'd like to host dinner parties and cook for my friends and family because that's a whole lot more fun than eating cereal for dinner cooking for just me. I'd like to drink a green juice every morning, and not just the mornings that I "have time." I'd like to take 15 minutes every day to try to meditate and clear my crazy brain. I'd like to handwrite letters to my friends from afar, rather than send them an occasional text message or email. I'd like to become a better photographer. I'd like to get out of the city once a month, even if it's only for a few hours, to a town half an hour away. I'd really like to sleep more. I'd like to do all of these things and about a thousand more, but I. Need. More. Time.
Please consider stretching yourself out a bit?
Sincerely,
Amanda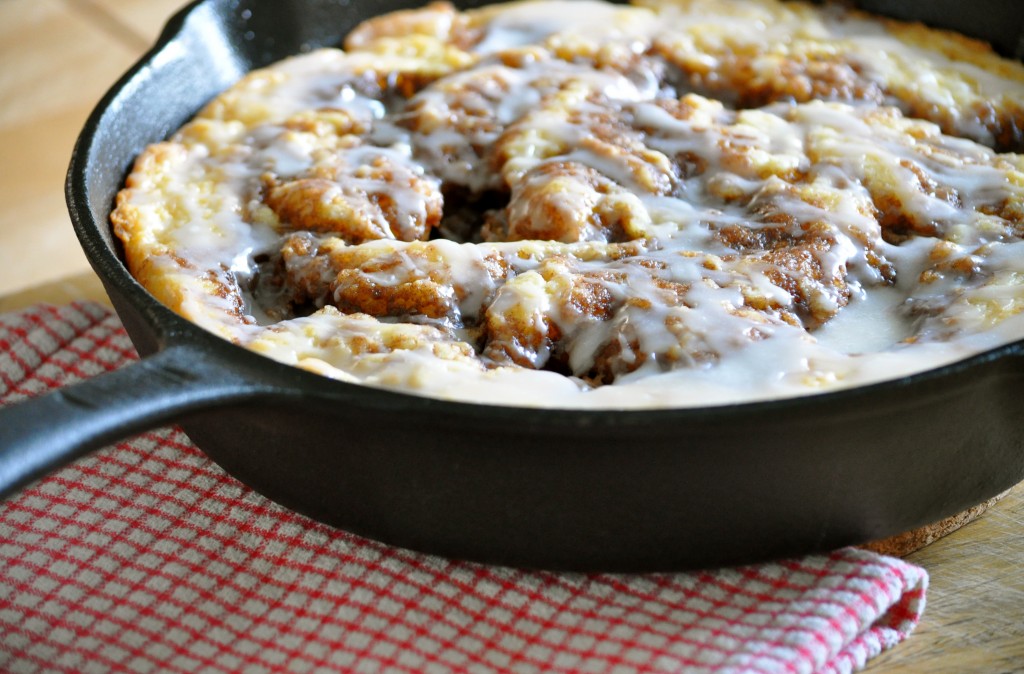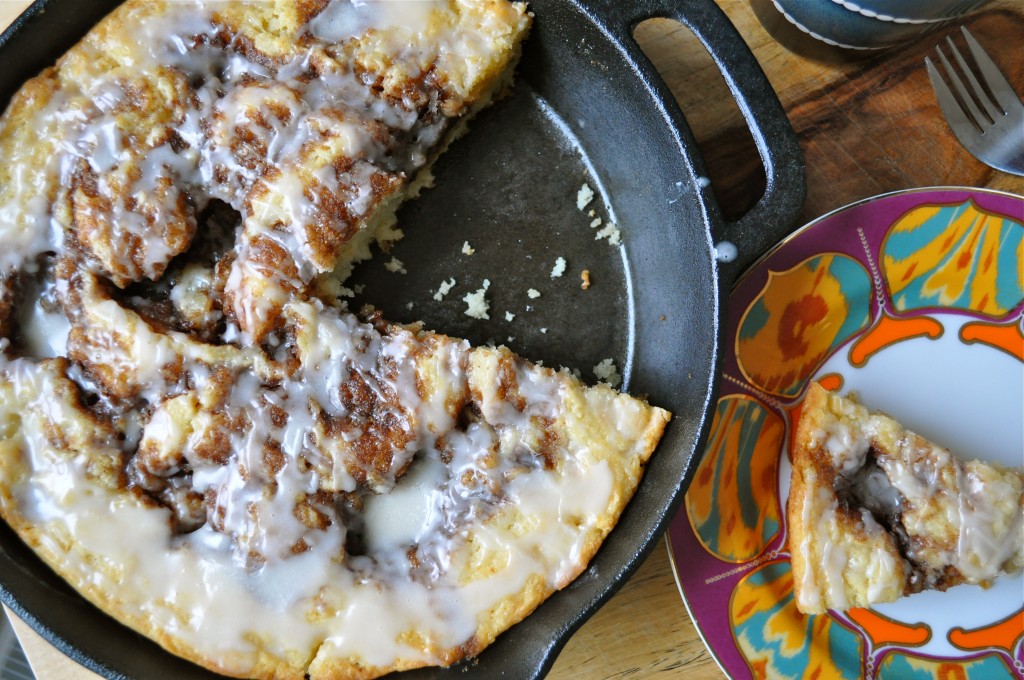 Seriously friends, how do you all do it? You all make it look so easy – even those of you with children and a load of responsibilities twice the size of mine. Please tell me that it really isn't as simple as you make it look, or at least share some of your secrets. How do you balance it all?
While I certainly don't have the answer, I do have a new trick up my sleeve. One thing I definitely don't have time for is making homemade cinnamon rolls on the regular. But imagine having a warm slice of cake that tastes exactly like a freshly baked cinnamon roll to stuff into your pie hole in only a fraction of the time?! Yes friends, that is what we call a win.
This skillet cake comes together lickety-split, quicker than you can say "but I don't have time!" The first time I made this, I whipped it up when I woke up in the morning and baked it while I got ready for work. By the time I had to leave, it was cool enough to handle and transport. Dudes, it was still warm when we ate with our morning coffee. Now if that doesn't make a work day better, I'm out of ideas.
Now, I recommend that you throw this cake together one morning when you need a little pick-me-up. Even during the crazy holiday season that is descending upon us, you can make the time. Browning the butter isn't even necessary, but it does add a little something extra. However, I promise you it's still completely delicious if you forego that step. Enjoy, sweet friends!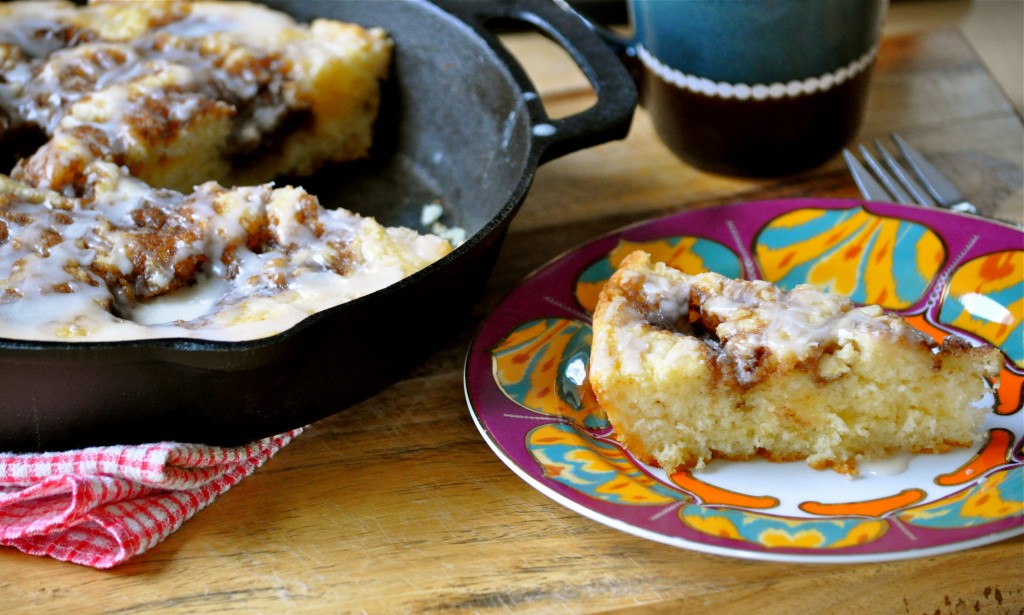 Brown Butter Cinnamon Roll Skillet Cake (recipe adapted from Crunchy Creamy Sweet)
A warm, fluffy cake, filled with little craters of brown sugar and cinnamon, reminiscent of a freshly baked cinnamon roll. If you don't have a skillet, you can bake it in a 8 x 8 pan, or you can double the recipe and bake it in a 9 x 13 pan. Be sure to grease the pan well. And if you want to skip the step of browning the butter, just make sure it's melted before you incorporate it into the rest of the batter. Serves 6.
Cake:
1 1/2 cups all-purpose flour
1/2 cup granulated sugar
2 tsp. baking powder
Pinch of salt
3/4 cup milk
1 egg
1 tsp. vanilla
1/4 cup brown butter*
Topping:
1/2 cup butter, softened
1/2 cup brown sugar, packed
1 TBSP. all-purpose flour
1 1/2 tsp. cinnamon
Glaze:
1 cup powdered sugar
1 tsp. vanilla
2 TBSP. milk
Preheat the oven to 350°F. Mix all of the cake ingredients together, except for the butter. Slowly stir in the butter and mix just until incorporated (don't overmix). Pour into a greased 10-inch skillet and spread out evenly. Mix the topping ingredients together until well combined. Drop by spoonfuls evenly over the batter and swirl with a knife. Bake for 25-28 minutes, or until golden brown around the edges.
Combine the glaze ingredients and drizzle over top of the cake while still warm. Serve immediately. Leftover cake can be stored for a couple of days if well-wrapped.
*If you've never browned butter before, here is a really great tutorial.