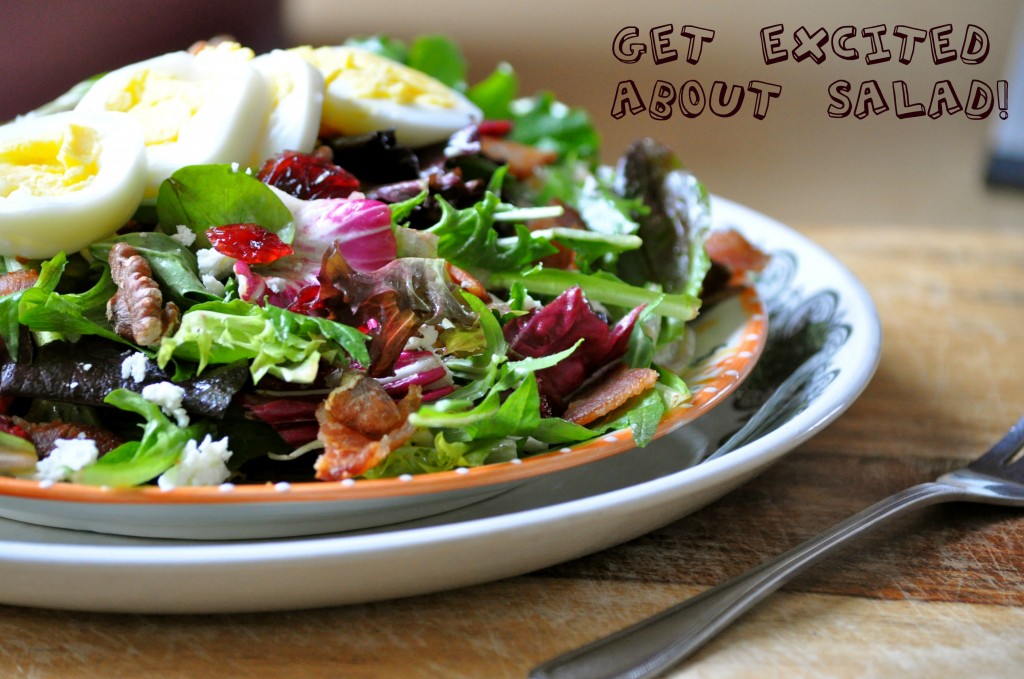 So I have this pet peeve. Something that really irks me. You wanna know what it is?
I'm going to tell you anyways. I mean, that's why you're here right? You allow me to talk incessantly about the crap that runs through my brain 18 hours per day and I reward you at the end of it all with a tasty recipe. It's a mutually beneficial relationship we've got going on here. Capiche?
Back to the pet peeve. Restaurants that serve you a bowl of lettuce with a sprinkle of shredded carrots and call it a side salad. Dude, that's not a salad. That's lettuce with some shredded carrots on it.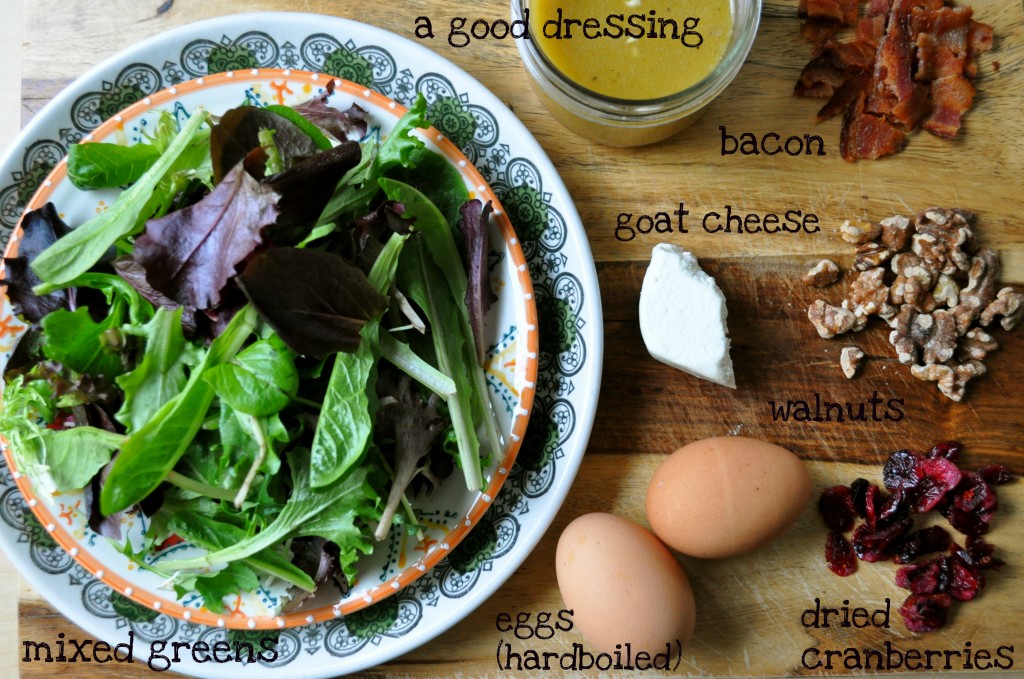 In fact, I blame restaurants that make fake salads for turning people off of salads. Giving them a bad rep. Lettuce with shredded carrots on it isn't exciting! It's rabbit food!
But adding fun toppings like nuts, cheese, veggies, dried fruit, and a delicious dressing? Now that's something to get excited about. Take the salad you see here, for instance. A bed of mixed greens is totally more exciting than plain ol' lettuce. Toasted walnuts – yes. Dried cranberries – wicked. Creamy goat cheese – yes siree. Crumbled bacon – heck yeah. Top it off with a homemade vinaigrette and a hardboiled egg or two for some added protein and that right there is a complete and fantastic meal.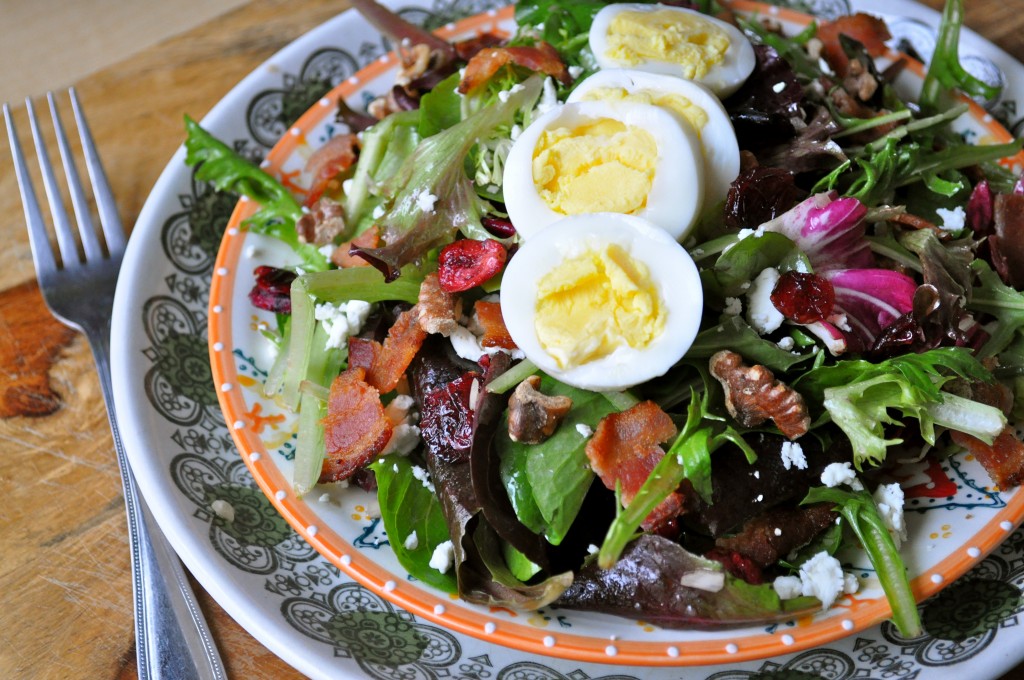 Dudes will like this salad too! (I credit the bacon for that one) I took this salad to a dinner party to serve as its own course (minus the hardboiled egg). It was a HUGE hit with the ladies and the dudes. The flavors work really well together and the whole thing is just so darn satisfying. I also included halved cherry tomatoes, but didn't have any on hand when I made it again last weekend. I highly recommend that you add them as they provide a sweet little juicy pop.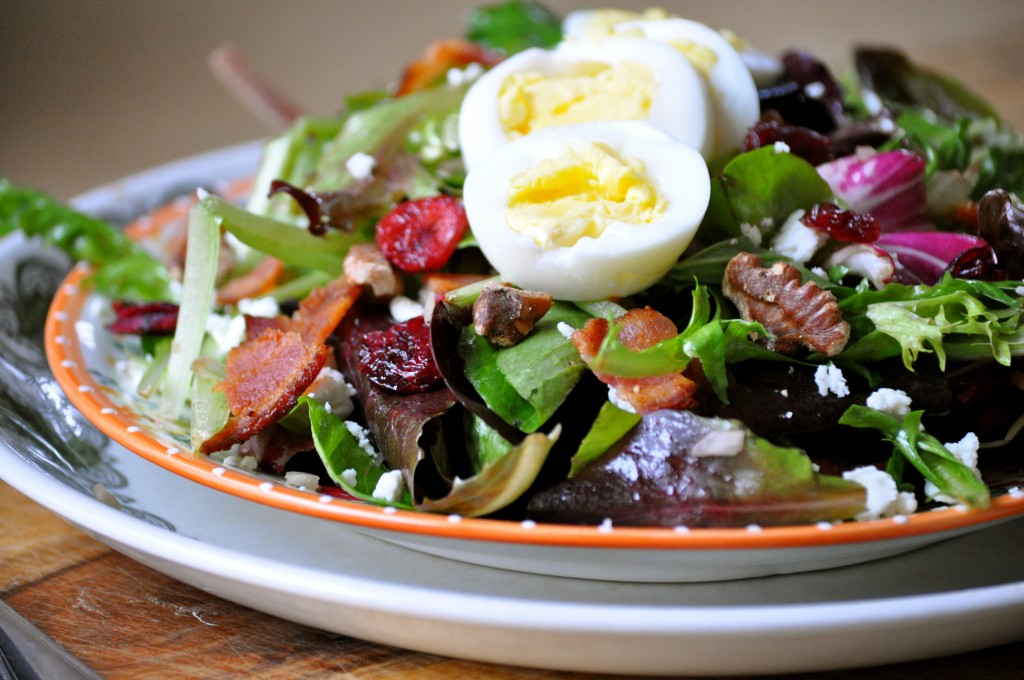 Feel free to play around too! Think of this recipe as a guideline for creating a really well-balanced and flavorful salad. If you don't like walnuts, try almonds or pecans. Not a fan of goat cheese? Try feta or parmesan cheese. Want to make this vegetarian? Omit the bacon. If you're making a meal out of it, trying adding grilled chicken in place of the egg. Or grilled tofu! Tuna or salmon! The possibilities are endless. Get into it!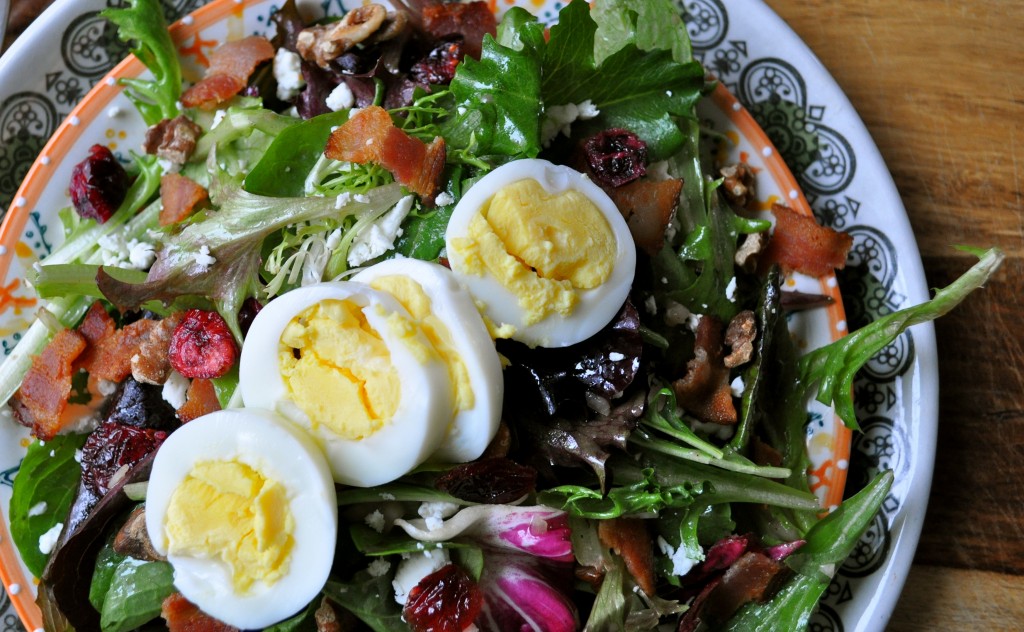 The Get Excited About Salad Salad (adapted from Oprah.com)
The cherry tomatoes aren't shown here, but please add them if you can. As mentioned, if you're making this as a side salad or for a salad course, the hardboiled egg or added protein can be left out. But if you're making this salad into a meal, definitely add your protein of choice to ensure hunger satisfaction. The dressing is wonderful and could really be used on any salad. It will make more than you need for this recipe, so store any leftovers in a tightly sealed jar in the fridge and use on other salads throughout the week.
For the dressing:
1/4 cup red wine vinegar
1 shallot, finely chopped
1 tsp. Dijon mustard
1 tsp. honey
1/4 teaspoon salt
1/8 teaspoon freshly ground black pepper
1/3 cup plus 1 tablespoon extra-virgin olive oil
For the salad (serves 2 as a meal, 4 as a side):
1/4 cup walnuts, toasted and chopped
3 cups mixed greens
1/4 cup cherry tomatoes, halved
1 ounce of goat cheese, crumbled
4 strips of thick-cut bacon, cooked and crumbled
1/4 cup dried cranberries
2 eggs, hardboiled (optional)
To toast the walnuts, spread them out onto a baking sheet and toast them in the oven at 350°F for about 8-10 minutes. Combine all of the dressing ingredients, minus the olive oil, in a small bowl. Slowly add the olive oil, whisking constantly as you do so. Set aside.
Combine the mixed greens, toasted walnuts, cherry tomatoes, and dried cranberries in a large bowl. Add the dressing (to taste – you will not need all of it) and toss to coat. Split the salad onto 2 (or 4) plates and then evenly sprinkle with the goat cheese and bacon. Slice the hardboiled egg and add one egg to each salad. Enjoy!
PS. I totally just made this again for dinner last night and added a fried egg. It was mega!
PPS. What makes a salad great for you?