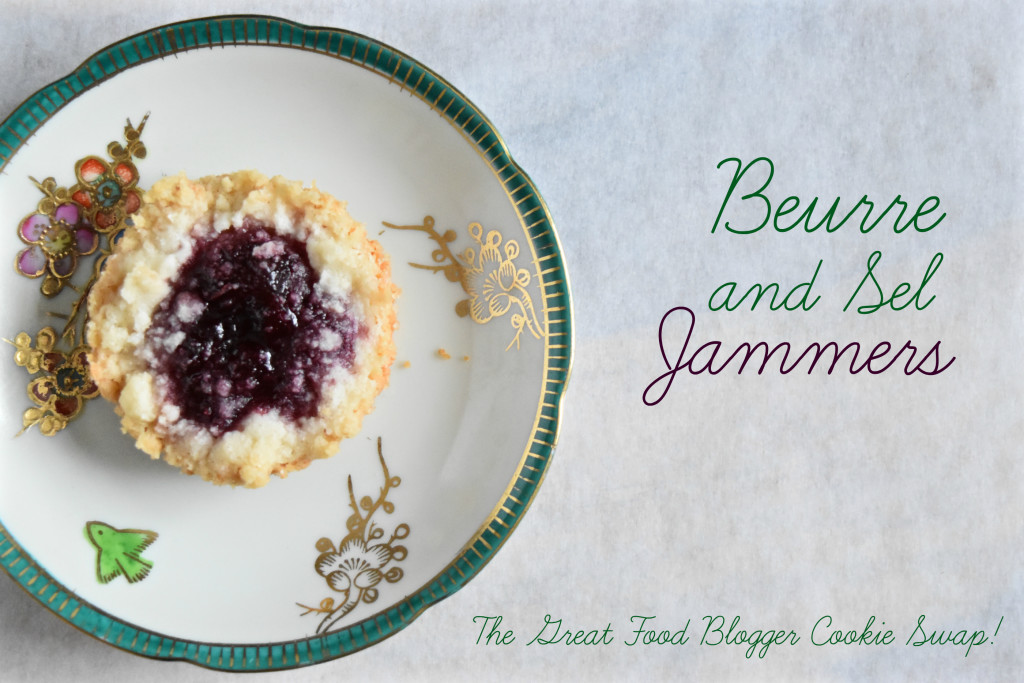 Son of a bee sting, it's that time of year again!  This year I had the pleasure of participating in the Great Food Blogger Cookie Swap for the third time. The swap is hosted by two lovely ladies, The Little Kitchen and Love & Olive Oil. If you have no idea what the Great Food Blogger Cookie Swap is, allow me bring you up to speed. It's a worldwide food blogger cookie swap! Basically, you sign up, get matched with three other bloggers, and send each blogger a dozen homemade cookies. Then you must wait patiently to receive three dozen delicious cookies from the bloggers that received your name. The swap also raises money for Cookies for Kids' Cancer! Sending cookies around the world + supporting a good cause = Christmas magic and lots of fun.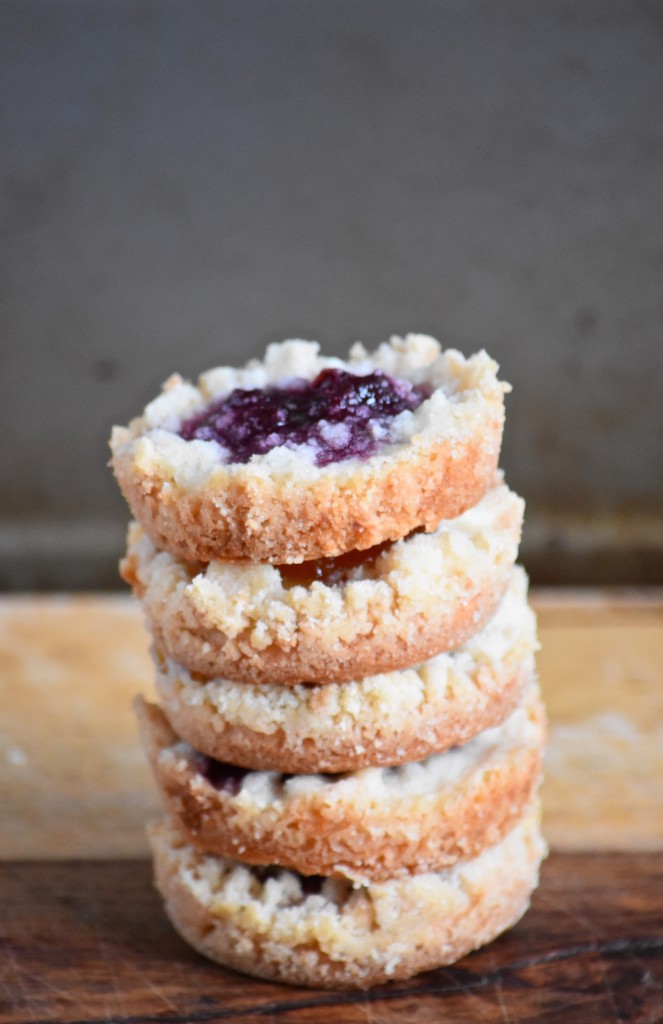 This year I chose to make these Beurre and Sel Jammers from Dorie Greenspan. I actually received these cookies during my first year in the swap and have not been able to get them off my mind since! Imagine a buttery deep dish shortbread cookie topped with tart jam that has been nestled within a ring of buttery streusel. Have I got your attention yet?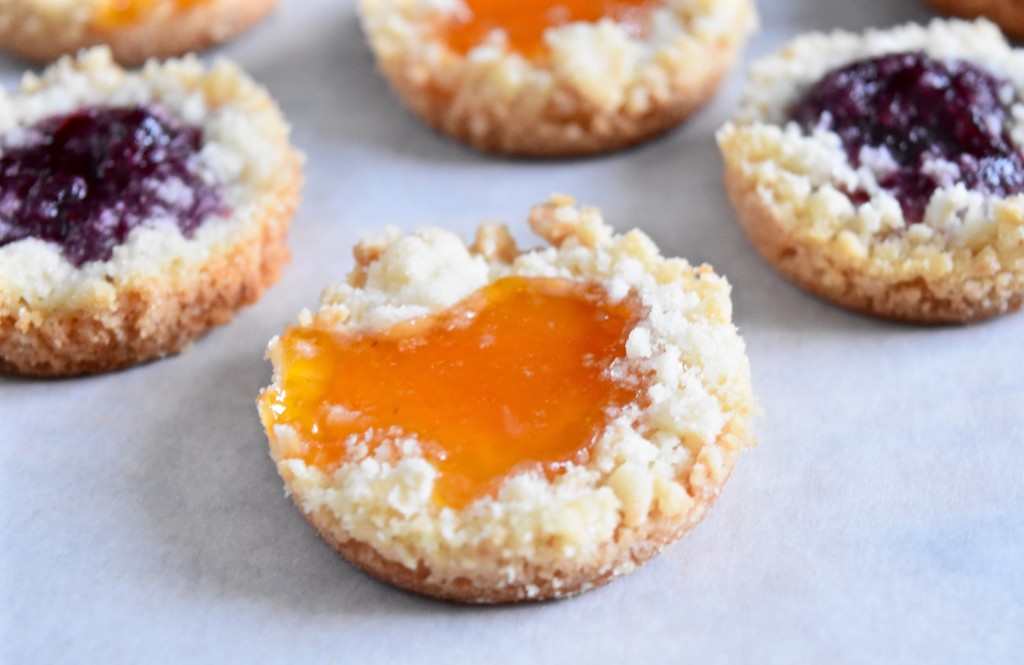 These cookies are absolute magic. Sweet, buttery, jammy magic. They do take a bit of work as there are several steps involved, but I promise you they are worth it! I used a tart cherry jam and an apricot jam, and loved both. You can use any jam you like, just make sure it's a bit thick so that it stays in the centre of the cookie and doesn't spread out too much. I am officially adding these cookies to my Christmas baking rotation. I've already made them twice this month and am tempted to squeeze in a third round! The cookies freeze beautifully, so they are perfect for baking ahead and taking them out when you need them.
Interested in participating in next year's swap? Check the Great Food Blogger Cookie Swap website for more details. Happy holiday baking!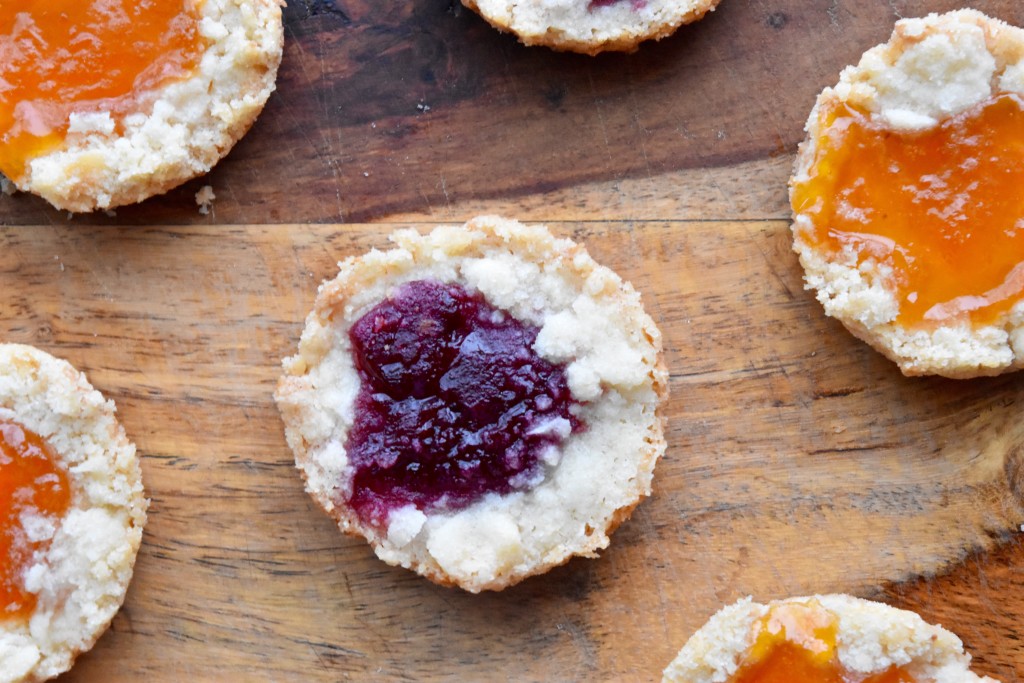 Beurre and Sel Jammers (from Dorie Greenspan)
These beurre and sel jammers are a cookie lover's dream. They can be made in parts if tackling the whole recipe in one day seems like too much. They freeze very well when stored in an airtight container, so make them ahead of time to have on hand for all your holiday celebrations! Makes about 36 cookies.
For the cookie dough:
1 cup (2 sticks) unsalted butter, room temperature
1/2 cup sugar
1/4 cup powdered sugar, sifted
1/2 tsp. fine sea salt
2 egg yolks, room temperature
2 tsp. vanilla
2 cups all-purpose flour
For the topping:
3/4 cup all-purpose flour
1/3 cup sugar
1/4 tsp. fine sea salt
5 1/2 TBSP. unsalted butter, cold and cut into pieces
1/4 tsp. vanilla
3/4 cup thick jam
For the cookies: Place the butter in the bowl of an electric mixer. Mix on medium speed for about 3 minutes, until the butter is smooth and creamy. Add in both sugars and the salt, and beat until well blended, for about a minute. Add the egg yolks and vanilla and beat on low speed until combined. Finally, add the flour and mix on low until just combined. Divide the dough in half. Place each half between two sheets of wax paper and flatten into discs. Roll each disc into 1/4-inch thickness. Place on cookie sheets and freeze between the wax paper until firm, for at least two hours (or overnight). The dough can be kept frozen for up to two days if you'd like to do this part ahead of time.
For the streusel topping: Mix the flour, sugar, and salt together in a bowl. Using your fingers, rub the butter and vanilla into the flour mixture until well combined and no lumps of butter remain. The streusel will be sandy in texture and will hold its shape when pressed between your fingers. Cover and chill.
To assemble the cookies: Preheat the oven to 350°F. Remove the cookie dough from the freezer. Using a 2-inch round cookie cutter (or a tall narrow glass, like me!), cut the dough into rounds and press each round into the bottom of each muffin cup. Gather the scraps and repeat the process until you have used up your dough. Doris's recipe suggests freezing the dough in the muffin tin for another 30 minutes before baking, but I skipped this step. When mama wants cookies, she wants them now.
Spoon about 1 teaspoon of jam into the center of each round of dough. Using your fingers or a small spoon, sprinkle about a tablespoon of streusel around the edges of each cookie, trying not to get any in the jam. Bake the cookies for about 20-22 minutes, until the tops are golden. Cool in tins for 15 minutes. Run a small knife around edges of each muffin cup and gently remove cookies. Allow to cool completely on a wire rack. Store the cookies in an airtight container. Freeze if the cookies will not be consumed within a few days.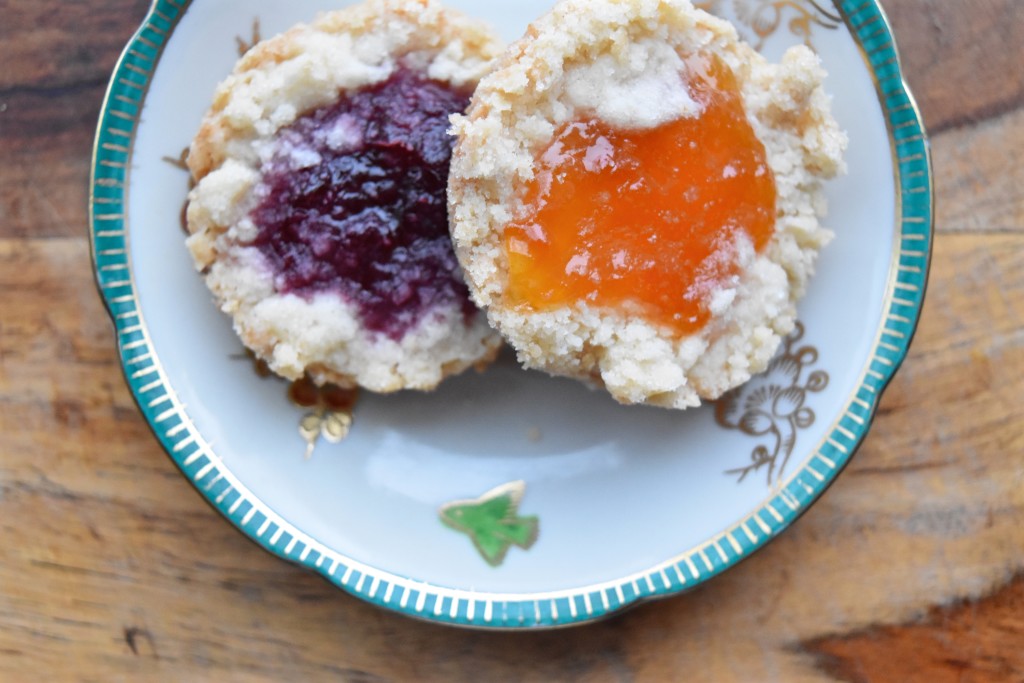 Looking for more amazing cookie recipes? Check out the lovely cookies I received from Marie at Food Nouveau (Maple Syrup Fudge cookies), Jane at Jane's Adventures in Dinner (Jammy Pudding cookies), and Sharana at Living the Sweet Life (Cranberry Orange Dark and Stormy cookies). Also be sure to check out the bloggers that I had the pleasure of sending a box of these cookies to: Laurel at Wanna Come With, Claude at a la Claude, and Alicia at Bird House Diaries. xo