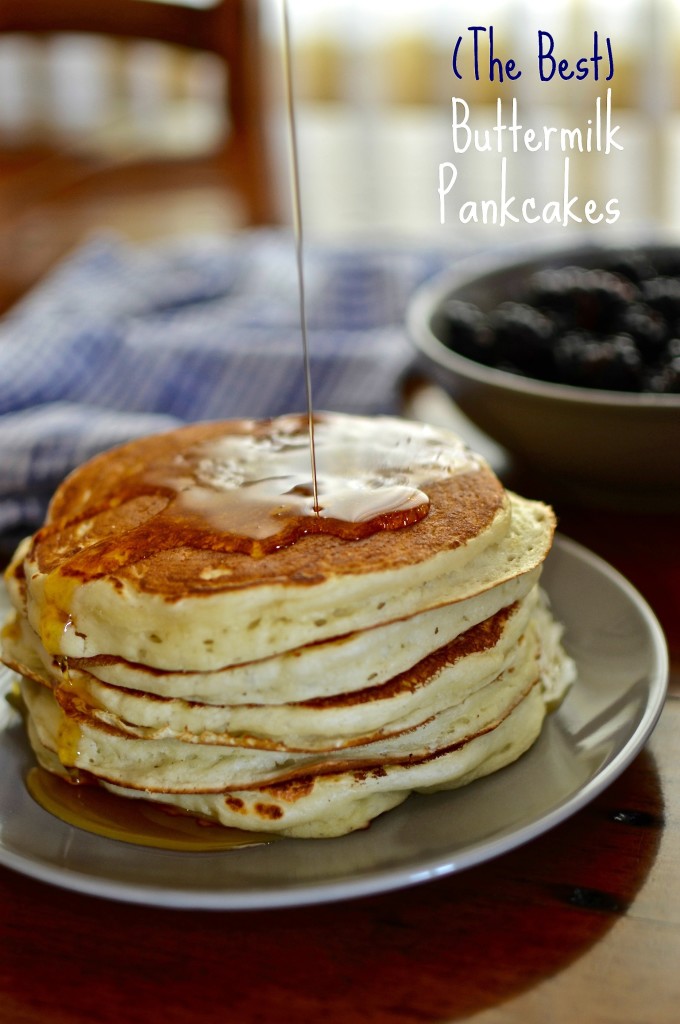 Well, hello beautiful!
I mean, is that a beautiful stack of pancakes or what?
I have enjoyed these pancakes twice in the last month – once when I was incredibly hung over and another time when I was not even a little bit hung over. They tasted equally fantastic both of those times. However, if there's one thing I've come to learn in my thirties, it's that having more than a couple of drinks in one evening is just not worth the pain that follows the next day. And tequila shots are never a good idea. Even if they seem like a good idea at the time, they are not a good idea. Put down the tequila!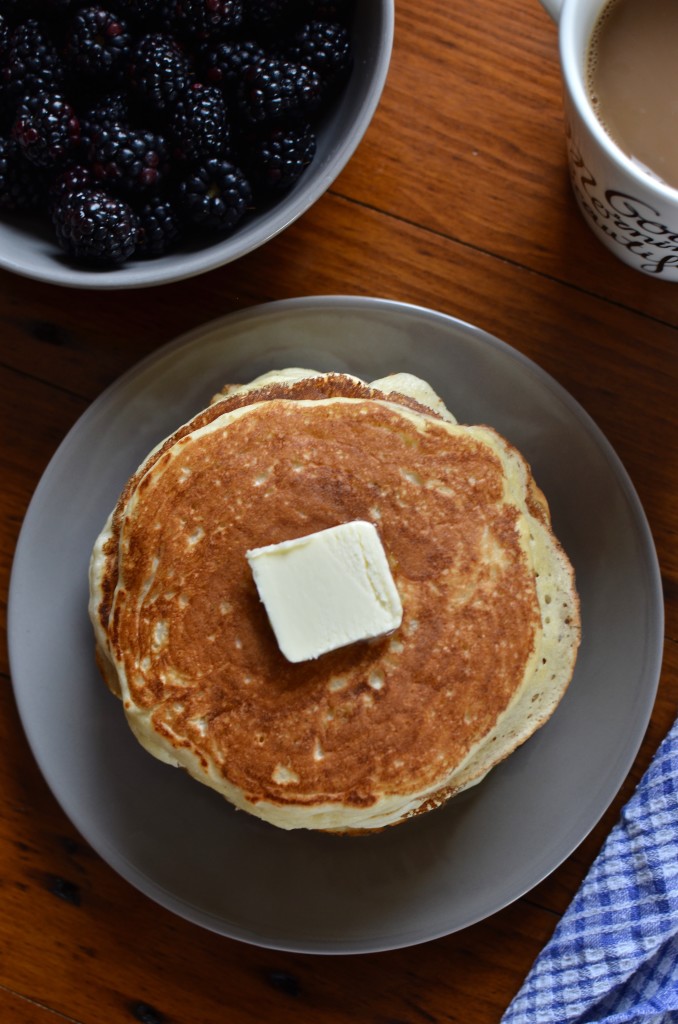 Hangovers aside, these buttermilk pancakes really are the way to make your weekend magical. Imagine yourself slowly waking up on a Saturday or Sunday morning, at your own pace, and not to the annoying ring of an alarm. You're still in your pyjamas. You put on some good tunes, start the coffee. And as it brews, the smell of coffee and magic and rainbows fills the air, and you start to gather the ingredients to make the fluffiest, most tender pancakes you've ever made. The recipe is simple – chances are you've got everything you need already sitting in your fridge and cupboards. The batter comes together easily, and soon enough you're spooning it into a hot frying pan, and its sweet aroma is enough to wake the others in the house (furry others included). And before you know it, you're settling down to enjoy a stack of hot buttermilk pancakes, swimming in butter and maple syrup. Life is good.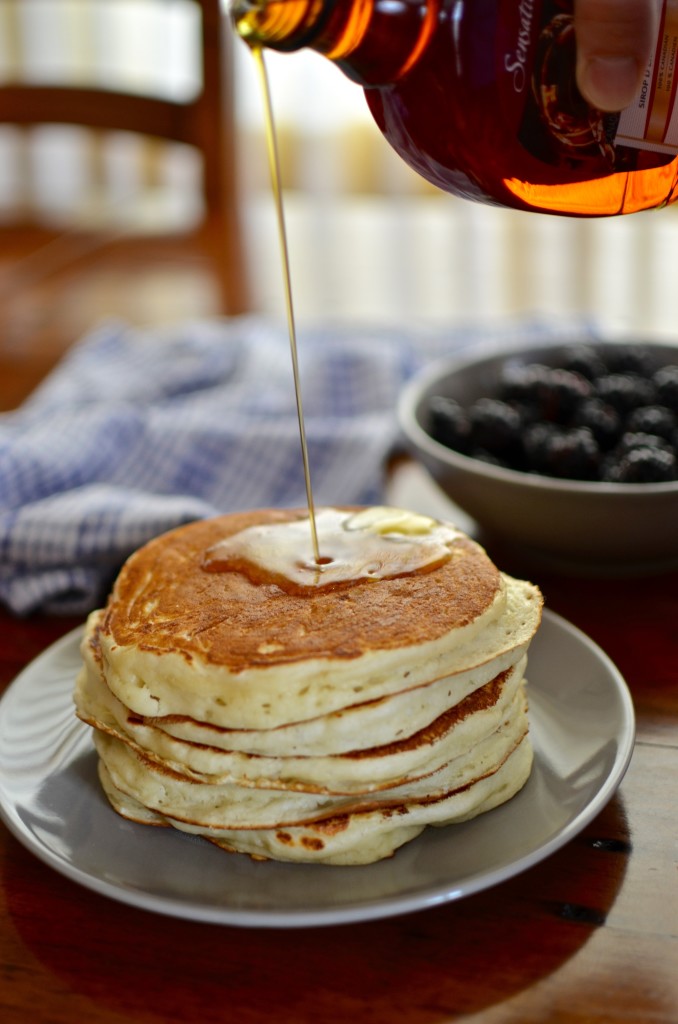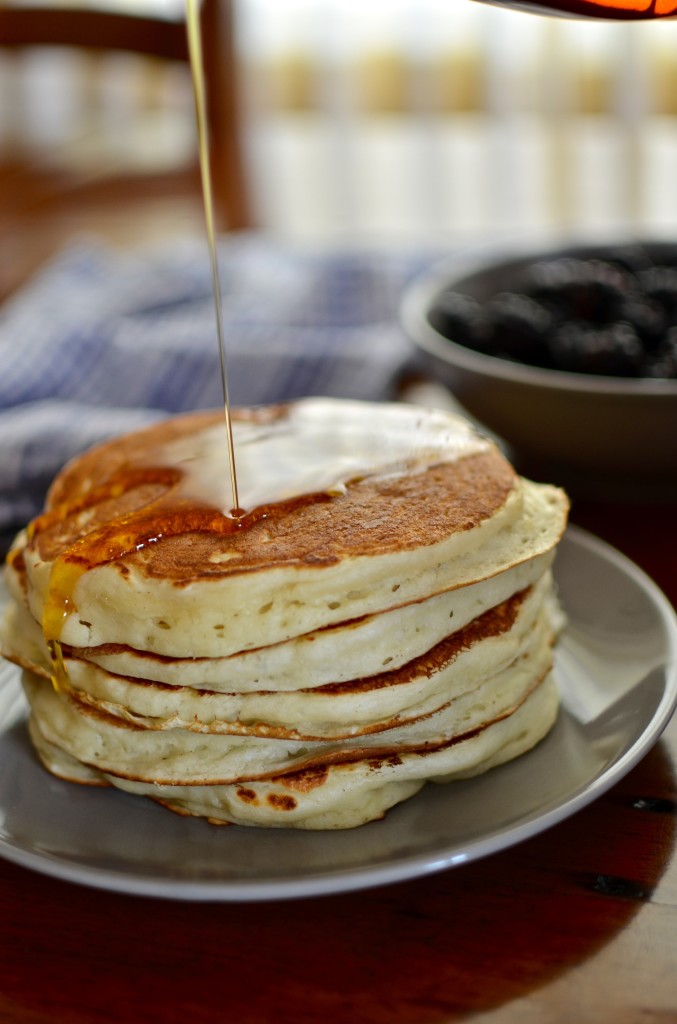 In case you haven't been counting down to the weekend like I have, I'm here to let you know that we've only got one more day to go before these pancake dreams can become a reality!
(The Best) Buttermilk Pancakes (adapted from The Food Lab by Kenji Lopez-Alt)
The trick to making these pancakes tender and fluffy is to whisk the egg whites separately and then fold into the pancake mixture. It's a quick and easy step that makes a big difference. These pancakes reheat well – just store in an airtight container in the fridge and enjoy within a couple of days. Makes about 10 large pancakes. 
2 cups all-purpose flour
1 tsp. baking powder
1/2 tsp. baking soda
1 tsp. salt
1 TBSP. sugar
2 eggs, separated
1 1/2 cups buttermilk
1 cup plain 2% Greek yogurt
1 tsp. vanilla
4 TBSP. unsalted butter, melted
Combine the dry ingredients in a large bowl and whisk together. In a small bowl, whisk the egg whites until stiff peaks form. In a medium bowl, whisk together the egg yolks, buttermilk, Greek yogurt, and vanilla. Slowly add the melted butter while whisking. Gently fold in the egg whites with a rubber spatula. Pour the mixture over the dry ingredients and fold until just combined (do not overmix). The batter will be thick and lumpy.
Heat a large nonstick skillet over medium heat. Place 1/2 cup of batter into the skillet and gently spread out evenly. Allow to cook until small bubbles start to appear on the top and the bottoms are golden brown (about 2 minutes). Gently flip over and cook the other side until golden brown (about 2 minutes). Serve the pancakes immediately with butter and maple syrup.