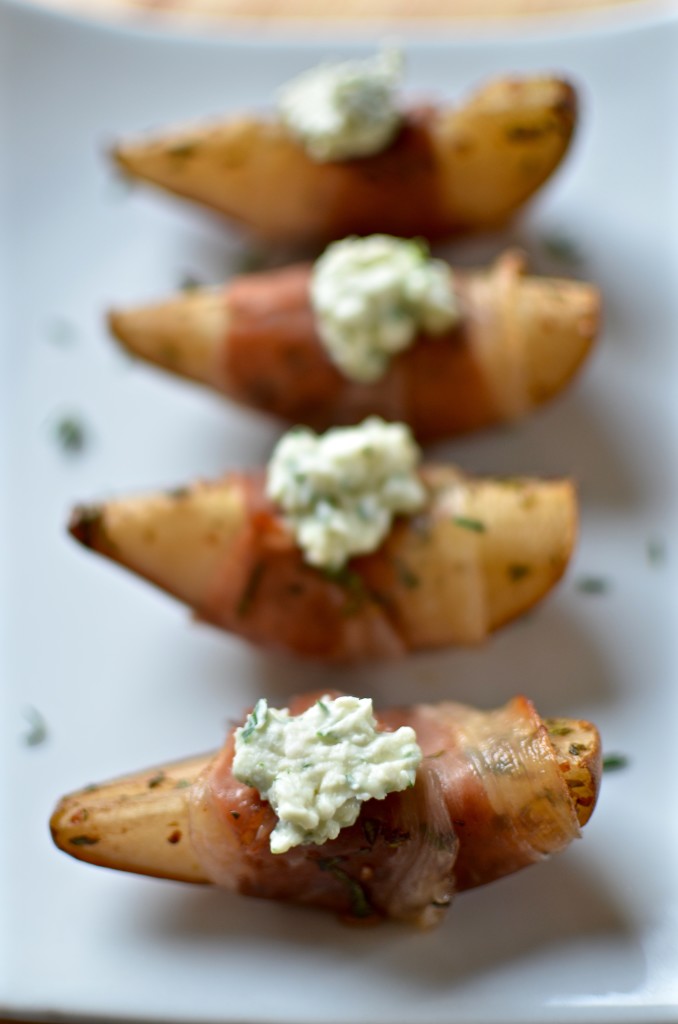 Nothing screams family to me quite as loudly as food.
For as long as I can remember, the special events in my family have always revolved around food – wonderfully, ridiculously, excessively so. A birthday doesn't go by without the birthday girl or boy having the opportunity to pick the meal for their special day; Christmas isn't complete without an absolute feast that has been preceded by a handful of appetizers and is followed by an absurd selection of sweets; and Mother's Day provides the perfect opportunity for me to cook a meal (usually brunch) for my amazing mom, who is so often responsible for filling our bellies at Sunday family dinner. Because of my Norwegian roots on my mom's side, it is our family tradition to make flat bread and spritz cookies every Christmas, to serve lefse at family gatherings, and a jar of pickled herring occasionally graces the table (something I have not yet developed a taste for and am not sure that I ever will). On my dad's side of the family, you could almost always expect German cabbage rolls, platz, and my Grandma's buns at our family gatherings.
Some traditions are not to be messed with. My extended family on my mom's side has developed a brunch menu that tends to be strictly followed when we get together: gooey pull-apart bread, quiche (at least two varieties), sausage/bacon, and a massive fruit plate, at minimum. It is not uncommon for me to receive a horrified glance if I suggest that we change the menu up a bit and try something new.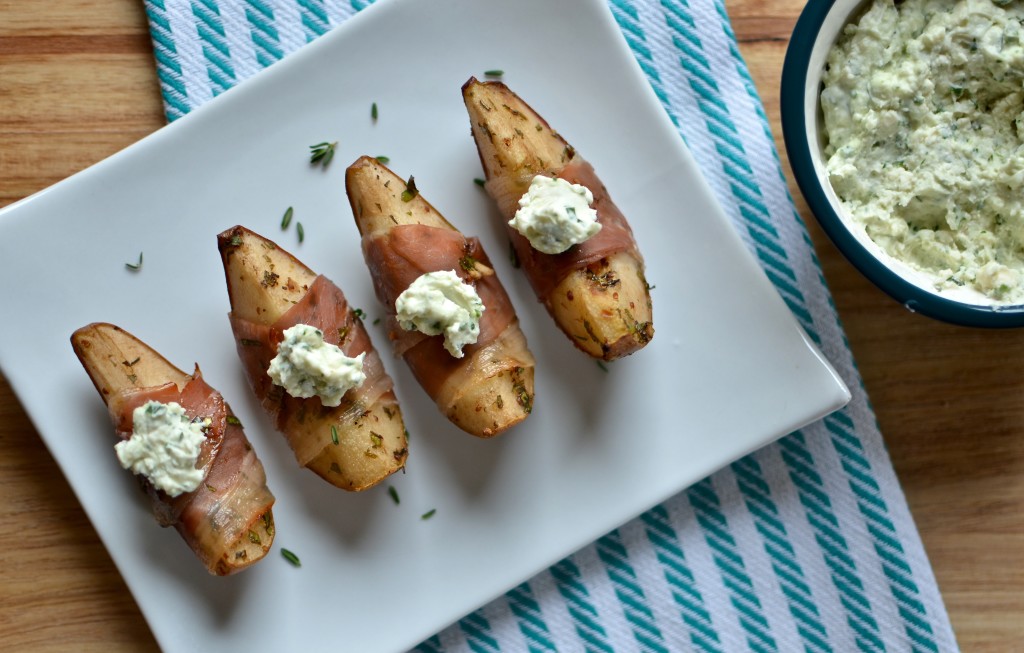 These balsamic roasted pear wedges with prosciutto (and a gorgonzola cream dip) have nothing to do with brunch. However, they come from professional home economist and author, Emily Richards' latest cookbook, Per La Famiglia: Memories and Recipes of Southern Italian Home Cooking. The Italian translation of Per La Famiglia simply means "for the family." Many of the recipes I make with regularity today I learned from the women in my family. A wonderful excerpt from Emily's book states: "Sharing time in the kitchen with mothers, aunts and Nonnas is a way to gather your history in the kitchen. By not spending time in the kitchen with your family members, recipes can be lost. When possible try to get in the kitchen with them and take notes, take part and taste what can become of the ingredients. It's a special moment to have." (page 4). I cannot put into words how much I value the time I was able to spend in the kitchen with my Nana, learning to make cinnamon buns, or the times, past and present, spent cooking with my mom or my aunts. I regret not making the opportunity to cook more with my grandma (she recently passed away) and learn how to make her famous rhubarb platz. Per La Famiglia is a wonderful collection of family recipes that highlight the importance of learning how to carry on the food traditions in your family.
These sweet and savoury pear wedges are incredibly simple to prepare and boast so much flavour! The pears are quickly marinated in a balsamic mixture, then wrapped in prosciutto and roasted to perfection. The gorgonzola cream dip adds another dimension of flavour and provides a creamy and cool accompaniment to the pears.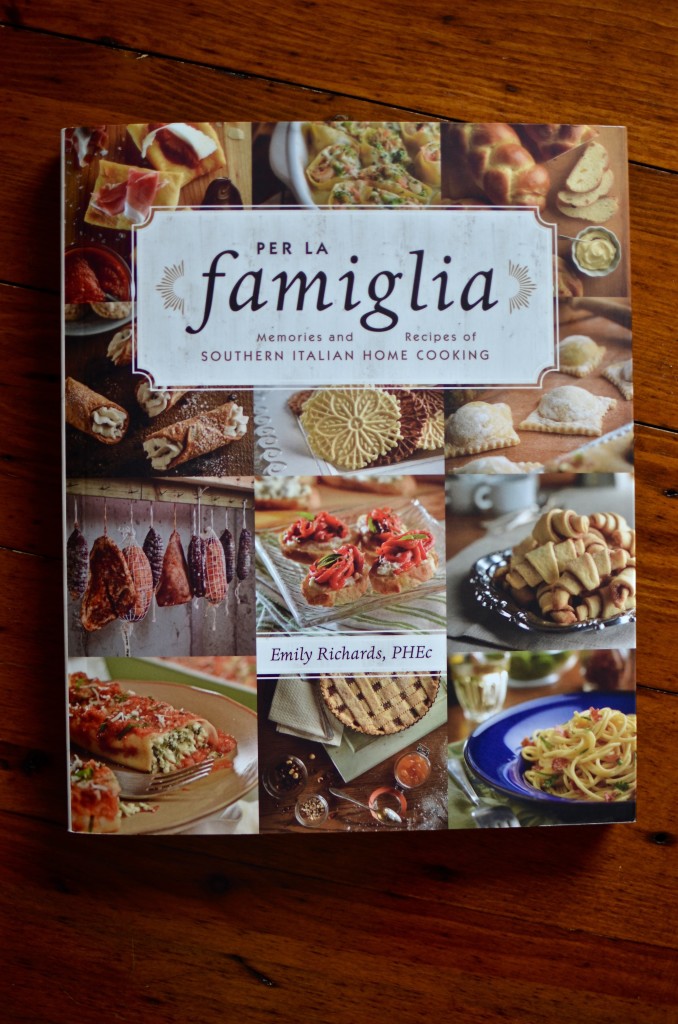 You can find the recipe for these tasty little morsels on page 87 in Per La Famiglia: Memories and Recipes of Southern Italian Home Cooking by Emily Richards. I recall watching Emily on Canadian Living Cooks on the Food Network years ago! I love her approach to food and her emphasis on passing those special family recipes on from generation to generation. I cannot wait to spend more time with this book and try more of Emily's recipes. She includes recipes for a variety of different holidays (Easter and Christmas), plus sections for antipasti, pizza, bread, first courses and light meals, main courses, veggies and salads, desserts (my fave, obvi), and cookies. And I love the little snippets that Emily shares throughout the book about growing up in a loving Italian family.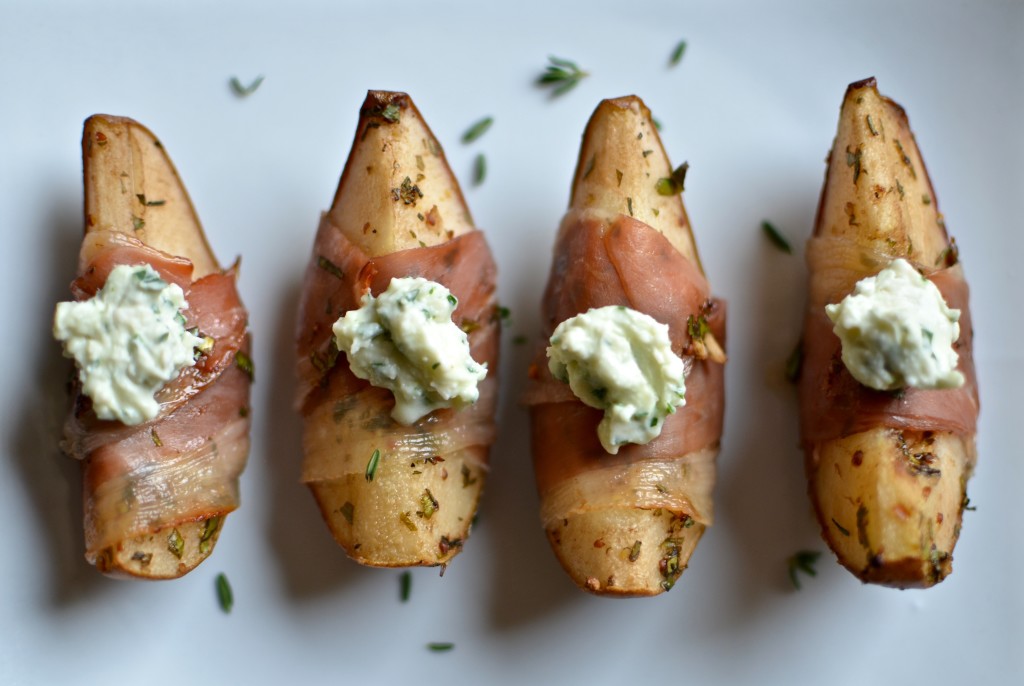 It was not an easy task to choose a recipe to share. With options like Balsamic Lamb Chops, Ricotta Cannoli, and Spinach Ricotta Gnocchi, how was I to pick just one? I want to make everything! I chose these balsamic roasted pears with prosciutto simply because I thought the flavours in the recipe sounded wonderful. And they were! I shared these pears at a family gathering last weekend and they were enjoyed by all.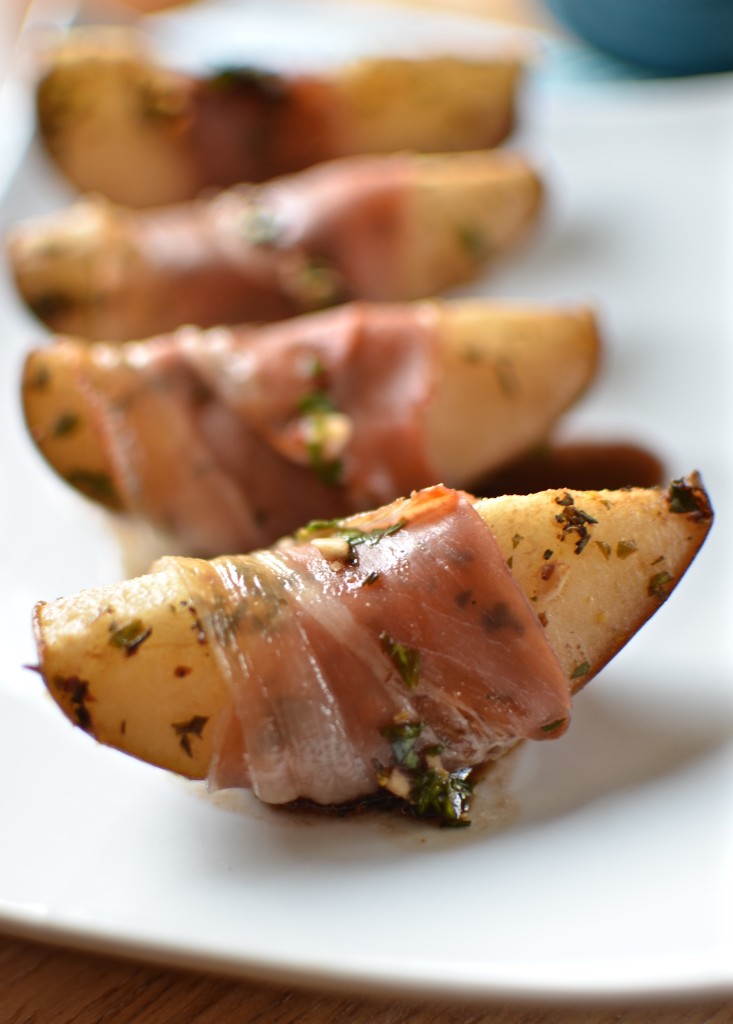 Oh, and I have great news! There is an opportunity for one of you lovelies out there to win this amazing cookbook along with a gnocchi board and a three-piece Microplane Elite Grater/Zester set. Oh, happy day!
Good luck to all of you and Happy Easter! I hope you all have the chance to spend time with loved ones this weekend and enjoy some delicious food!
Please be sure to check out more incredible treats from my fellow Per La Famiglia blogger pals in celebration of Emily's wonderful cookbook!
Jenny from The Brunette Baker made Ricotta Cannoli
Julie from Dinner with Julie made Ricotta and Spinach Gnocchi
Chrissie from The Busy Baker made Amaretti Cookies
Heather from The Tasty Gardener made Squash and Hazelnut Rotelle/Polenta with Sausage and Rapini
Britt from My Daily Randomness made Tiramisu
Libby from Libby Roach made Nonna Ortenzia's Meatballs
Kristy from She Eats made Egg and Raisin Bread
Gwen from Devour and Conquer made Sweet Potato Gnocchi with Sage Butter
Tiffany from Eating Niagara made Potato Doughnuts
Nancy from Gotta Get Baked made Hazelnut Chocolate-Filled Cookies
Nicole from Culinary Cool made Spinach Ricotta Cannelloni
Carole from The Yum Yum Factor made Pickled Eggplant
Kelly from kellyneil.com made Roasted Tomatoes
Christina from Strawberries for Supper made Baked Pasta with Sausage and Ricotta
And now, for the giveaway!
One lucky reader will win a personally signed Per La Famiglia cookbook by Emily herself along with a gnocchi board (which Emily is best known for), and a three-piece Microplane Elite Grater/Zester set. More details are listed below. Good luck!
Simply leave a comment below and tell me your favourite family recipe. Be sure to click the widget options below for both mandatory and optional bonus entries.
This giveaway is open to all legal residents of Canada who have reached the age of majority at the time of the contest in the province or territory in which they reside.
Void in Quebec.
No purchase necessary to enter.
Giveaway will run from Wednesday, March 23, 2016 at 12:01am to end on Wednesday, March 30, 2016 at 11:59pm. Winner is chosen at random via Rafflecopter. Winner will be contacted via email and given 48 hours to respond. If not, a new winner will be chosen. Winner selected MUST correctly answer a skill-testing mathematical question. Winner's name will be displayed on Rafflecopter widget. Email address will never be given out to any third party or anyone for that matter.
Prize value is approximately $75CDN.
A big warm thank-you to Jenny Jack of the Brunette Baker for organizing this blog hop and Emily Richards, Whitecap Publishing, and Microplane for providing this tasty giveaway!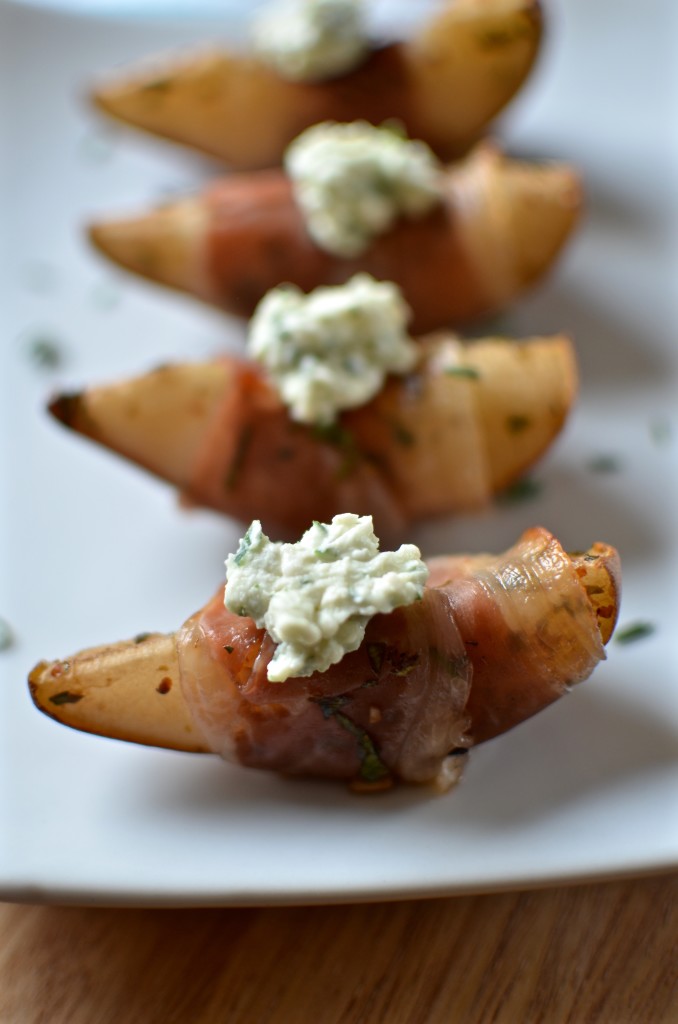 Disclosure: The Per La Famiglia: Memories and Recipes of Southern Italian Home Cooking cookbook was provided to me by Whitecap Publishing for review at no cost. All opinions are my own.