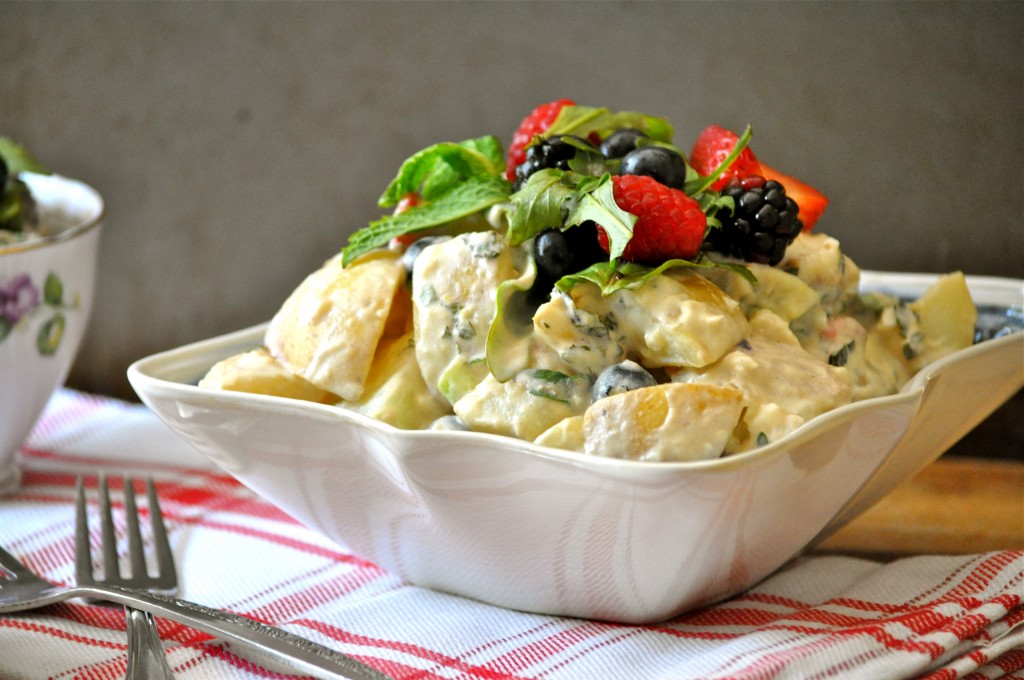 Hello friends! How's life? Please tell me you're out there enjoying the crap out of Summer. Can you believe we're nearing the end of July?!
Today I have a special summer potato salad recipe for you. A couple of weeks ago I was contacted and given the opportunity to share a recipe developed by one of Canada's foremost chefs for the Dairy Farmers of Canada's 2014 Real Cream program.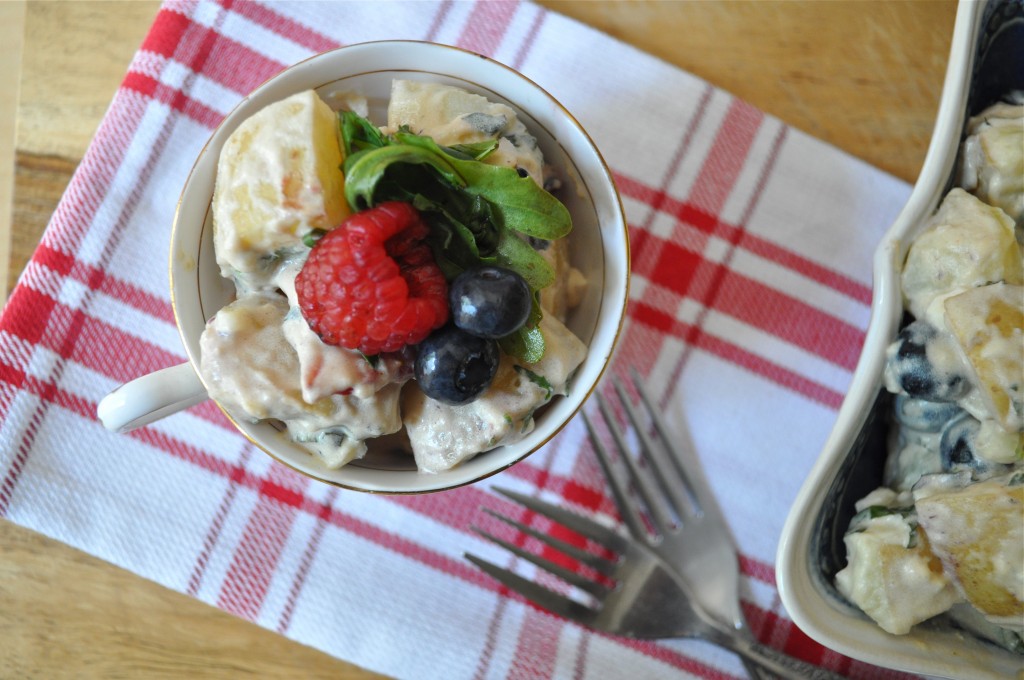 There's real whipping cream in this potato salad, folks. And it's divine.
Allow me to be totally honest here – I've never been a huge fan of potato salad. I don't dislike it, but it's not something I typically fill my plate with. I take a small spoonful and carry on. In fact, I had never made potato salad before, or even really considered it. Typically potato salads are very mayonnaise-heavy, and I'm not a big mayo lover. I like a little smear on my sandwich, or a little spoonful in my tuna or egg salad, but that's about it. When I read this recipe, I was really intrigued by the unique ingredients and flavours. The Dijon mustard, real whipping cream, and fresh lemon juice and mint really come through and help to downplay the mayonnaise in the dressing for the salad, and the fresh berries and arugula provide a fun twist. I ended up enjoying a bowl full of this potato salad once it was put together – and let me tell you, I ain't never eaten more than a few bites of potato salad in one sitting before.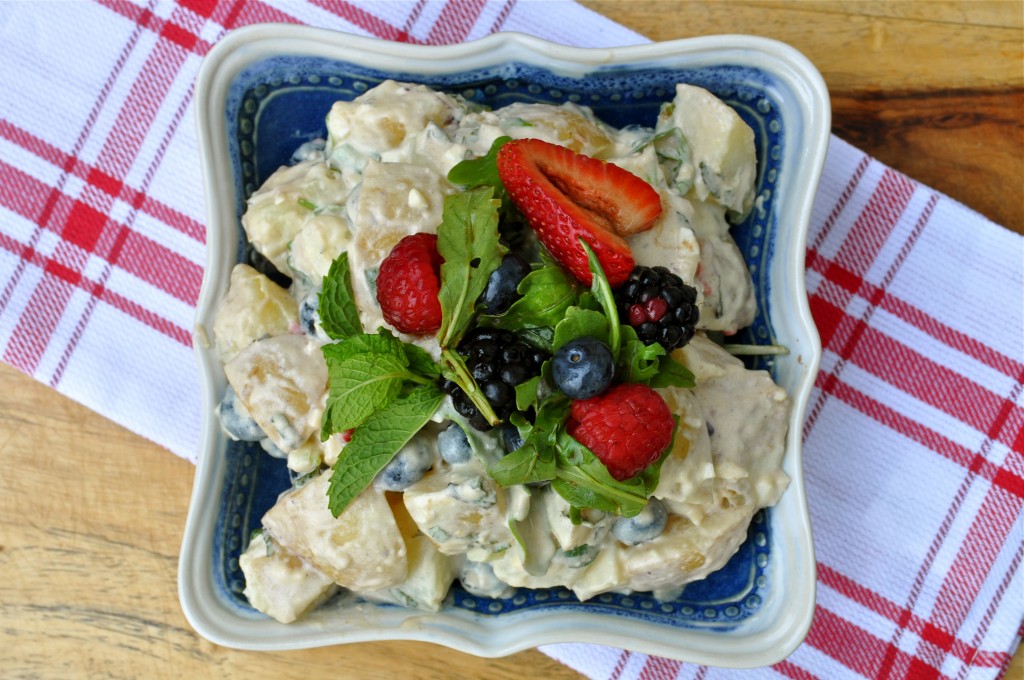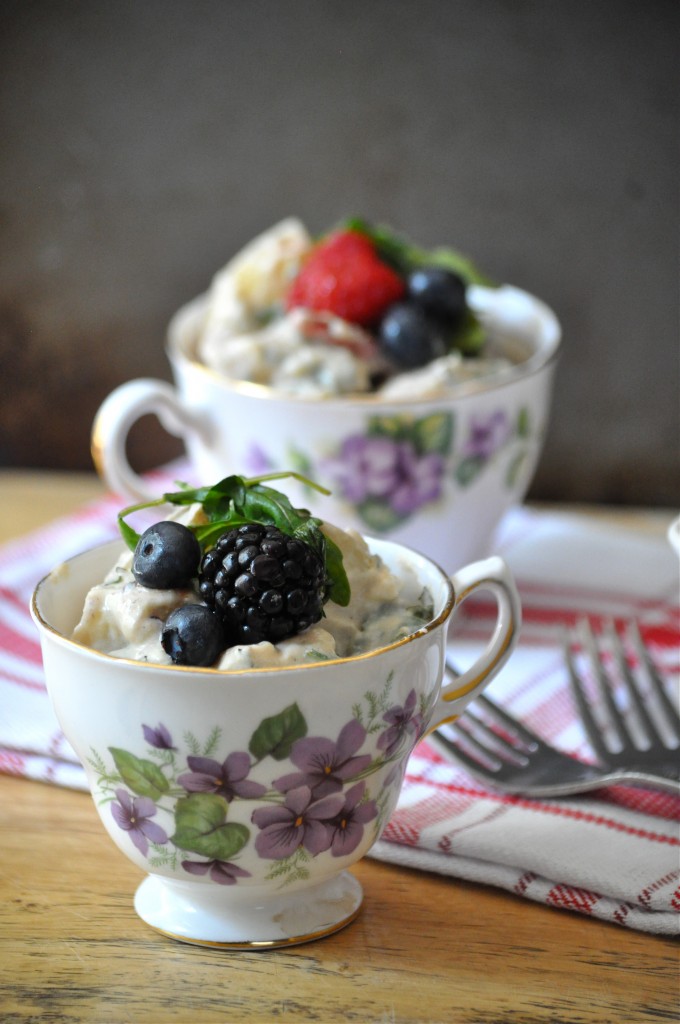 This potato salad would make a great addition to a summer picnic or BBQ, or even a regular ol' weekday meal. I think it looks super pretty served in little tea cups. Don't you think it would be fun to serve it this way at a bridal or baby shower? *idea alert!*
Even if adding sweet berries and whipping cream to a potato salad sounds bit wild, I really encourage you to give this recipe a try. What's living if you don't walk on the wild side from time to time?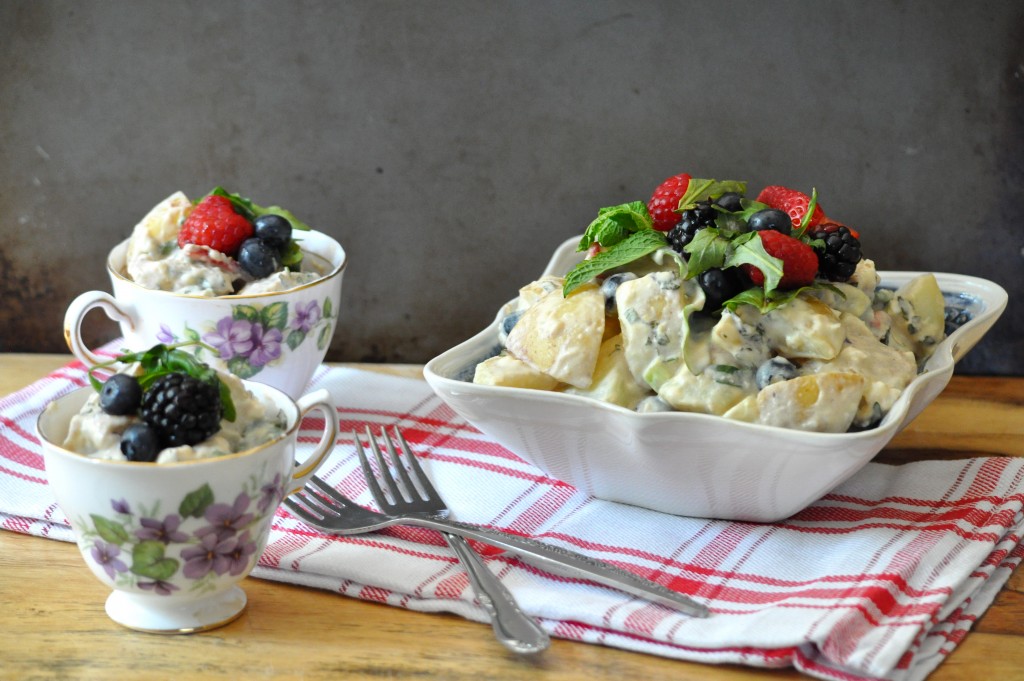 Berry Delicious Potato Salad (recipe by Chef Michael Allemeier from the Southern Alberta Institute of Technology)
A classic summer yellow-fleshed potato salad, bound with a creamy hard-boiled egg dressing, elevated with the addition of assorted berries and arugula for an unexpected twist. Serves 8.
5 medium yellow-fleshed potatoes (about 2 lbs)
2 hardboiled eggs, peeled
1/2 cup mayonnaise
1/3 cup 35% whipping cream
1/4 cup sour cream
2 TBSP. Dijon mustard
1 TBSP. fresh lemon juice
4 green onions, thinly sliced (green parts only)
1/4 cup loosely packed, thinly sliced fresh mint
Salt, to taste
2 cups mixed berries (such as blueberries, strawberries, blackberries, raspberries)
1 cup firmly packed baby arugula leaves, stems removed
1 TBSP. balsamic vinegar
Scrub potatoes and dice into 3/4-inch (2 cm) pieces. Cook in large pot of salted boiling water until tender. Drain well; let cool slightly.
Meanwhile, in a large bowl, mash eggs with a fork. Whisk in mayonnaise, whipping cream, sour cream, mustard, lemon juice, onions, and mint until creamy. Add warm potatoes to dressing; season to taste with salt. Cover and refrigerate until serving.
To serve: In a medium bowl toss the berries, arugula, and balsamic vinegar together; reserve some of the berries and arugula. Fold berry mixture into potato salad. Serve in a bowl or on a platter; garnish with reserved berries and arugula.
Chef Michael's Tip: There are many varieties of yellow-fleshed potatoes. They have a wonderful flavour and texture, perfect for potato salad. Look for Yukon Golds, Agria, and Kennebec potatoes – all of these are perfect for this salad.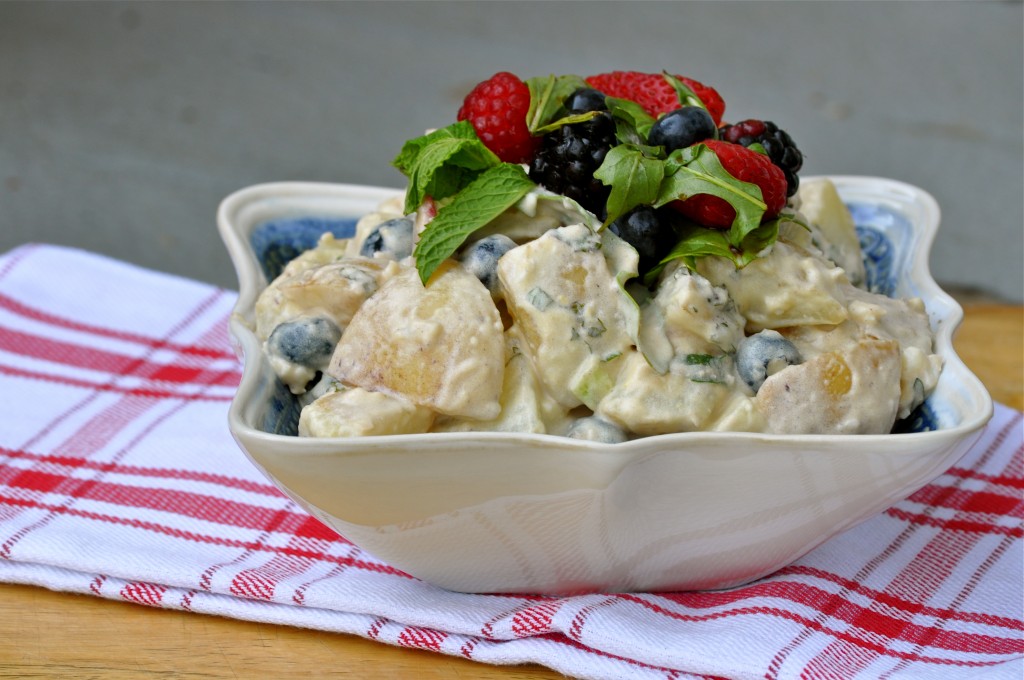 Disclaimer: I was generously provided with the ingredients (and some sweet Real Cream swag!) to make this recipe, but all opinions are my own.