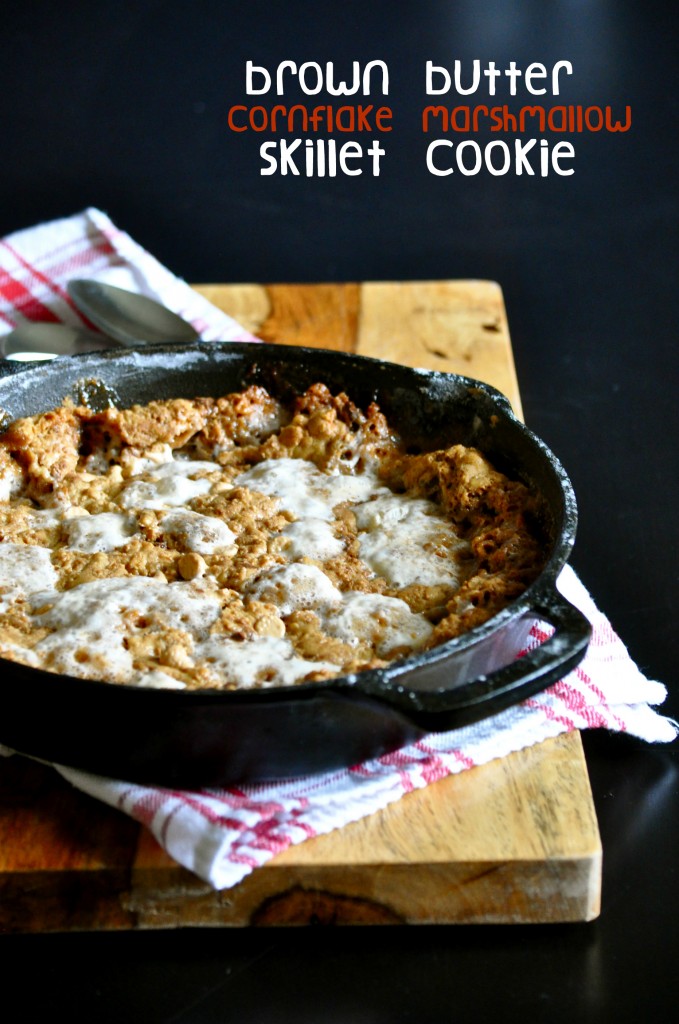 Friendssssss! Happy October!
I've got a skillet cookie for yer face today! You've seen those cornflake marshmallow cookies from Momofuku Milk Bar around the interwebs, yes? The chewy, amazing, foodgasm-inducing, cornflake/chocolate/peanut butter chip/marshmallow-studded cookies as big as your hand. Yep, those are the ones.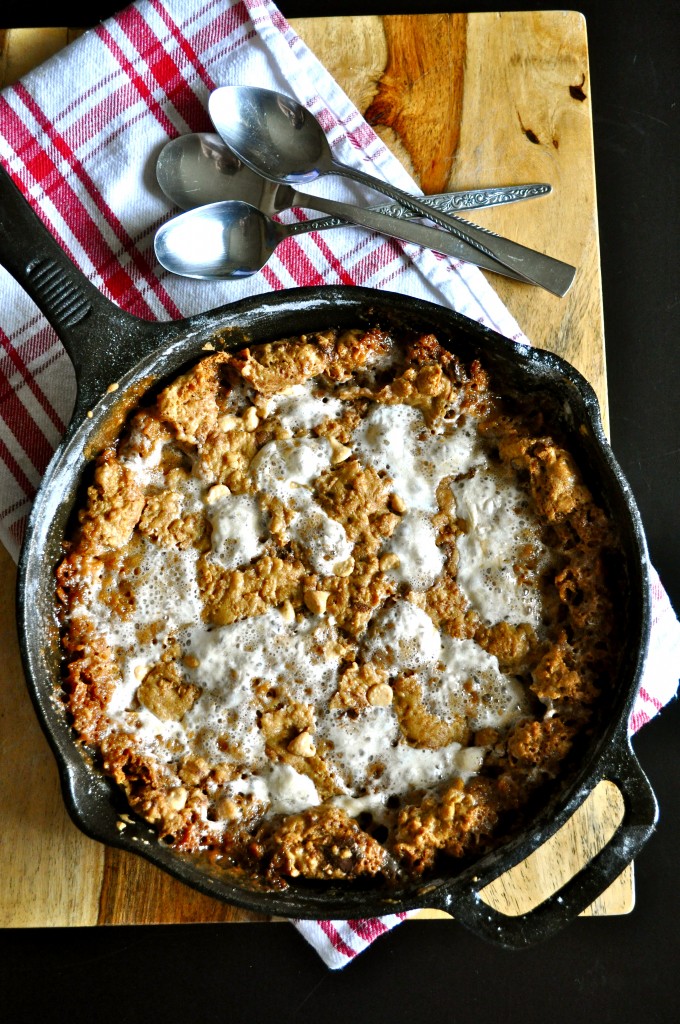 Well those cookies really are all they're cracked up to be. In fact, they're kind of like crack. Ridiculously addicting and really not good for you at all. Why is it that things that taste so good have to be so bad? You know me though – all about the balance. Eat some kale salad, go for a run, eat a skillet cookie. Yep, balance.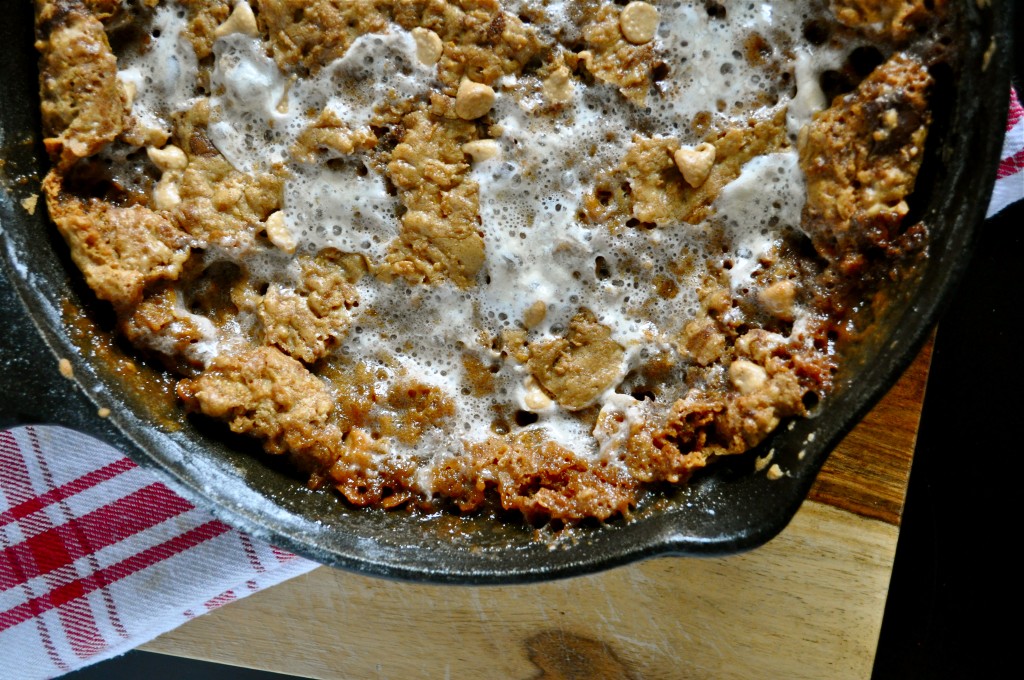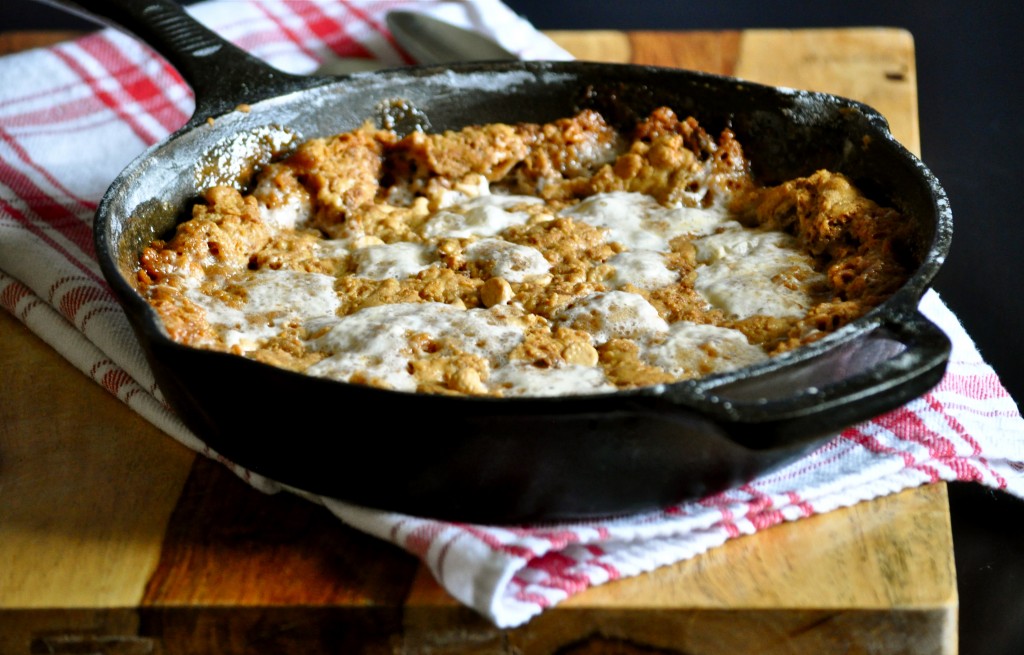 Basically I took that cookie and turned it into a no-bowl required skillet cookie. Skillet cookies are my jam. I mean seriously, a big, warm, gooey cookie that is best served with good friends and many spoons – it doesn't get much better. And I browned my butter, 'cause brown butter is still the cat's meow. Annnnddd, it's ready in about 30 minutes. So grab a few of your faves, throw this bad boy in the oven, and dig in! Treat yo' self!
Brown Butter Cornflake Marshmallow Skillet Cookie (adapted from Shutterbean, which was adapted from Momofuku Milk Bar)
A gooey skillet cookie full of cornflakes, dark chocolate, peanut butter chips, and marshmallows. No bowl required! Serves as few or as many as you want! 
1/2 cup (1 stick) unsalted butter
1/2 cup granulated sugar
1/3 cup brown sugar, packed
1 large egg
1/2 tsp. vanilla
3/4 cup all-purpose flour
1/4 tsp. sea salt
1/2 teaspoon baking powder
1/4 teaspoon baking soda
1 1/2 cups cornflakes
2 TBSP. dark chocolate, chopped
2 TBSP. peanut butter chips
3/4 cup mini marshmallows
Preheat oven to 350°F. Place the butter in a 10-inch cast iron skillet over medium heat. Melt and brown the butter, stirring until golden brown and fragrant (about 5-7 minutes). Remove from heat. Add the sugars and mix well. Add the egg and vanilla and stir. Add the flour, salt, baking powder, and baking soda and mix well. Fold in the cornflakes, chocolate, and peanut butter chips. Spread the batter out evenly in the skillet. Sprinkle with marshmallows. Bake for  20-25 minutes, or until golden brown. Don't over bake, as the goal is a gooey cookie! Allow to cool slightly and then eat straight out of the skillet. Bliss!