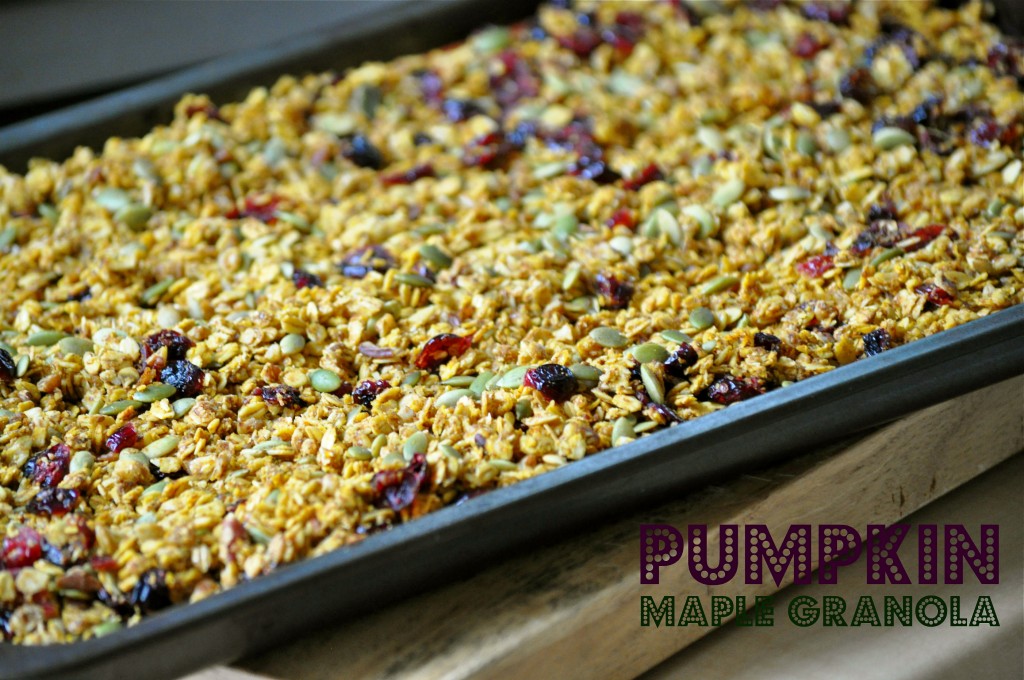 It's tempting to say "Winter is coming" in a very ominous voice. However, that would be a false statement due to the fact that Winter arrived the night before last in a flurry of wet snow and chilly wind. And just like that, it is Winter. Boom.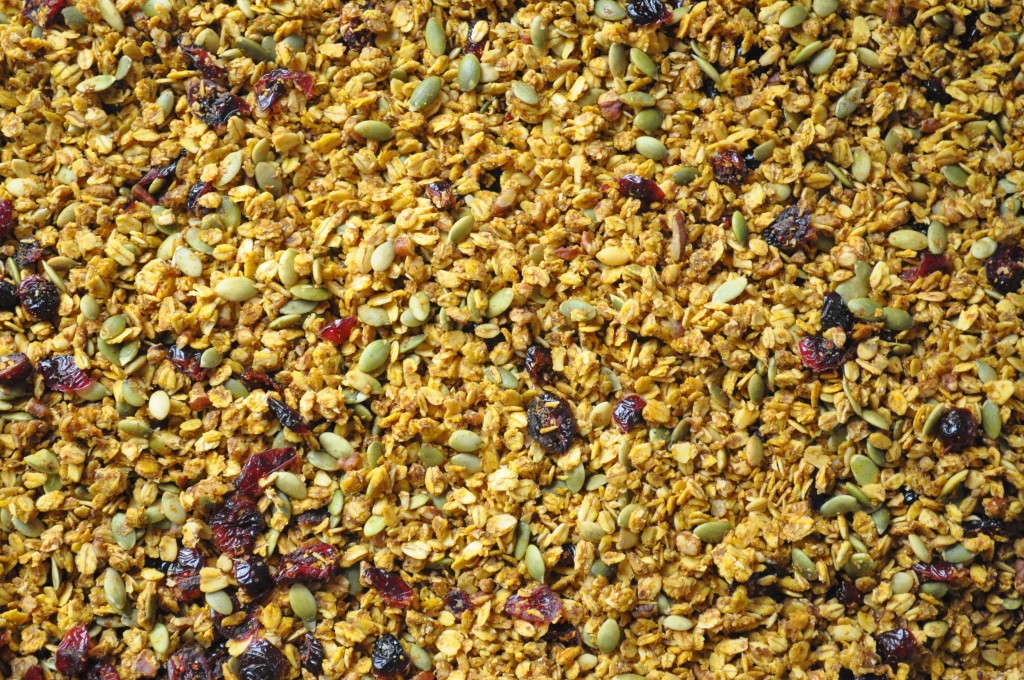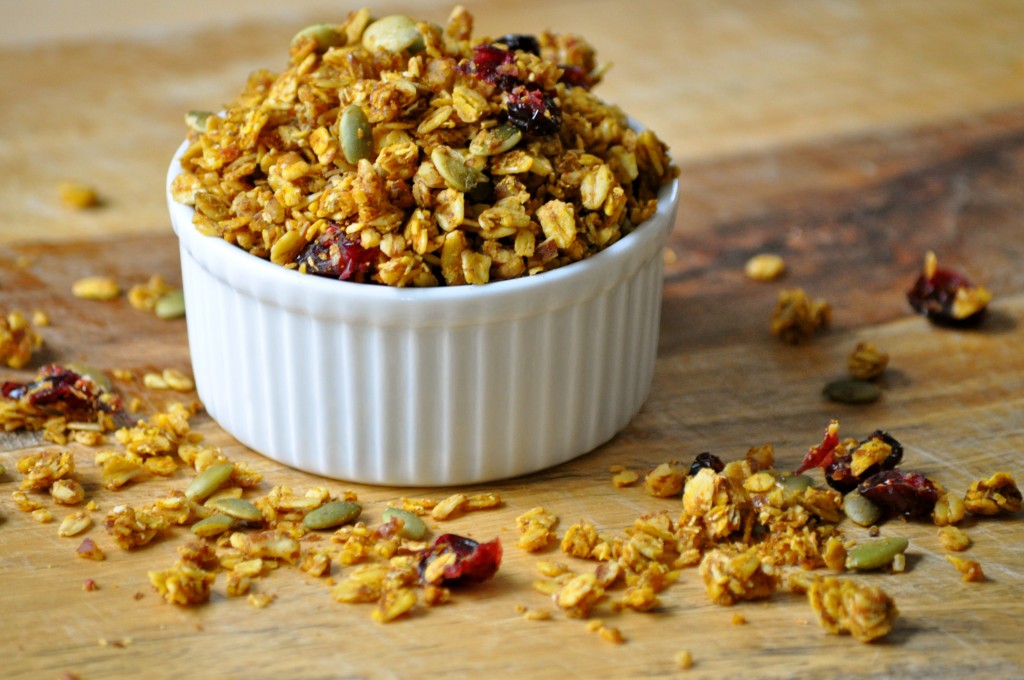 Seasons are funny, because we associate different things – and certainly, in my case, food – with each one. For example, when Fall arrived, I was so excited to bake with pumpkin and apples and cinnamon. And now that the first dump of the white stuff has fallen, I'm like "Peace out pumpkin, bring on the hot chocolate and candy canes!"
And the parkas, mitts, toques, and snow shovels.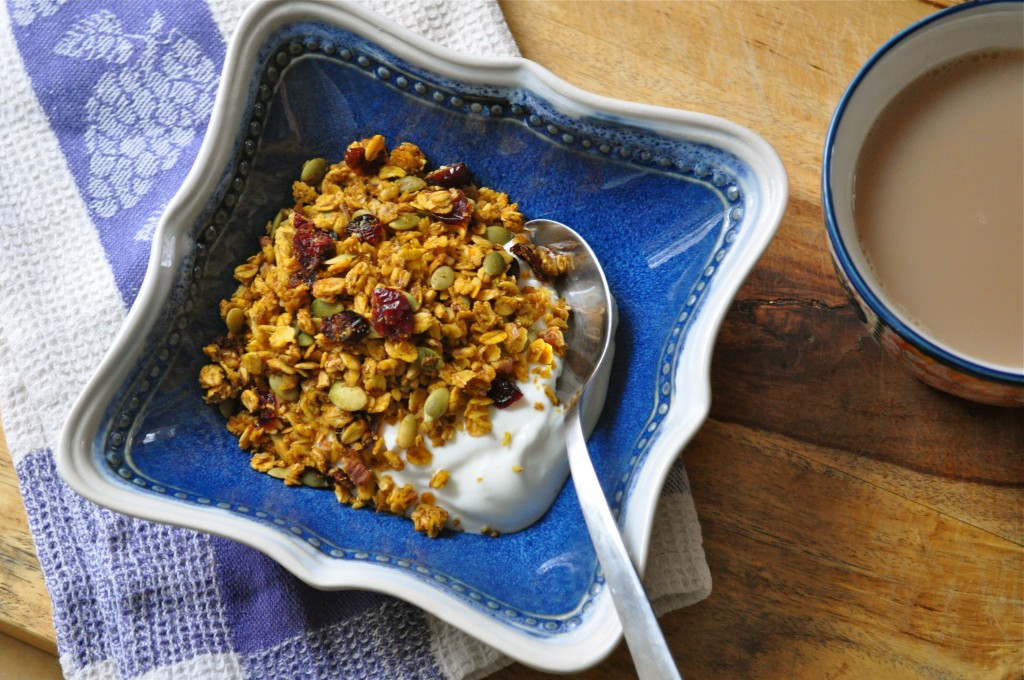 However, it would be wrong to bid adieu to Fall without sharing one last pumpkin recipe with you. I was set on creating the perfect pumpkin granola recipe this year, and after several failed attempts, I think I finally found a winner. Packed with pumpkin, spices, and a few extras – pecans, pepitas, and dried cranberries – this granola makes a perfect breakfast or snack. Or an excellent consolation prize for embarking on the 6-month long, dark, and freakishly cold and snowy adventure that is an Alberta Winter. Happy Monday, friends!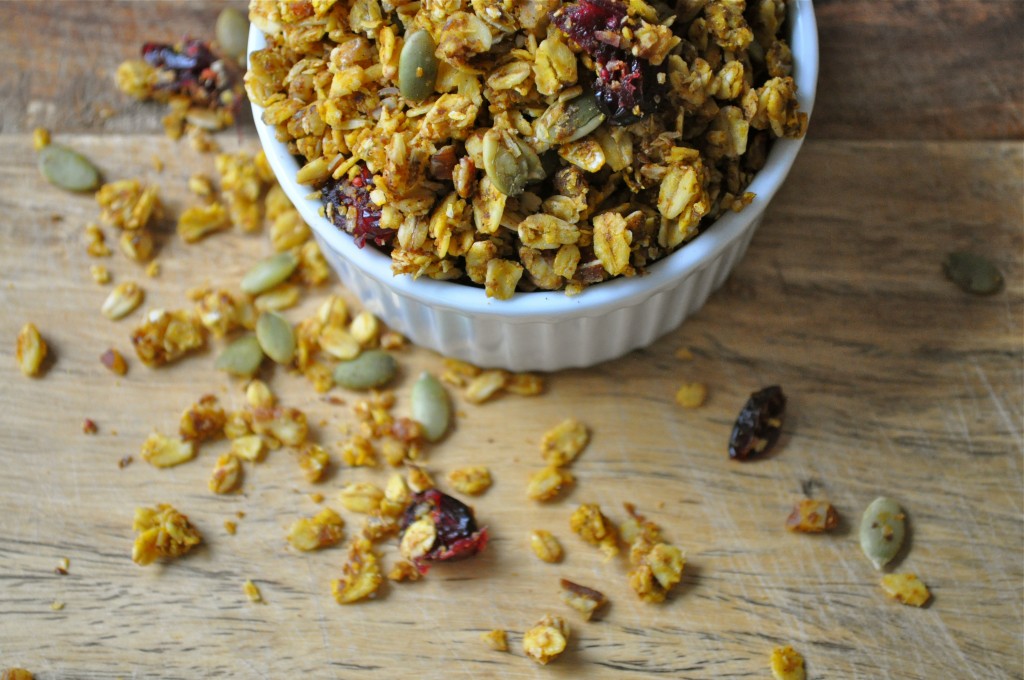 Pumpkin Maple Granola
This granola combines the delicious fall flavors of pumpkin and maple. Lightly sweetened and generously spiced, it makes a great breakfast when sprinkled over yogurt and fruit, or swimming in milk. You might also be tempted to eat it by the hand full. Makes about 6 cups. 
4 cups oats
2/3 cup chopped pecans
2/3 cup pepitas
½ cup shredded coconut
¼ tsp. salt
1 tsp. cinnamon
½ tsp. ginger
½ tsp. nutmeg
¼ tsp. cloves
¼ tsp. allspice
¼ cup ground flax seeds
¼ cup raw cane sugar
¼ cup maple syrup
3/4 cup pure pumpkin
¼ cup olive oil
1 cup dried cranberries
Preheat the oven to 325°F. In a large bowl, combine the oats through to the ground flax seeds. In a separate bowl, whisk together the raw cane sugar, maple syrup, pumpkin, and olive oil. Add to the dry ingredients and mix well. Spread the granola onto a large baking sheet that has been lined with either parchment paper or a Silpat. Bake for 15 minutes. Add the cranberries and stir, and then return to the oven for another 10 minutes. Stir and continue baking for 10 minute intervals until golden brown and no longer moist. (Mine took about 35 minutes total).
Allow to cool completely before storing in an airtight container. Enjoy with milk or yogurt.