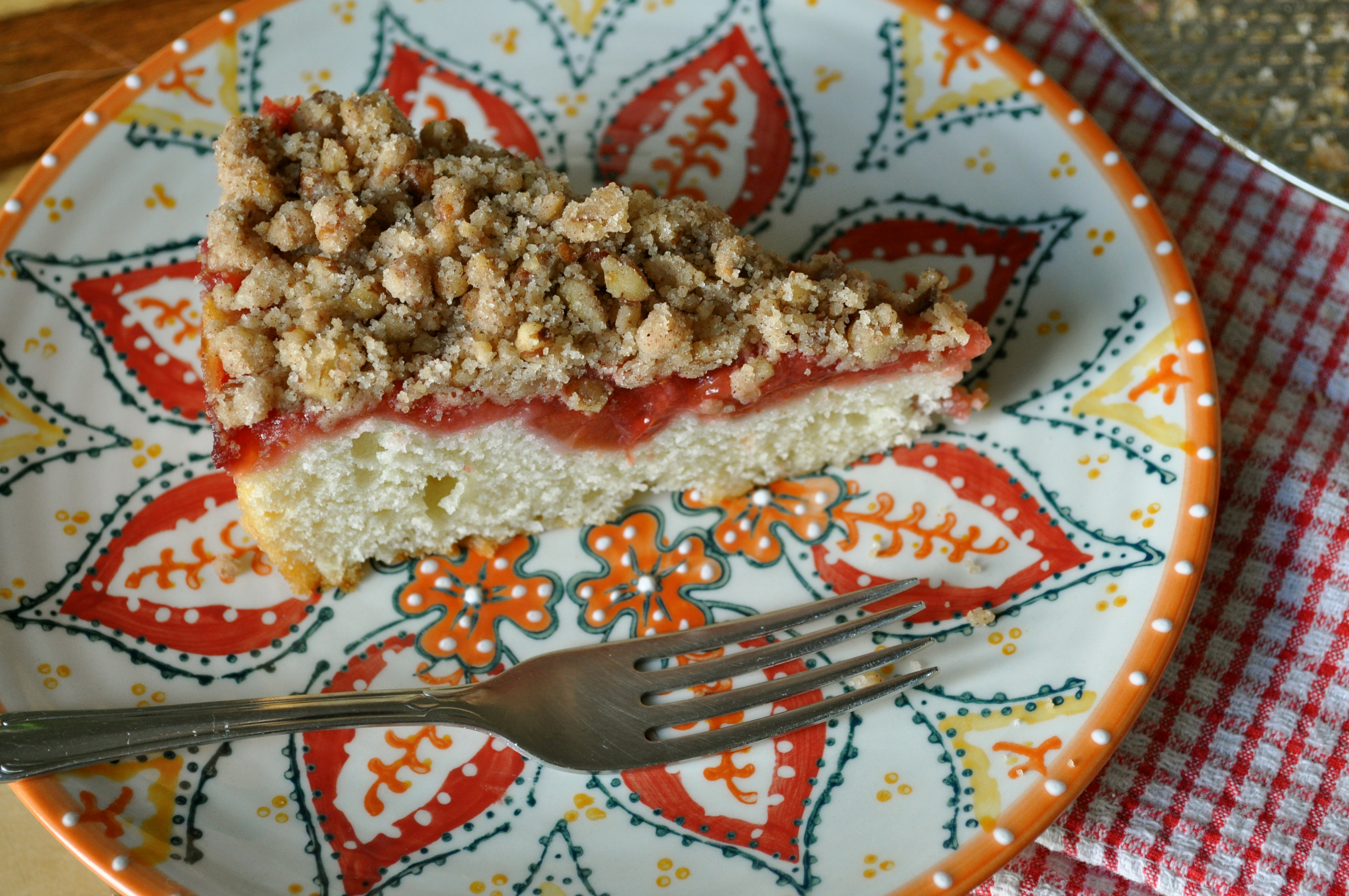 Fall is here. Can you feel it? The hours of daylight are becoming shorter, a chill descends upon us in the late evening and lingers until late morning, and I have turned on the seat heaters in my car once or twice (for reals). The leaves are beginning to turn those beautiful shades of gold. Pumpkin spice lattés are back! I find myself craving hearty soups and comfort food for dinner instead of lighter summertime fare. I want to bake with apples and pumpkin and delicious fall spices.
Over the past week or so, things have felt different to me. It's interesting how the universe ebbs and flows, and how each season brings with it new ideas, feelings, and goals. I was reflecting on this post the other day, and I was reminded of the idea that Fall, in a sense, marks the beginning of a new year.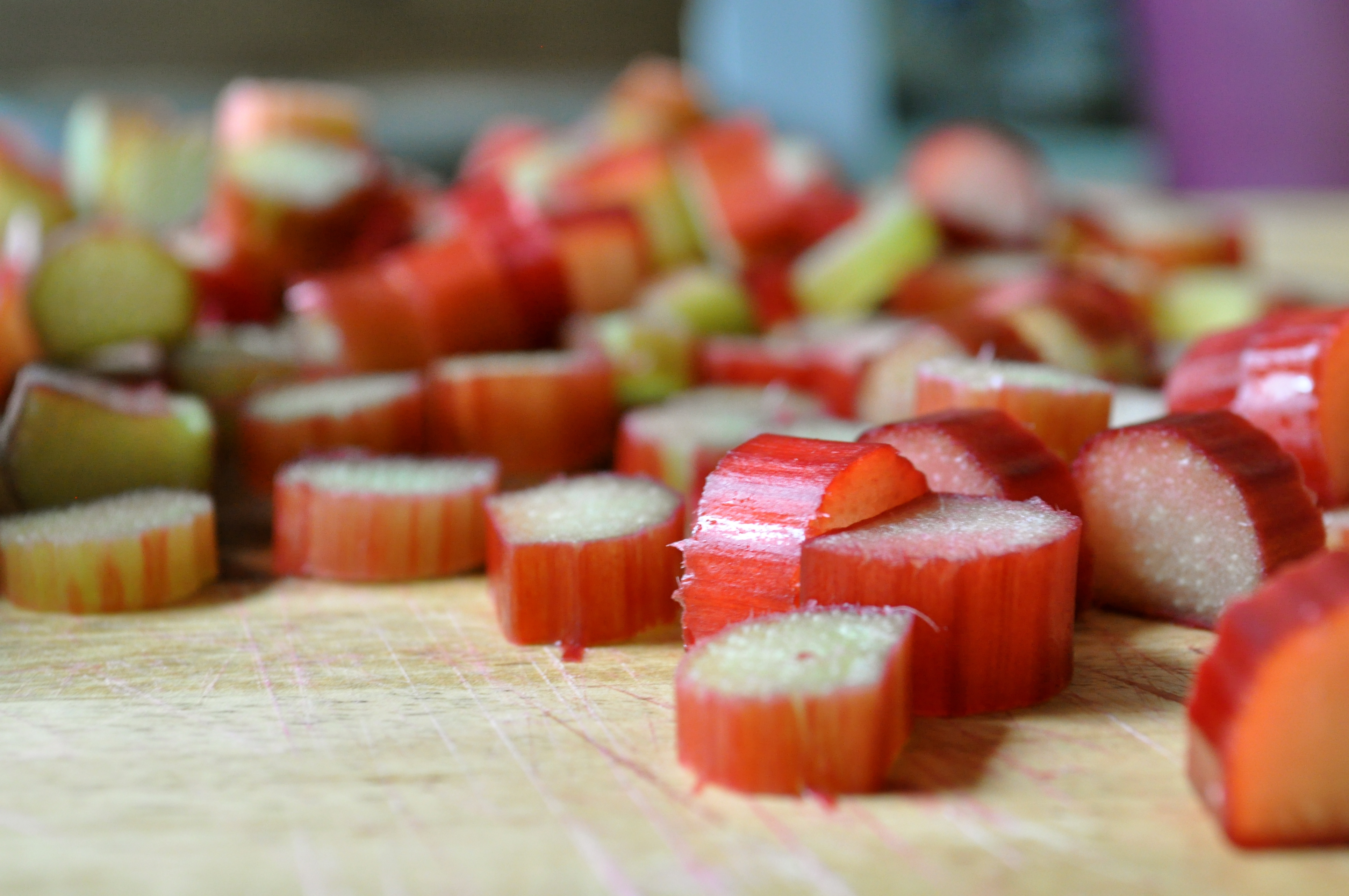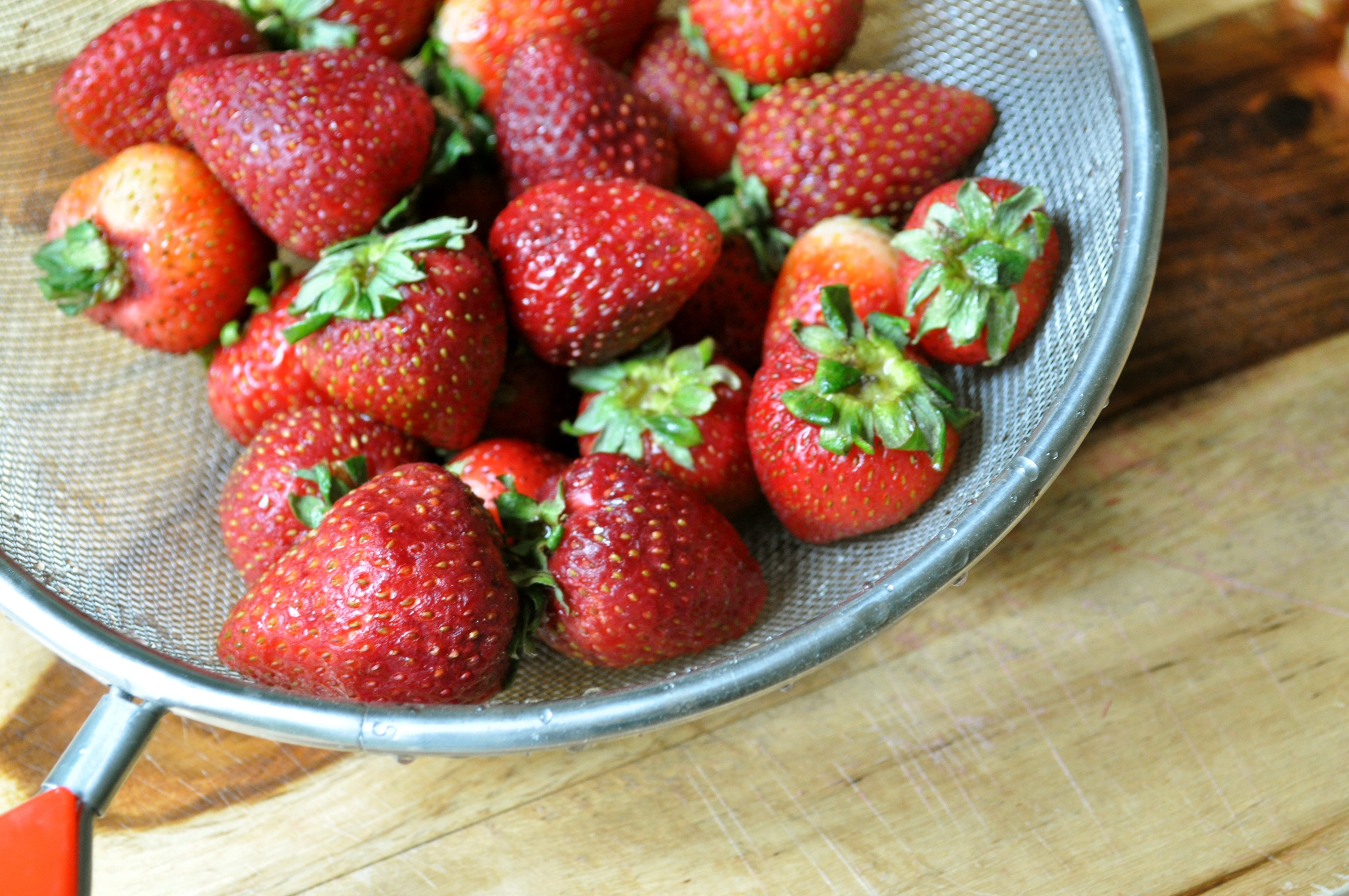 Fall presents an opportunity for a fresh start. Last Summer, the psychic told me that the number nine repeatedly made an appearance in my tea leaves, palm, and tarot cards. Based on that, he predicted that September was going to be an important month. Six weeks later, at my friend's wedding reception, her mother hugged me and randomly said "Always remember that number nine is lucky" before walking away. Nothing noteworthy happened last September. But I'm convinced. This September is mine.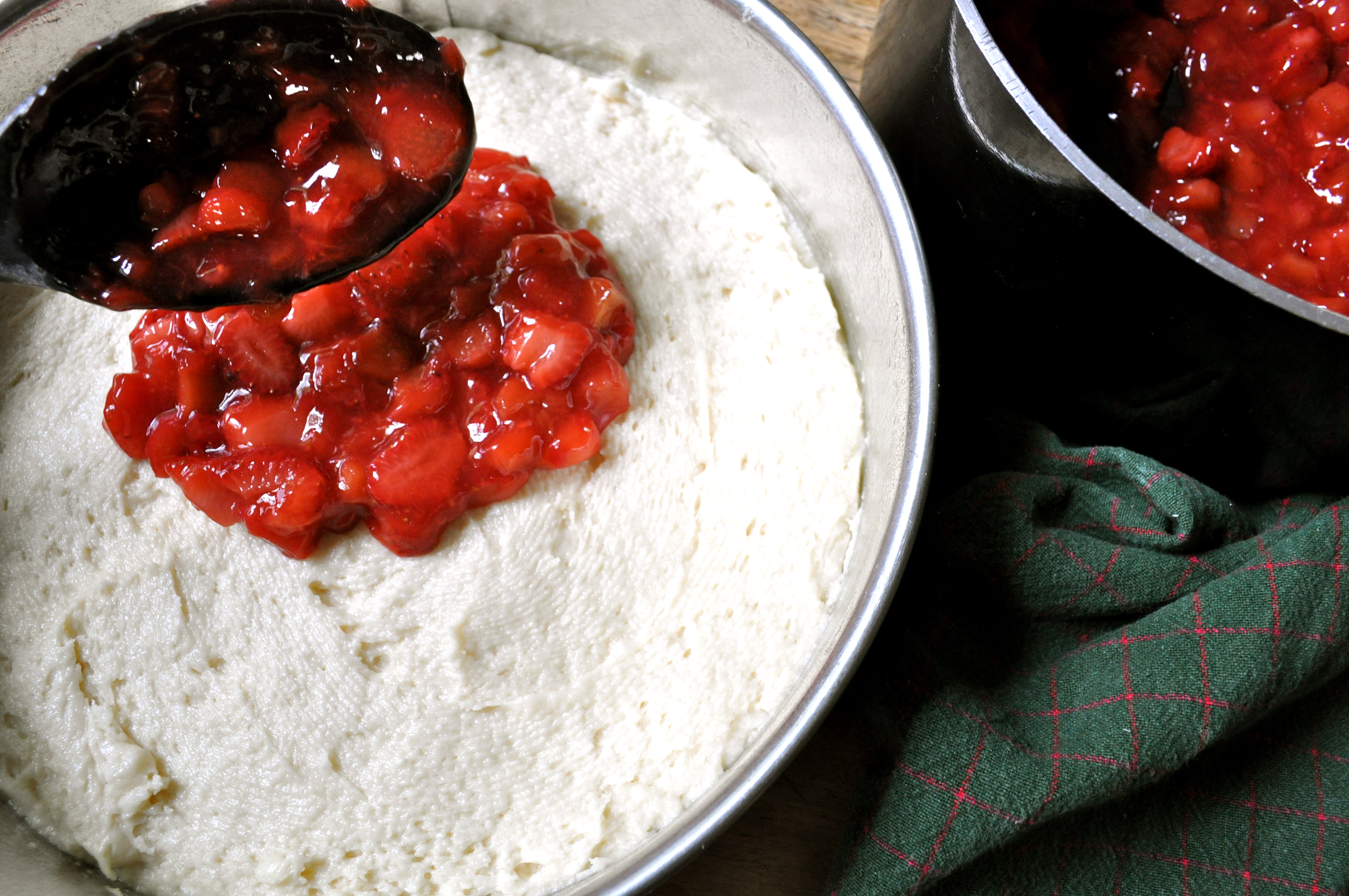 In less than two weeks, I am going to run my first half marathon. I'm freaking a little bit. Maybe a lot actually. I don't feel as prepared as I would like. The running partners that I signed up for the race with have decided to withdraw their registrations due to running injuries. I've been having painful shin splints over the past couple of weeks – probably a result of overtraining as I frantically prepare for a 22km trek through the mountains. Friends, I am scared. But I am also excited. I know that I can do it – now it's just a matter of doing it. Mind over matter. Positive thinking. Believing in myself.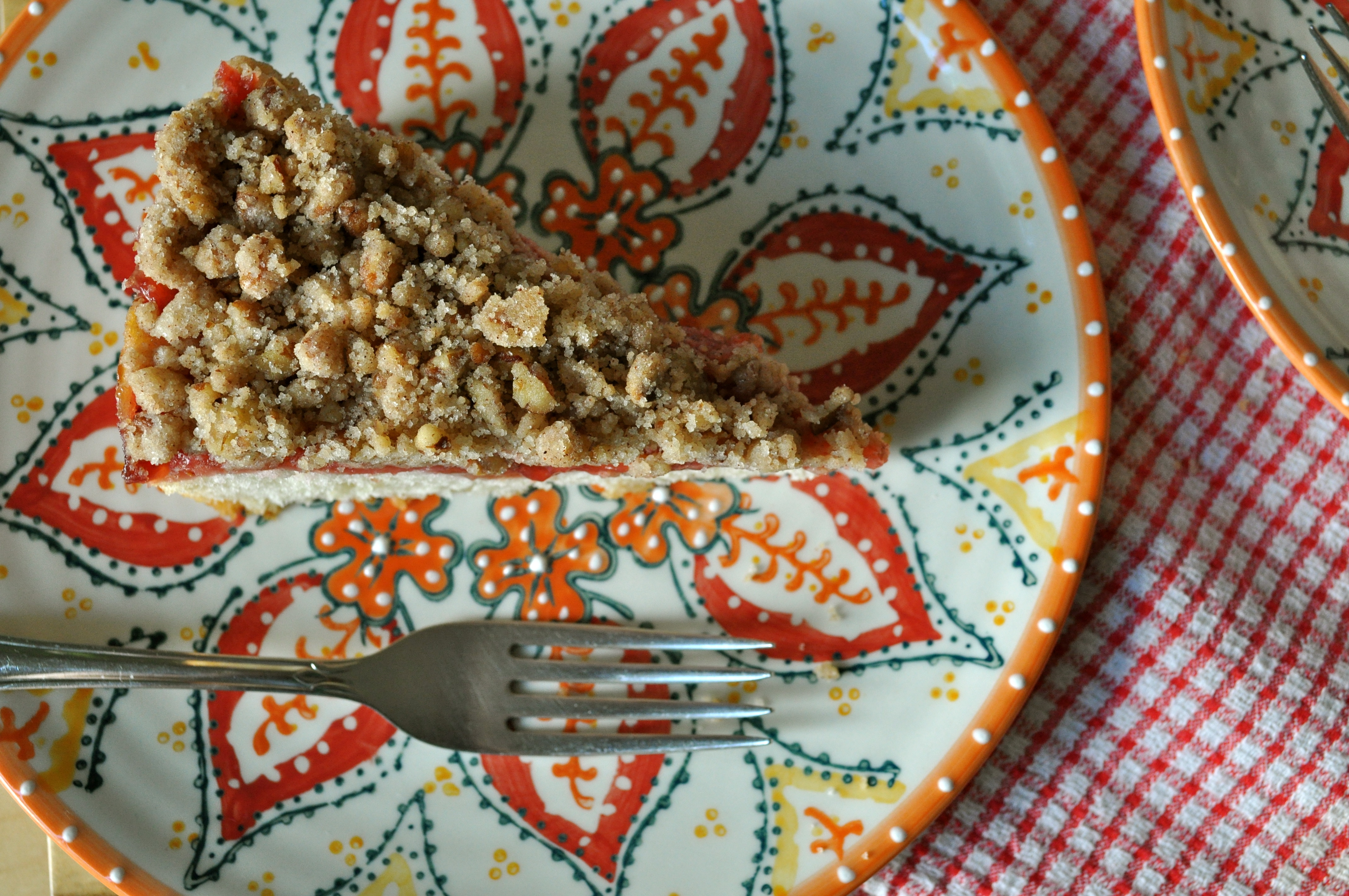 For me, Fall also means turning another year older. In exactly one month, I will celebrate another year of living. Of experiences and lessons learned. It seems that once one passes the age of 25, birthdays aren't quite as fun or exciting as they used to be (ie. the girlie sleepovers). But this year, I'm milkin' it. I will only turn 28 once, so I damn well better celebrate it. My favorite people + lots of wine + a kick-ass birthday cake + a little dancing = the only way to do it.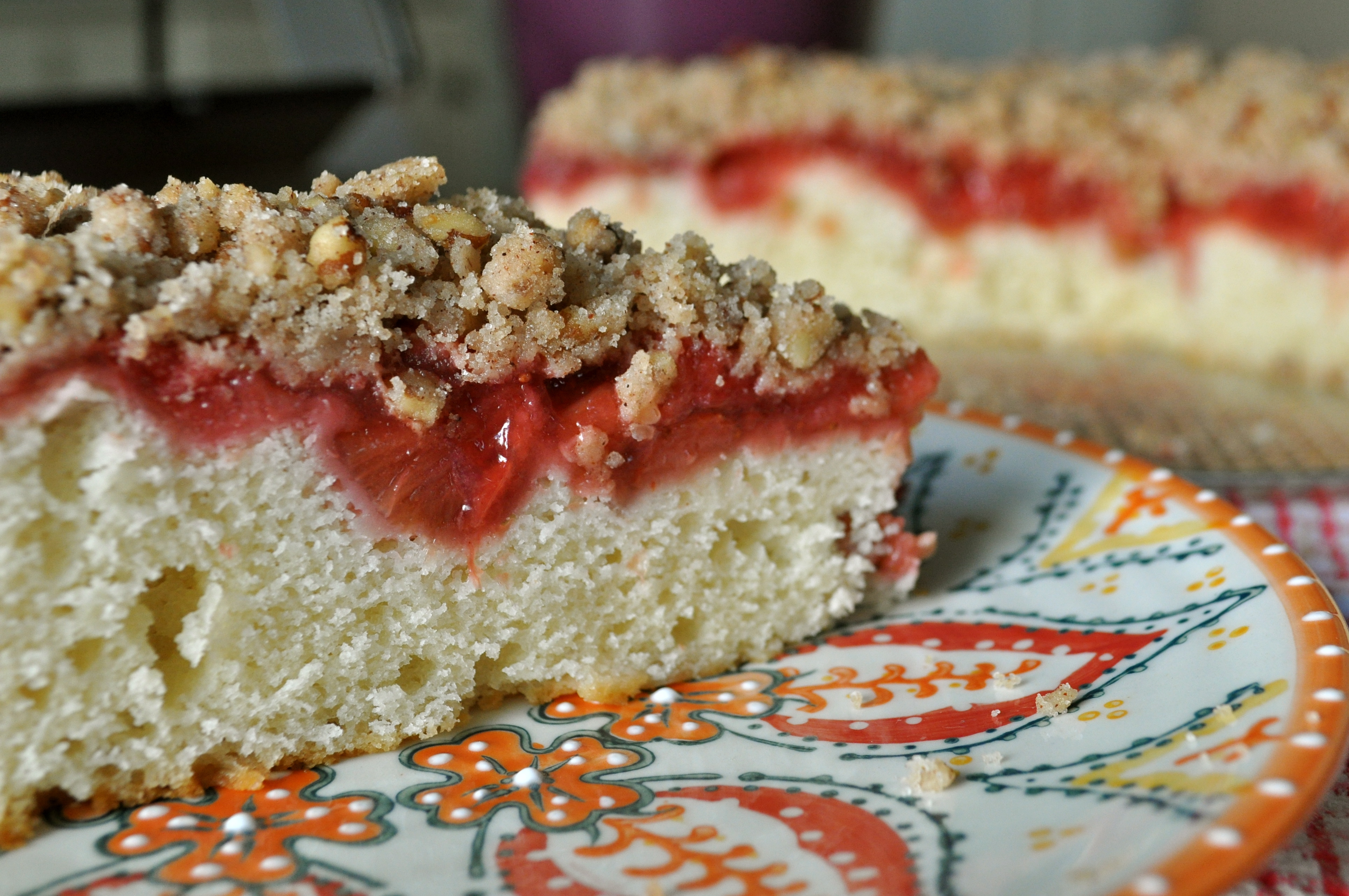 But before half marathons and birthdays (and all of the other incredible things that are on the horizon), we must bid farewell to Summer. This cake is one way to do just that. A delicious sour cream cake is topped with a strawberry and rhubarb quick jam and then blanketed with crumble topping. We're talking ample cake-to-crumble ratio here friends.
So quick! Bake this pretty little cake up before all of the strawberries have disappeared from the shelves and a garden full of rhubarb is just a memory! And enjoy a slice with a steaming up of coffee or tea, or for breakfast, and preferably with someone fabulous. I most certainly did.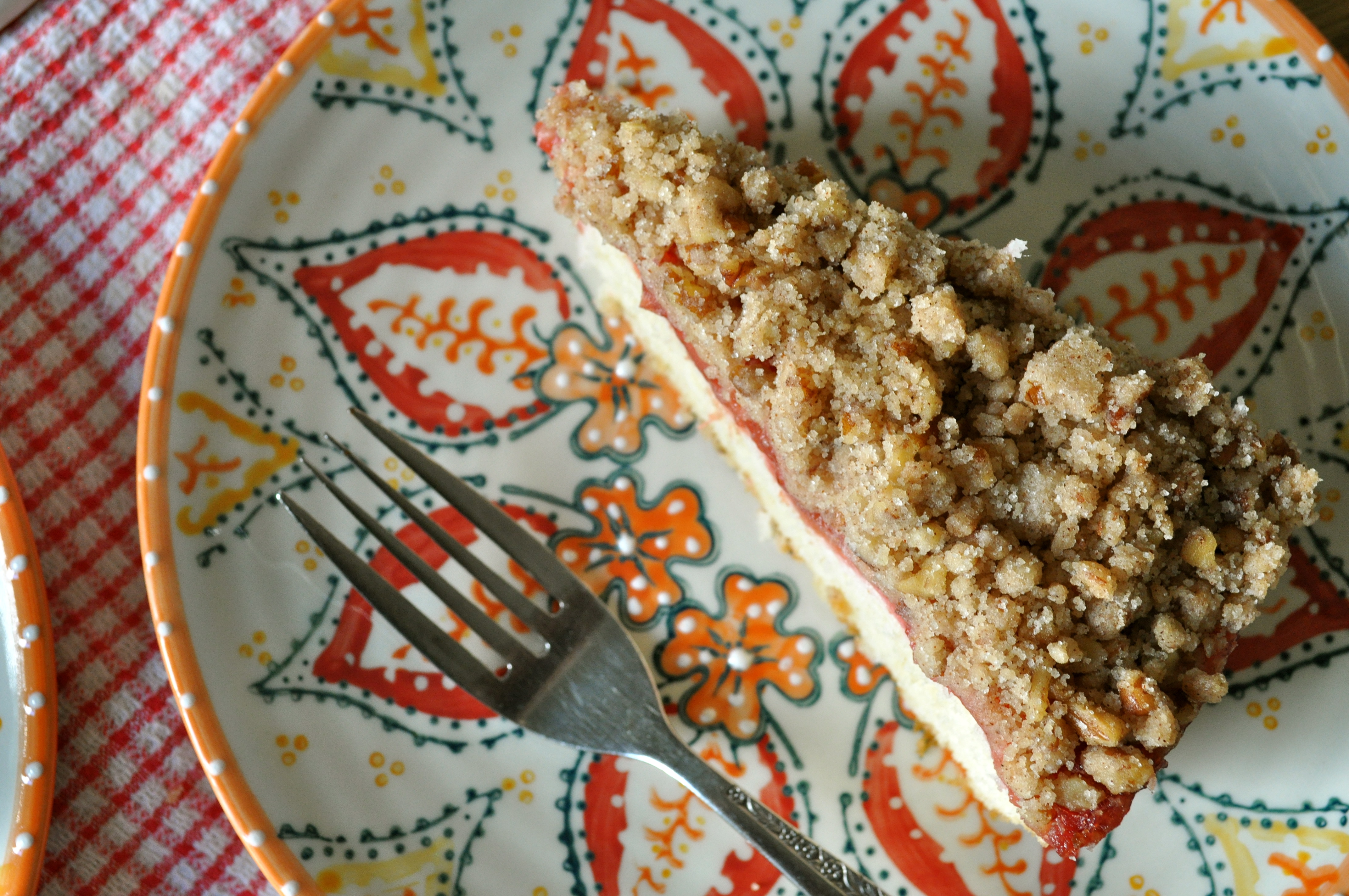 Strawberry Rhubarb Crumb Cake (adapted from About.com, Southern Food Guide)
For the filling:
2 cups rhubarb, thinly sliced
1 pint strawberries, sliced and slightly mashed
1 TBSP. fresh lemon (or lime) juice
2/3 cup sugar
3 TBSP. cornstarch
For the cake:
1 1/2 cups all-purpose flour
1/4 tsp. baking soda
1 tsp. baking powder
Pinch of salt
1/2 cup (1 stick) butter, softened
3/4 cup sugar
2 eggs
1/2 cup sour cream
2 tsp. vanilla extract
For the crumble topping:
3/4 cup all-purpose flour
1/2 cup sugar
1/2 tsp. ground cinnamon
Pinch of ground nutmeg
5 TBSP. melted butter
1/2 cup chopped pecans
For the filling: In a medium saucepan, combine the rhubarb, mashed strawberries, and lemon juice. Mix the sugar and cornstarch together and add to the fruit mixture. Bring to a simmer, then reduce the heat to low and stir until thickened (about 5 minutes). Remove from heat and let cool.
For the cake: Preheat the oven to 350°F. Combine the 1 1/2 cups flour, baking soda, baking powder, and salt in a bowl.
In a large mixing bowl, beat the butter with the 3/4 cup sugar until light and fluffy. Add in the eggs and sour cream, and then the vanilla. Slowly add in the flour mixture until smooth and blended. Spread in a greased 9-inch springform pan. Spoon the cooled filling mixture over the cake batter.
For the crumble topping: Combine the ingredients, mix well, and sprinkle evenly over the filling layer. Bake for about 45-50 minutes, or until the cake is firm and topping is lightly browned. Allow to fully cool before slicing. The cake will keep, well-wrapped in the refrigerator, for a couple of days.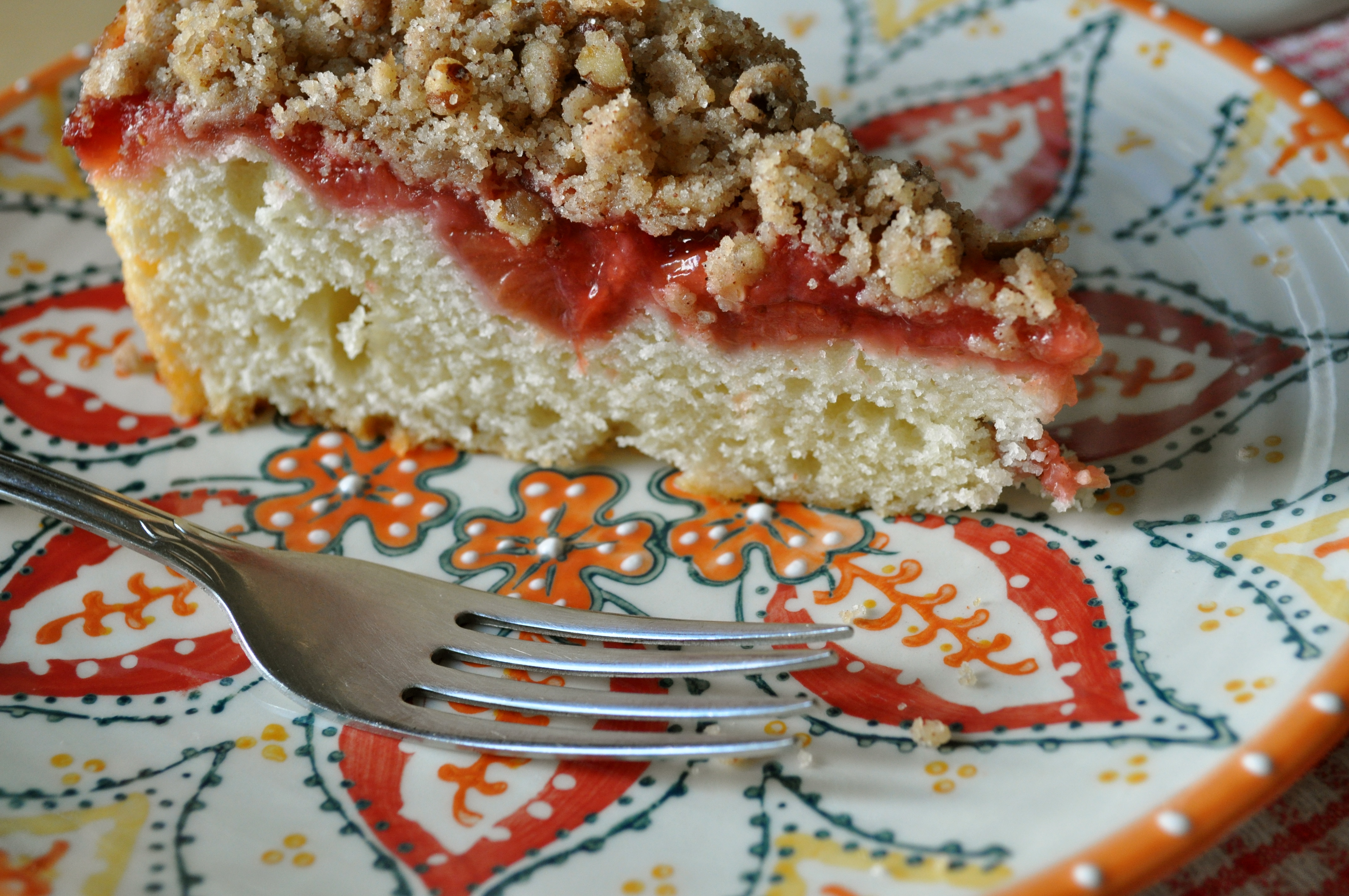 PS. You guys rock. In case I don't tell you often enough. xoxo