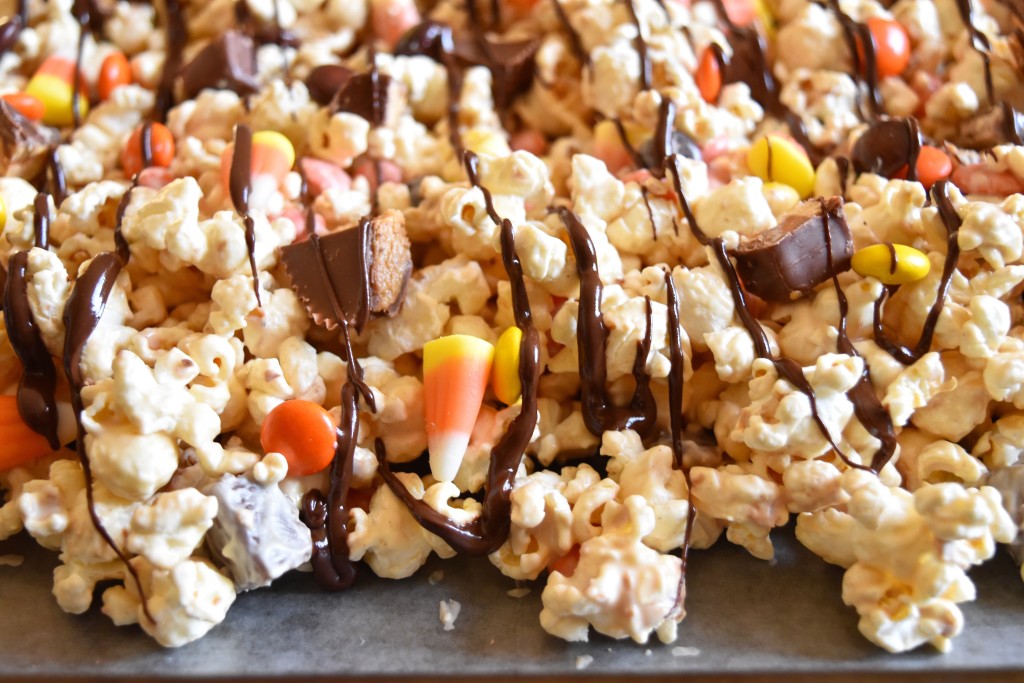 Happy Halloween!
It's the scariest day of the year. Also known as the day when it's acceptable to eat as much candy as you want and definitely more than you should. I look forward to this day and dread it simultaneously. Not because of the candy part, but because of the costume part. Creating amazing costumes is not my forte. Every year I make a promise to create an incredible and creative costume for Halloween. I make a plan to start early and not leave everything to the very last minute, but my procrastination always gets the best of me and I find myself scrambling to pull things together. And repeat. I know what I'm good at, and making costumes is not one of those things.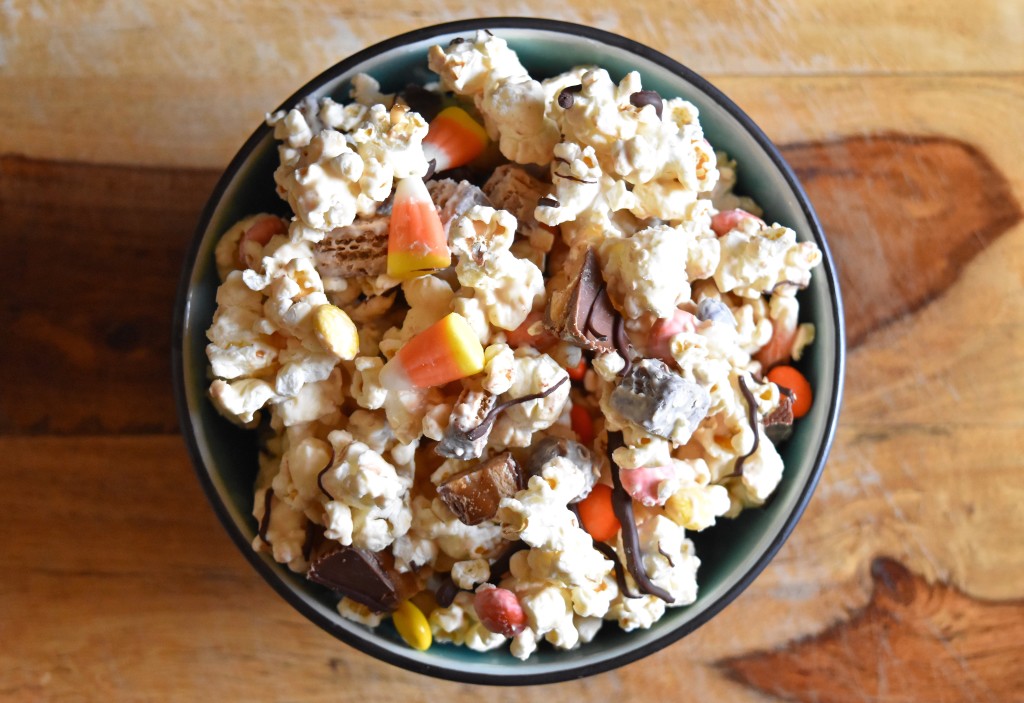 But not this year! No siree, this year I made it real easy on myself and decided to just nix the costume idea altogether. Don't get me wrong, I think costumes are fantastic, and if I was any good at actually putting something amazing together, I would. But sometimes you just have to create realistic expectations for yourself, you know? Fortunately, not having to worry about a costume left me more time and energy for what I'm somewhat better at – the food!
This popcorn was created as a way to put leftover Halloween candy to good use. I don't personally know much about having leftover candy as it seems to find its way into my pie hole before I have the chance to stop it, but if I did have leftover candy, hypothetically speaking, this is how I would use it. This candy bar popcorn comes together in minutes! Popcorn is mixed with melted white chocolate and peanut butter and loaded with chopped candy bars and candy corn. Halloween crack, if you will.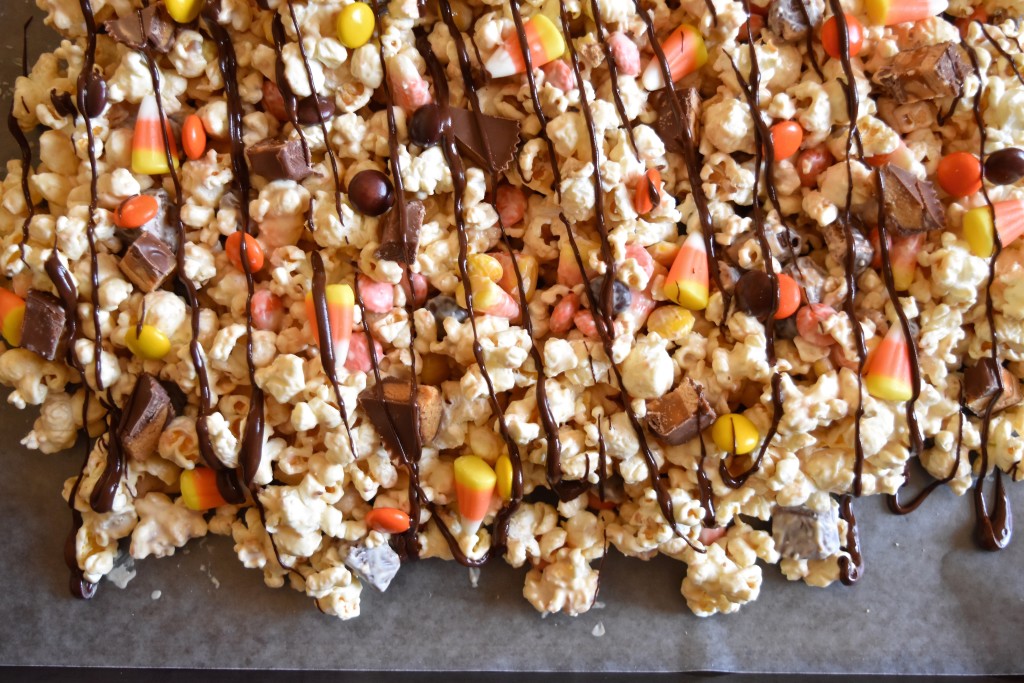 In the midst of your last-minute preparations for tonight's festivities – the costume-making, the pumpkin carving, the decorating, the party planning – I have one very important task for you. You must ensure that you save some of that Halloween candy so that you can make this candy bar popcorn. In fact, buy some extra candy so that you can make this twice. And truth be told, if you get a hankering for this stuff at another time of year, just chop up some regular size candy bars. Using the mini sizes is great because you can use an assortment of chocolate bars and then you get a nice variety of little bites. You're going to love this stuff. You're welcome and I'm sorry.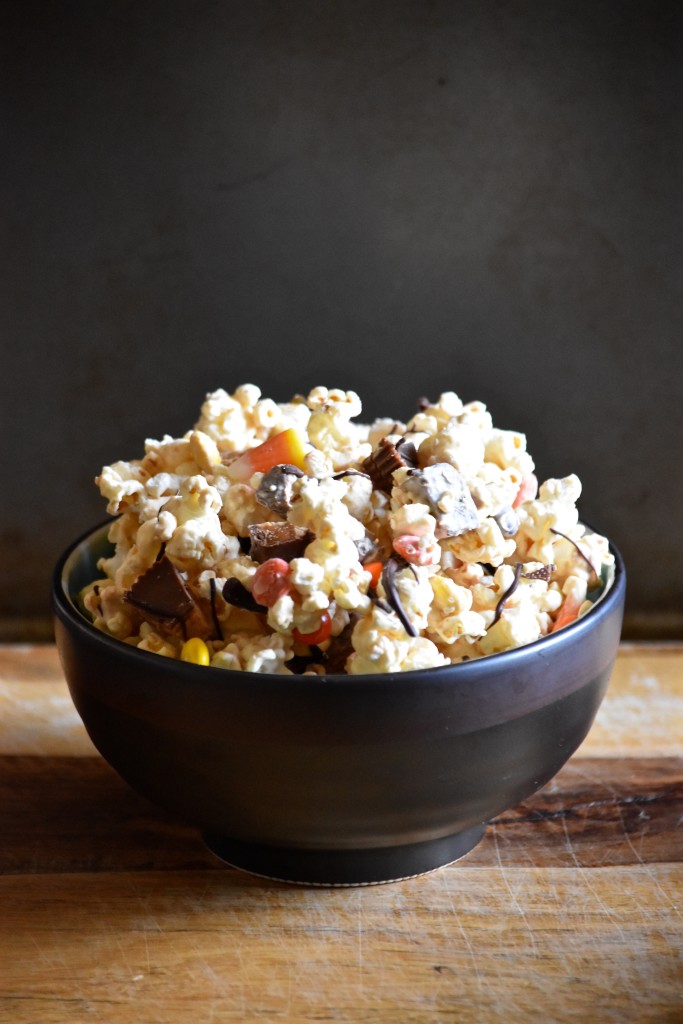 Candy Bar Popcorn 
Any kind of candy works in this popcorn, so use whatever you have on hand. My favourite combination was Mars, Snickers, Reese's pieces, and candy corn. The popcorn can be stored in an airtight container for several days, if it lasts that long!
8 cups of popped corn
1 cup white chocolate pieces
3 TBSP. peanut butter
2 cups candy (chopped chocolate bars, candy corn, Smarties, etc.)
1/4 cup milk chocolate pieces
Prepare a large baking sheet with wax paper. Put the popped corn into a large bowl, being sure to remove any unpopped kernels. In a double boiler over medium heat, gently melt the white chocolate and peanut butter, stirring until smooth.
Pour the white chocolate mixture over the popcorn, add the candy pieces, and stir to combine. Turn the mixture out onto the baking sheet and spread into a single layer.
Melt the milk chocolate pieces in a small bowl in the microwave (start with 30 seconds, then 10 second increments until melted). Drizzle over the popcorn. Place the baking sheet in the fridge for 15 minutes until cool and set. Break into pieces. Store in an airtight container. Enjoy!