Friday, Friday, gotta get down on Friday,
Everybody's lookin' forward to the weekend, weekend.
Friday, Friday,
Gettin' down on Friday…
Eeeeeeeeeeeeeeeeeeeeeee! We made it, the weekend is here! And what better way to celebrate than with 
Rebecca Black
 and a fresh citrus margarita? I tell ya, watching that music video pretty much requires an alcoholic beverage, so let's get to it!
I've spoken of my love for juicing a couple of times now, and I've shared a fresh juice cocktail once before (
beet lemonade
, anyone?). BUT. This one is my new favorite. I started by making a fresh citrus juice, which was inspired by one of the juices at
Glow Juicery
, a relatively new and totally amazing juicery here in Edmonton. (Seriously, if you live in Edmonton, check it out – the website lists their store location and other spots where you can find their juice). Their citrus glow juice is one of my favorites, and when I saw the big display of beautiful citrus fruit at my grocery store the other day, I knew I had to try to recreate it at home.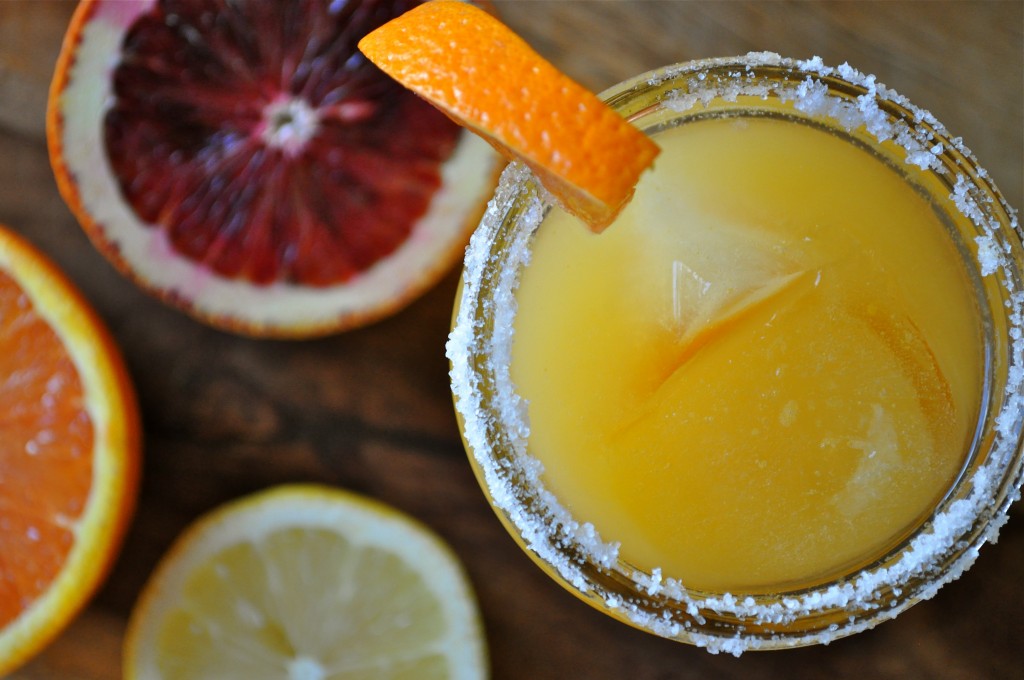 And then I decided to add a little booze. You know, just for kicks. The result? A wickedly delicious cocktail that packs a nutritional punch! Plus, how pretty?!
Fresh Citrus Margarita
The first time I made these margaritas, I rimmed the glass with sea salt. However, because the margarita itself is not super sweet (no simple syrup here!), I found the sea salt to be too much. However, because the margarita is quite tart, the sugar complimented it perfectly. The margaritas pictured were made with sea salt. In any case, do whatever floats your boat! Makes 4 margaritas.
For the fresh citrus juice:
Makes about 24 ounces, depending on the size of your fruit and your juicer.
4 oranges, skins removed (I used Cara Cara)
3 lemons, skins removed
1 small knob of ginger
8 oz. coconut water
Juice the oranges, lemons, and ginger. Mix together with the coconut water.
For the margaritas:
6 oz. fresh citrus juice
1.5 oz. tequila
0.5 oz. triple sec
Pinch of sea salt
Granulated sugar
Combine in a cocktail shaker with ice (or just mix by hand if you don't have a cocktail shaker). Rim your class with an orange slice and dip into the sugar. Fill your glass with ice, then add the cocktail mixture. Garnish with an orange slice. Enjoy!
Pair these margaritas with a big bowl of guac and your favorite tortilla chips and you've got yourself a happy hour to start the weekend off right. Happy Friday, loves!