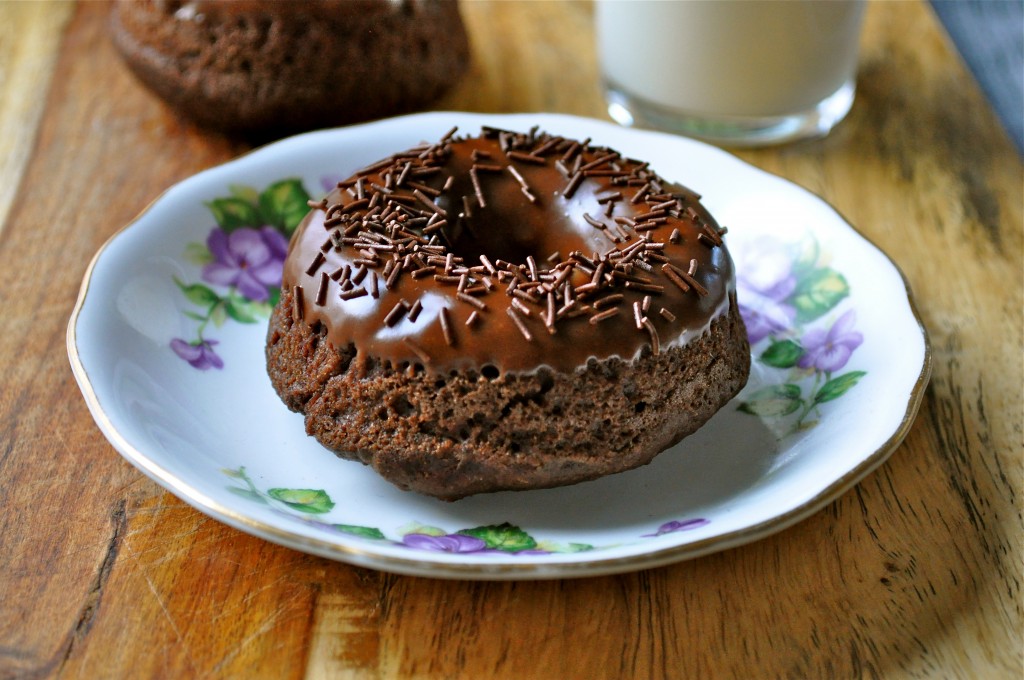 Hi friends, happy Friday!
My brain is full of pressing questions. First of all, is it doughnut or donut? Is it simply a matter of preference or is there one correct answer? These are the questions that keep me awake at night. Just kidding…sort of. #firstworldproblems
Secondly, why the blazes has it taken me so long to make baked doughnuts? I mean, I realize that I'm a little late to the party. In my defense, I bought my doughnut pan approximately 11 months ago, when baked doughnuts were gaining popularity. Prior to the creation of the lovely specimen you see above, I used my doughnut pan approximately once. It was a massive fail of a recipe, so perhaps I began to equate my doughnut pan with failure and consequently shoved it to the very back of my cupboard to suffer with the mice poop and other dusty dishes. Just kidding, I don't have mice poop in my cupboards. At least, not to my knowledge. What you don't know can't hurt you!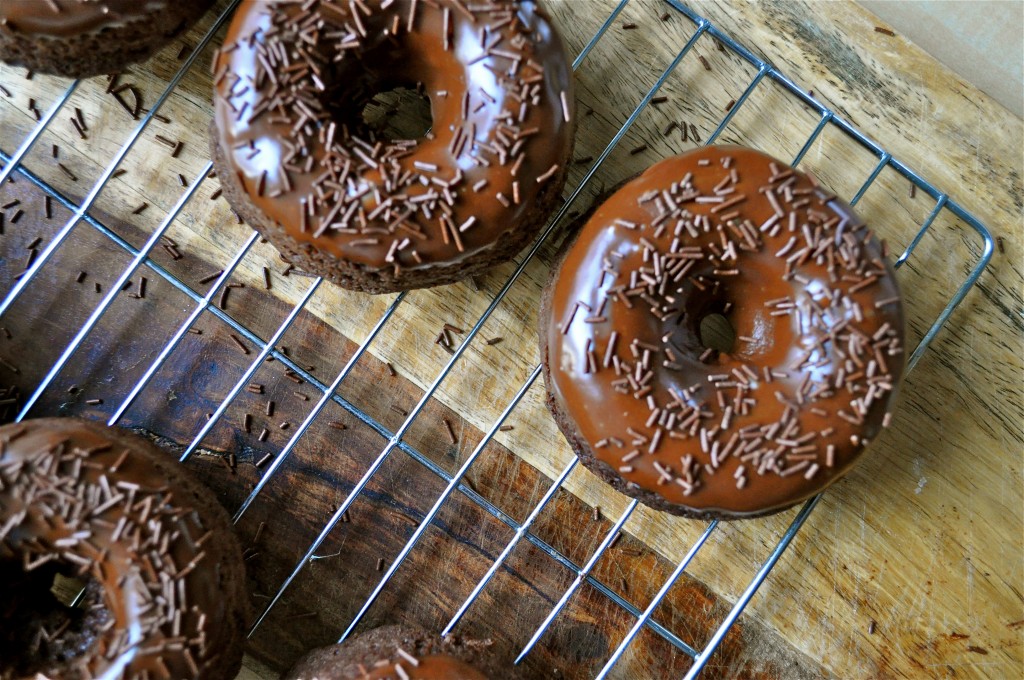 In any case, earlier this week I decided to give my doughnut pan another shot. And proceeded to become extremely frustrated when my doughnuts came out of the oven with muffin tops, making them resemble anything but a doughnut. Argh. The doughnuts tasted good, but they didn't look like doughnuts, and I kind of thought that defeated the purpose. I mean, I may as well make muffins if my baked doughnuts aren't going to resemble actual doughnuts.
Fortunately, instead of giving up, I pressed on. And I figured out the problem. The key to pretty little baked doughnuts is to refrain from overfilling the pan. Those bad boys rise up in the oven, and you've got to give 'em some room! It really helps to put the batter into a piping bag and pipe it into the pan. Spooning it into the pan just might cause you to have a frustration/impatience-induced stroke. Words of wisdom friends.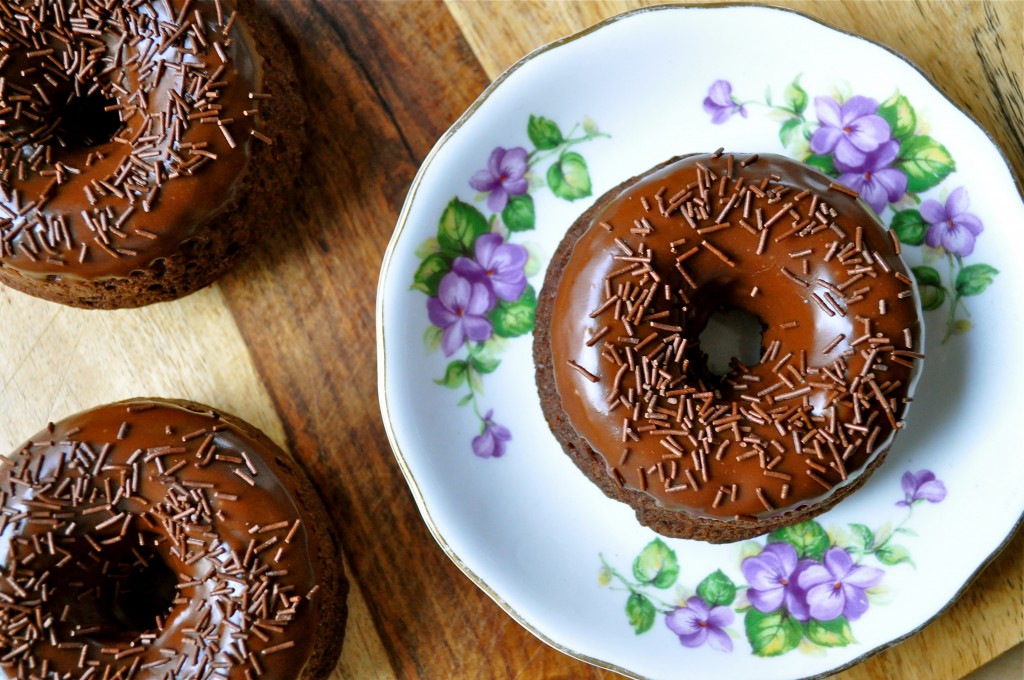 If you don't already own a doughnut pan, I highly recommend the $10 investment. (I have this pan). Baked doughnuts look freaking boss! I mean, they look like a doughnut, which is inherently impressive given the amount of time and energy that goes into making real doughnuts (the amazingly delicious fried kind). But the kicker is, they're baked, not fried, meaning they take way less effort and they're way less bad for you to consume. Winning!
They're cute too, no? Cute food. It's the little things that make life worth living.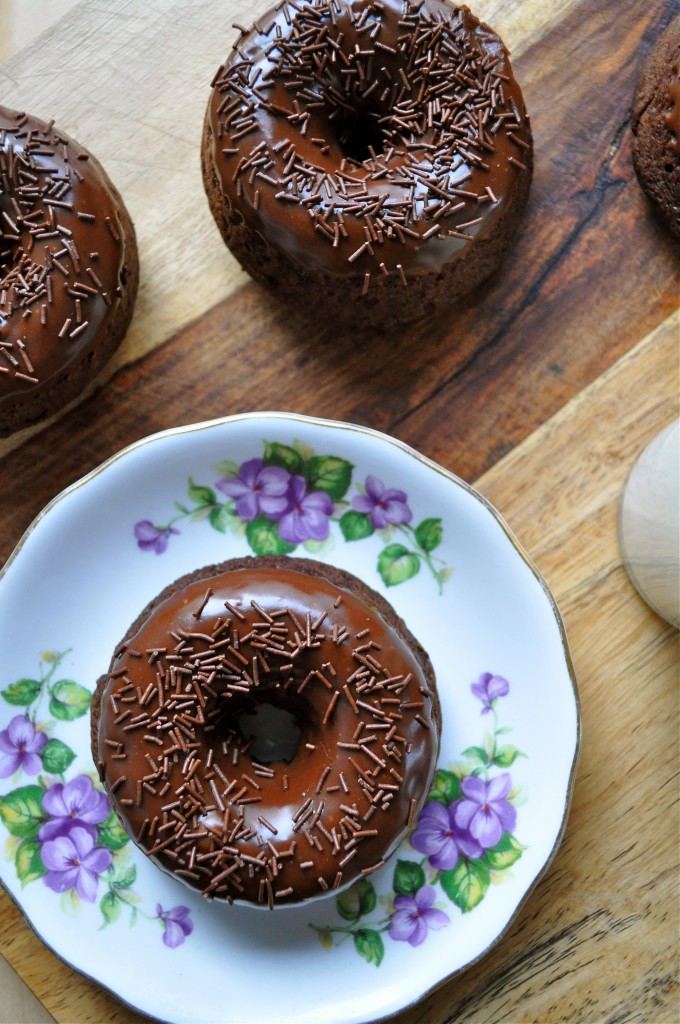 Don't even try to tell me that you don't want to stick your face right into that up there. I'll totally call your bluff.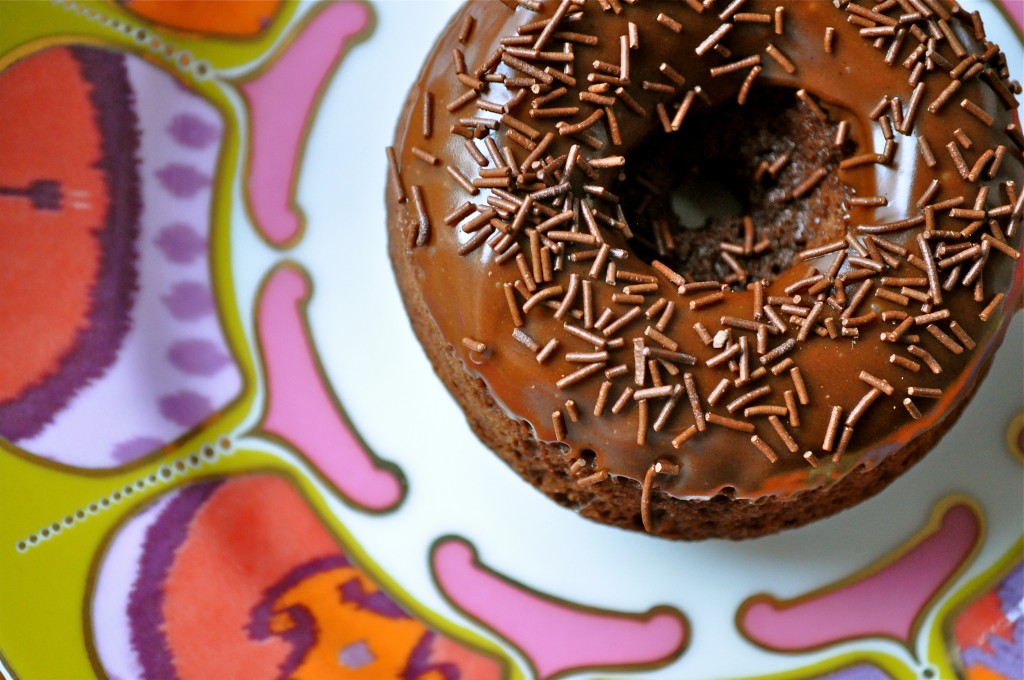 Bonus: These baked doughnuts aren't all that bad for you. I'm not calling them health food, but they'll provide you with the satisfaction of enjoying a delicious treat (a doughnut!) without the kind of abuse to your waistline caused by their fried cousins. And the recipe makes six doughnuts. Even if you completely lack any self control, you'll only have consumed six doughnuts. There are worse things you could do. Just sayin'…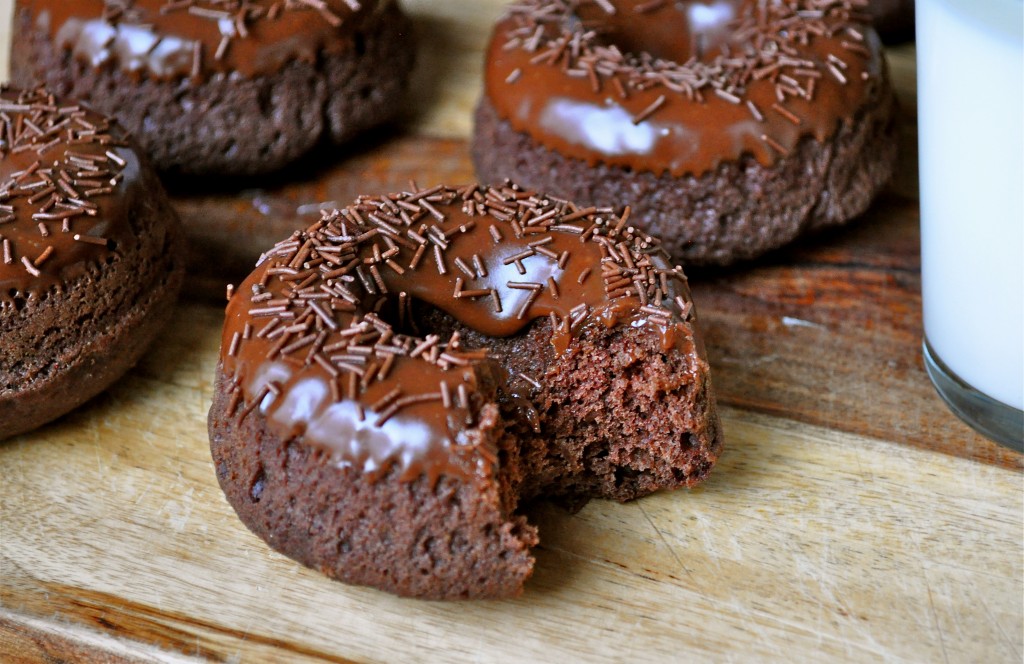 Double Chocolate Baked Doughnuts
Makes six doughnuts. If you don't have a doughnut pan, you could make these into muffins (you'll have to bake them a bit longer), but that really wouldn't be as much fun, in my opinion. 
For the doughnuts (adapted from Food Family Finds):
1 cup all-purpose flour
¼ cup + 2 TBSP. granulated sugar
¼ cup cocoa powder
½ tsp. baking powder
½ tsp. baking soda
½ tsp. salt
¼ cup + 3 TBSP. milk
1 egg, beaten
½ tsp. vanilla
1 TBSP. unsalted butter, melted
For the glaze (from my fried doughnut recipe):
2 TBSP. unsalted butter
1 TBSP. milk
1 tsp. honey
1/2 tsp. vanilla
1 ounce semi-sweet chocolate, chopped
2/3 cup icing sugar, sifted
Sprinkles!
Preheat the oven to 325°F. Spray a 6-count doughnut pan with non-stick spray. Set aside.
For the doughnuts: In a medium bowl, sift the dry ingredients together. In a separate bowl, combine the wet ingredients. Add the wet ingredients to the dry ingredients and stir until just combined. The batter will be very thick. Divide the batter between the six doughnut cavities (each should be about 3/4 full). I recommend piping the batter into the cavities. Bake for about 12 minutes or until a toothpick inserted into one of the doughnuts comes out clean. Allow the doughnuts to cool in the pan for a few minutes and then invert them onto a cooling rack.
For the glaze, combine the butter, milk, honey, and vanilla in a small saucepan over medium heat. Once the butter has melted, add in the chocolate and whisk until smooth. Remove from heat and add the icing sugar, stirring until combined. Dip the cooled doughnuts into the glaze and cover with chocolate sprinkles. Enjoy immediately! Leftovers can be stored in an airtight container for a couple of days.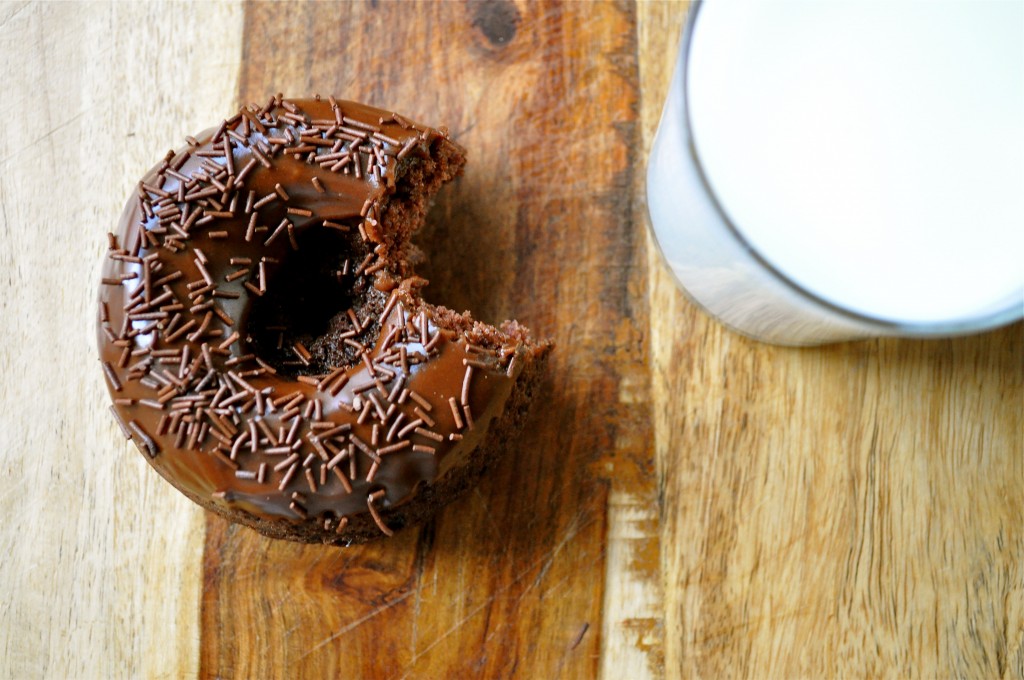 Looking for more baked doughnut inspiration?
I highly recommend these baked cinnamon sugar doughnuts by Shutterbean (seriously amazing) and these blueberry doughnuts with lemon and cream cheese glaze (yes please!) by Hungry Girl Por Vida. Bomb. If that doesn't inspire you to buy a doughnut pan, I don't know what will. Have a great weekend!