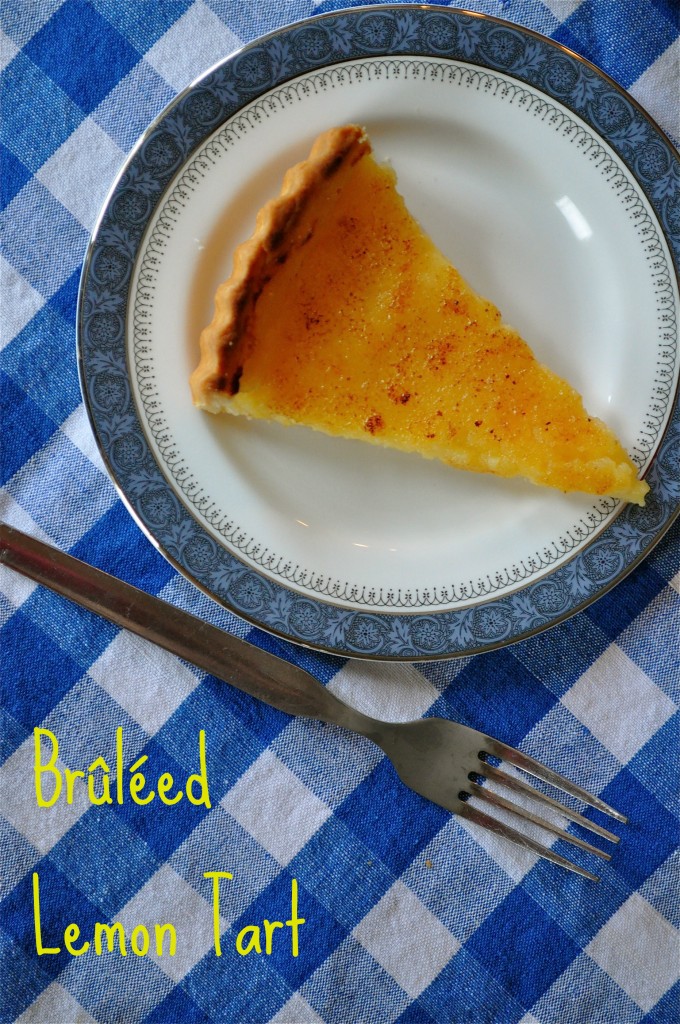 Ladies and gentlemen, behold one of the most fabulous things I have ever baked and eaten. The brûléed lemon tart.
I think I may have just made that word up: brûléed. I'm rather certain that brûlée is a noun and that I just used it as a verb. Wait, is that right? Suddenly, I am having difficulty recalling the basics of English grammar. But I don't care. It sounds kinda catchy.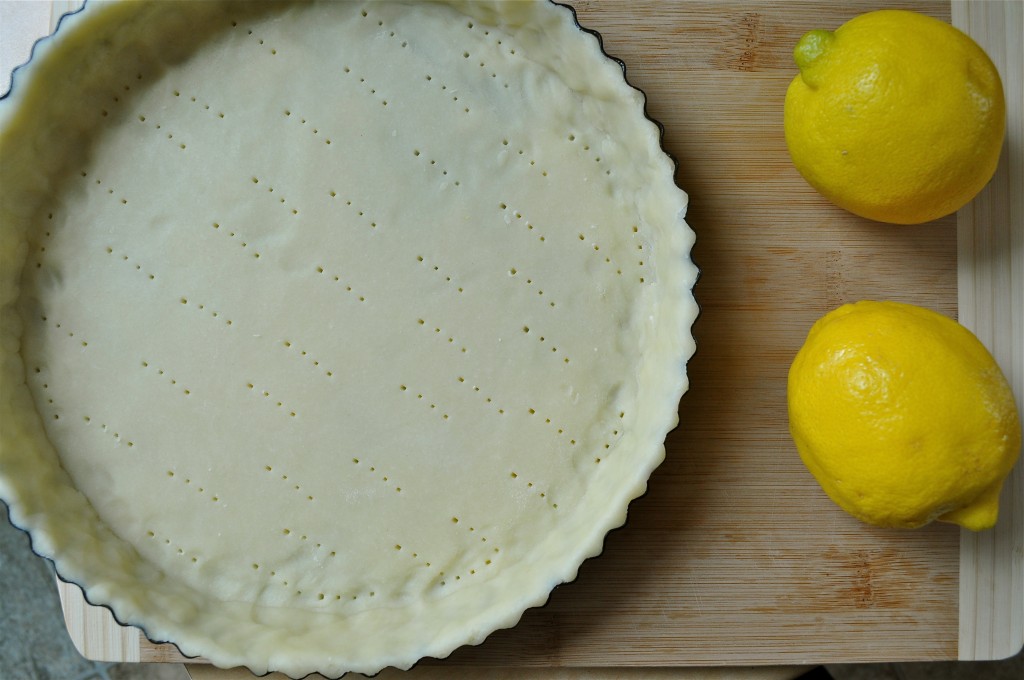 And this tart is pretty damn catchy. As in, you'll want to catch it in your mouth because it's damn delicious.
My apologies, the words aren't exactly flowing well at the moment. My mind is a bit preoccupied with the fact that in less than 24 hours, I will be on a plane en route to Hawaii, where I will enjoy two weeks of uninterrupted bliss with some very fun people. My body is here, but my brain is already in the sun, sand, and Mai Tais.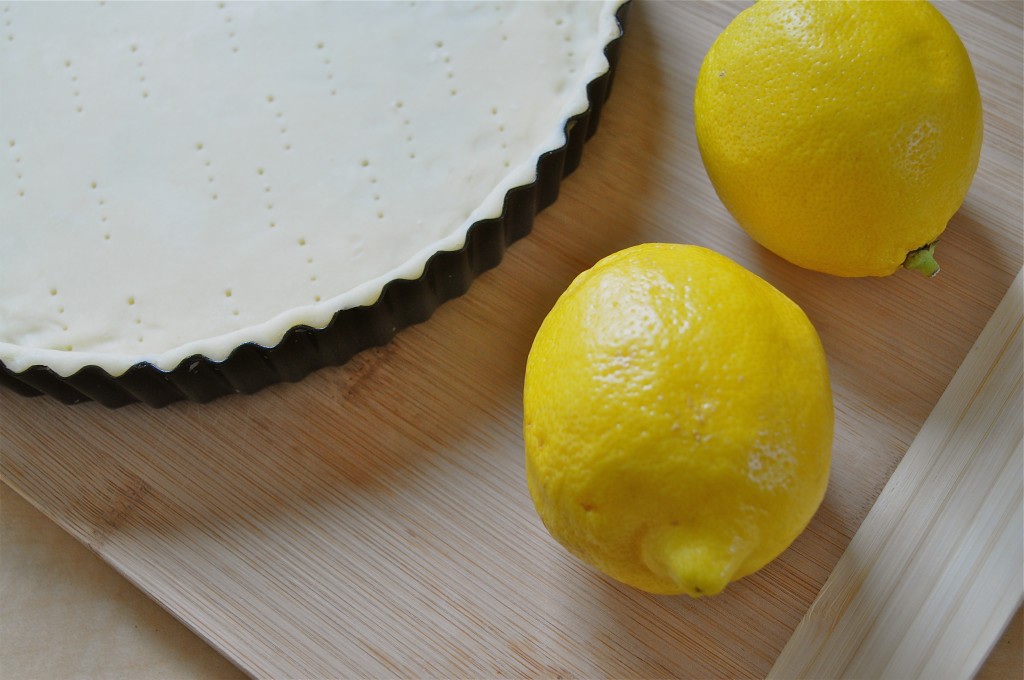 But before I go, I must share this tart with you. It may look simple, but it is rather magnificent. A buttery shortbread crust filled with a sweet/tart creamy lemon filling, topped with a sugar crust akin to the one you'd find atop another delectable dessert, crème brûlée. I first made this tart last summer for my mom's birthday. I topped it with blackberries. It received rave reviews. I made it again as part of the rather gluttonous Easter Feaster a couple of weeks ago, and it did not survive the Easter Feaster table.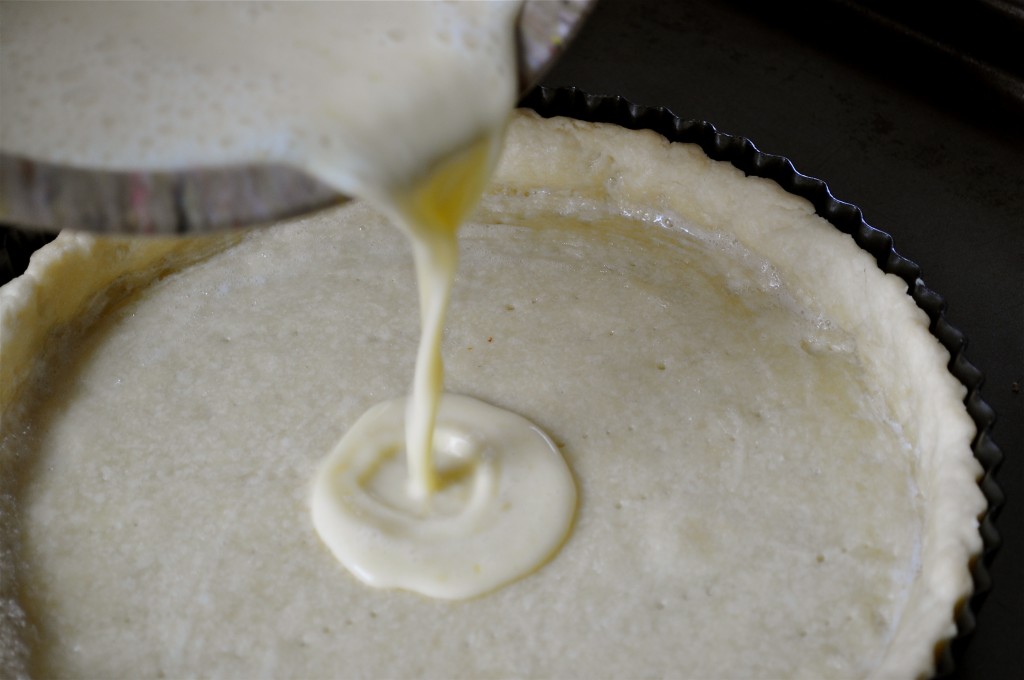 If you've never made a tart before, fear not. It's ridiculously simple. The crust comes together in a flash in a food processor. After chilling out in the fridge for a couple of hours, it gets rolled out and pressed into a tart pan. Bake 'er up. Mix the filling ingredients together. Pour over crust. Bake again. Sprinkle with sugar. Torch it up. Badabing, badaboom.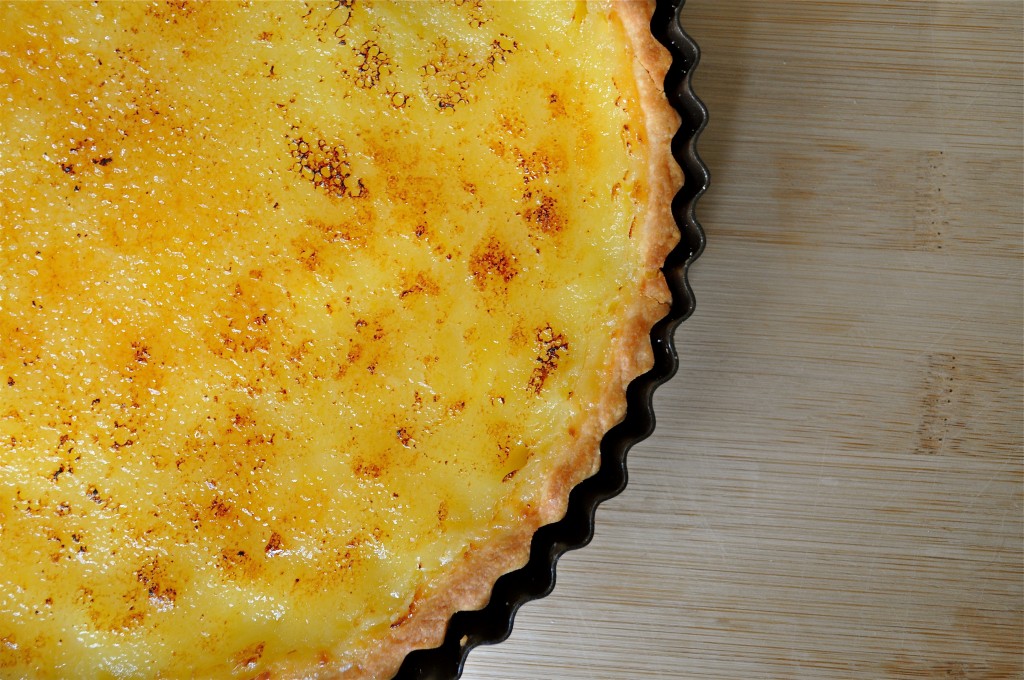 Despite the large quantities of cream, butter, sugar, and eggs in this recipe, the end result is surprisingly light. And this tart comes with a guarantee: It will not survive more than 24 hours. You have been warned. Either invite some friends over or be prepared to eat this thing until it's gone. No judgment here if you choose the latter.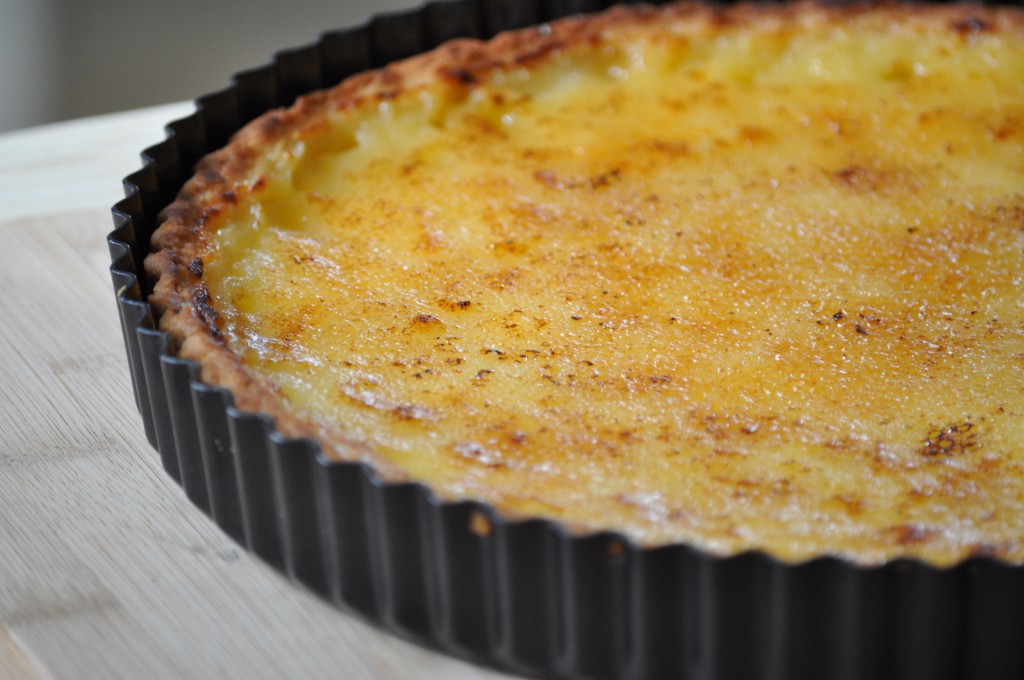 A quick note: I will be spending the next two weeks in paradise, and while I would love to promise that I will update the blog a time or two, if the Mai Tais and Pina Coladas are calling to me, I'm not going to ignore them. However, I can guarantee that I will be sharing tidbits from my adventures on Instagram and Twitter, so follow me there if you're so inclined. The adventures will include a visit here. Have a fabulous couple of weeks, friends! xo.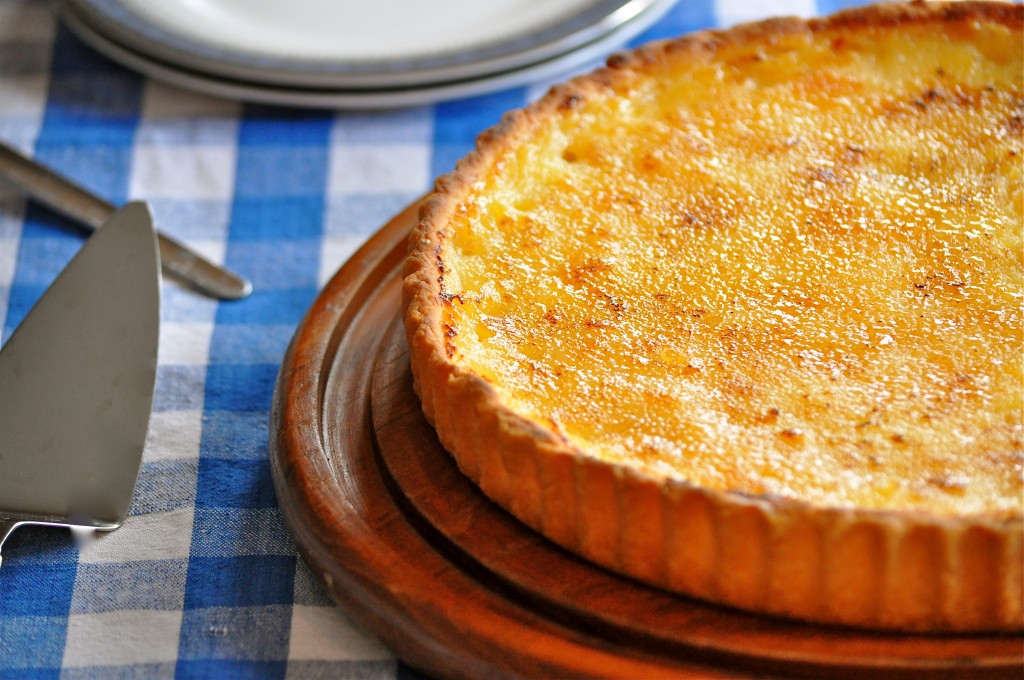 Brûléed Lemon Tart (from Epicurious, originally printed in Bon Appétit, April 2004)
Makes one 10-inch tart. Feel free to jazz up the finished product with fresh fruit, such as blackberries or blueberries. With that said, it's just as delicious without any additions. 
For the crust:
1 cup all-purpose flour
1/4 cup icing sugar
Pinch of salt
6 TBSP. unsalted butter, cold and cut into cubes
6 tsp. whipping cream
For the filling:
3/4 cup + 2 TBSP. sugar, divided
3/4 cup whipping cream
4 egg yolks (reserve one egg white)
2 whole eggs
Juice + zest from 2 large lemons (about 1/2 cup juice + 1 TBSP. zest)
For the crust: Combine the flour, icing sugar, and salt in a food processor and pulse for a few seconds until blended. Add the butter and pulse until the mixture looks like coarse meal. Add the whipping cream and blend until moist clumps form. If the dough is too dry, add more whipping cream one teaspoon at a time. Gather the dough into a ball, flatten into a disc, and then wrap in plastic wrap and refrigerate for two hours.
Preheat the oven to 350°F. Remove the dough from the fridge and roll out onto a floured surface. I used a 10-inch tart pan with a removable bottom, but a 9-inch tart pan would work fine too. Roll the dough thin enough to cover the bottom of the pan and create double-thick sides. Press into the tart pan. Poke the bottom of the tart shell all over with a fork. Bake for 18 minutes. Brush the inside of the tart shell with the reserved beaten egg white. Maintain the oven temperature.
For the filling: Combine the 3/4 cup sugar, whipping cream, egg yolks, eggs, and lemon juice and zest in a large bowl and whisk together until combined. Pour the filling into the warm tart shell and return to the oven. Bake for 30-35 minutes, or until the filling is slightly puffed at the edges and set in the center. Cool for about an hour.
Sprinkle the remaining 2 TBSP. of sugar over the filling. Use a kitchen torch to caramelize the sugar, as if you were making crème brûlée. If you do not have a kitchen torch, you can use your broiler to achieve a similar effect. Be very careful, checking the tart after a minute or two, and turning the pan for even browning. It may also be wise to cover the edges of the crust with tin foil to prevent the crust from getting too brown. Allow the tart to cool for another hour, until the topping is crisp. Slice and serve!