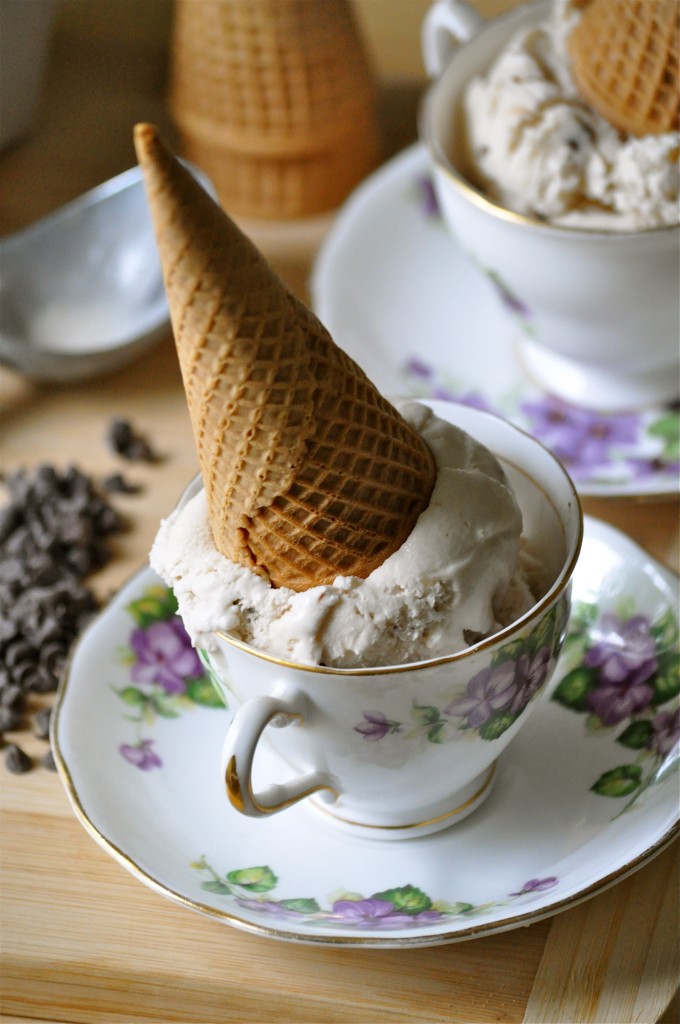 Well ahoy there, friends! Pardon my absence – I have been without Internet access for the past while. Looonnnggg story. But tonight finds me stationed at a coffee shop, a ginormous green tea lemonade by my side, and free access to the Interwebs. Huzzah!
I have decided that I need to do this more often – not for the free Internet – but for the sake of quiet and the absence of distractions. It is nice to come to a place and just sit and write, without leaping up every five minutes to fetch Bella's ball for her, change the load of laundry, or feel the urge to turn the TV for background noise. Perhaps it will become a regular event.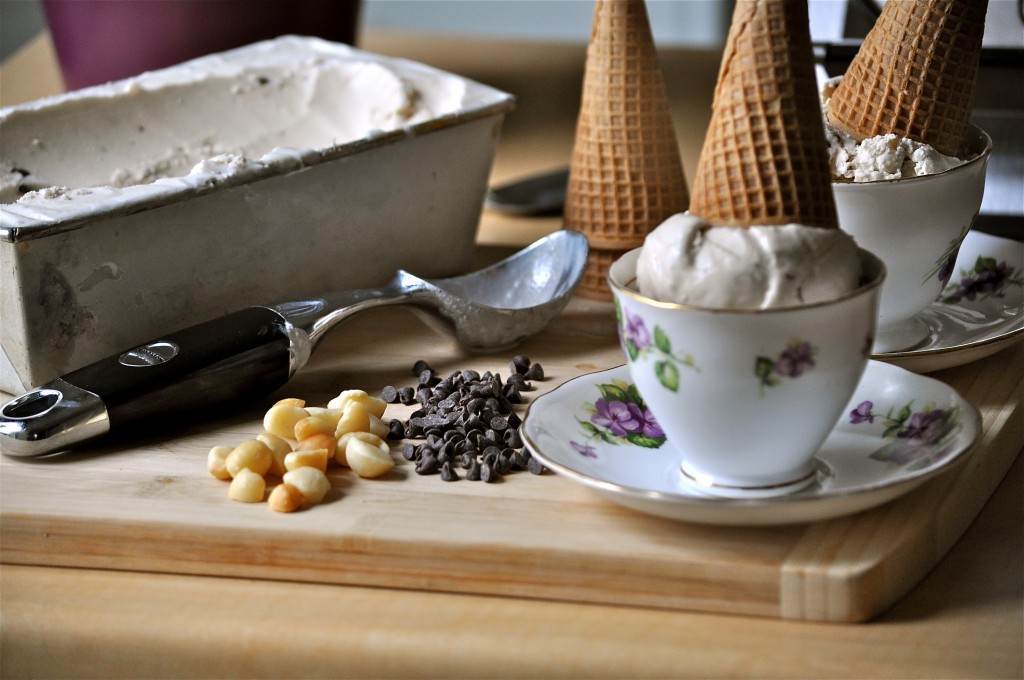 However, let's get back to the food. I have to be honest. I've had a few busts in the kitchen lately. I'm a believer in only sharing food and recipes that I really love, and that I think you'll love too, and I have not been churning many winners out of my kitchen lately. A big part of that has been a result of a busy schedule, and the fact that I typically have time to make one big pot of something that I feast on throughout the week. Day 5 leftovers = not my favorite thing.
Despite my lackluster kitchen efforts, I did manage to get around to dusting off my ice cream maker this past weekend and made the first batch of ice cream of the season. And I had to share.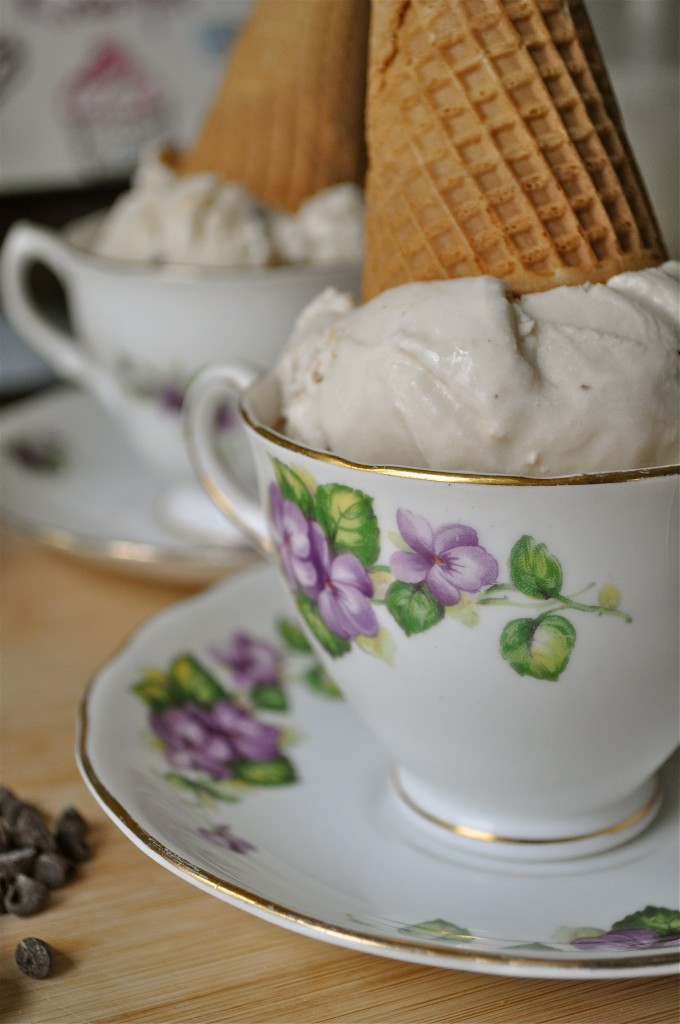 Almost a month has passed since Dana first shared her Coffee Coconut Ice Cream recipe. I immediately bookmarked it. However, I bookmark a lot of recipes, and sometimes things get lost in the shuffle, despite my good intentions. Thankfully, I follow a few great food blogs (read: several hundred…) and occasionally the same recipe will have caught another blogger's eye, prompting them to post the recipe (or their version of it), which then gives me a nice little reminder about that bookmark I made. Ahh, the circle of life blogging. It's totally a thing.
So…when the lovely Clara re-posted Dana's recipe last week, I knew I had to take it as a sign from the food gods that I was intended to make this ice cream. One should never ignore a sign from the food gods!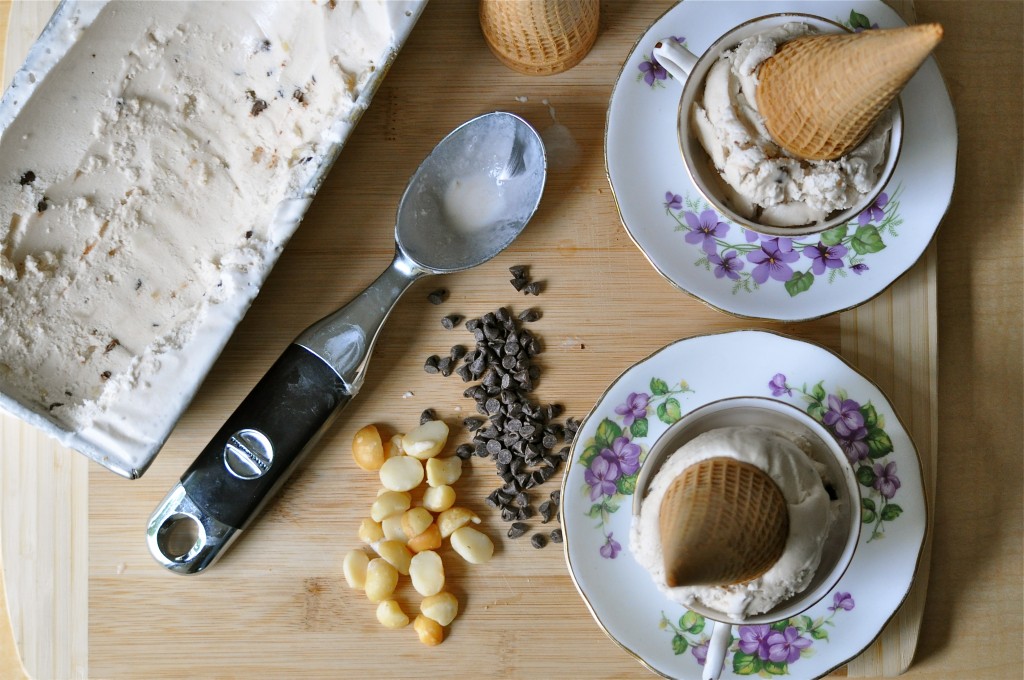 Oh goodness, am I ever glad that I listened. First of all, I changed up the recipe just a little. In place of the regular brewed coffee, I used the vanilla macadamia nut coffee that I brought back from Hawaii last month. I added a bit more vanilla, and then tossed in some toasted macadamia nuts and mini dark chocolate chips. This ice cream is vegan, peeps. That may be a selling feature for some (ie. Vegans, the dairy-intolerant, etc.). However, I can assure you that no one will ever know that it is. Oh, and surprisingly, the coconut flavor is not overwhelming. The creaminess is so deceiving, you'll think you're eating regular ice cream. It's vegan and deceivin'! (Yep, came up with that one all by myself…)
One more thing – if you don't already own an ice cream maker, you may want to change that. I was given mine as a gift, and to be honest, I never thought I would enjoy it as much as I do. The fact is, there's something rather lovely about homemade ice cream, and it's darn easy to make too. I declare Summer 2013 as the season of ice cream adventure!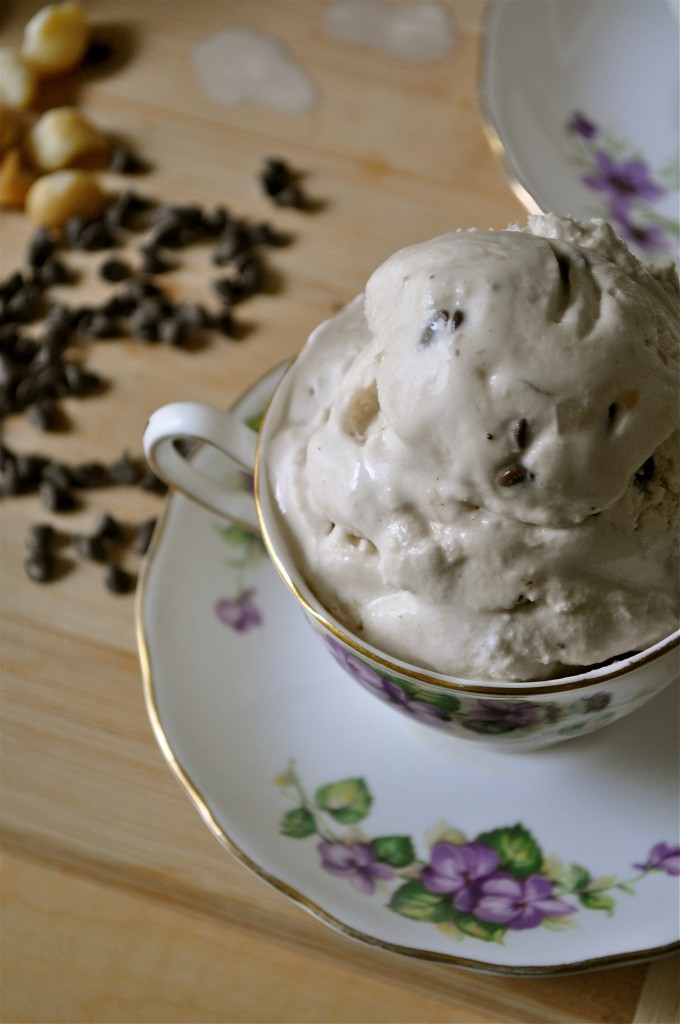 Vanilla Macadamia Nut Coffee Coconut Ice Cream (adapted from Minimalist Baker)
Makes about 1.5 quarts. Feel free to experiment with different flavors of coffee, if you're so inclined. Change up the add-ins too! And use premium quality coconut milk, if possible. It will make a big difference. 
2 cans full-fat coconut milk
¾ cup brewed coffee (I used vanilla macadamia nut coffee)
¾ cup sugar
2 tsp. vanilla
¾ cup toasted and chopped macadamia nuts
½ cup mini dark chocolate chips
Combine the coconut milk, coffee, and sugar in a saucepan over medium heat. Stir until the sugar dissolves, about 5 minutes. Remove from heat and add in the vanilla. Transfer the mixture to a bowl, cover and refrigerate until well chilled (at least 6 hours or overnight). Churn in your ice cream maker (according to manufacturer's instructions). Mine took about 25 minutes. Fold in the macadamia nuts and chocolate chips. Transfer to a Tupperware container (or loaf pan!) and cover with plastic wrap. Allow the plastic wrap to touch the surface of the ice cream, as this will help prevent ice crystals from forming. Freeze for at least 4 hours. Scoop and serve!