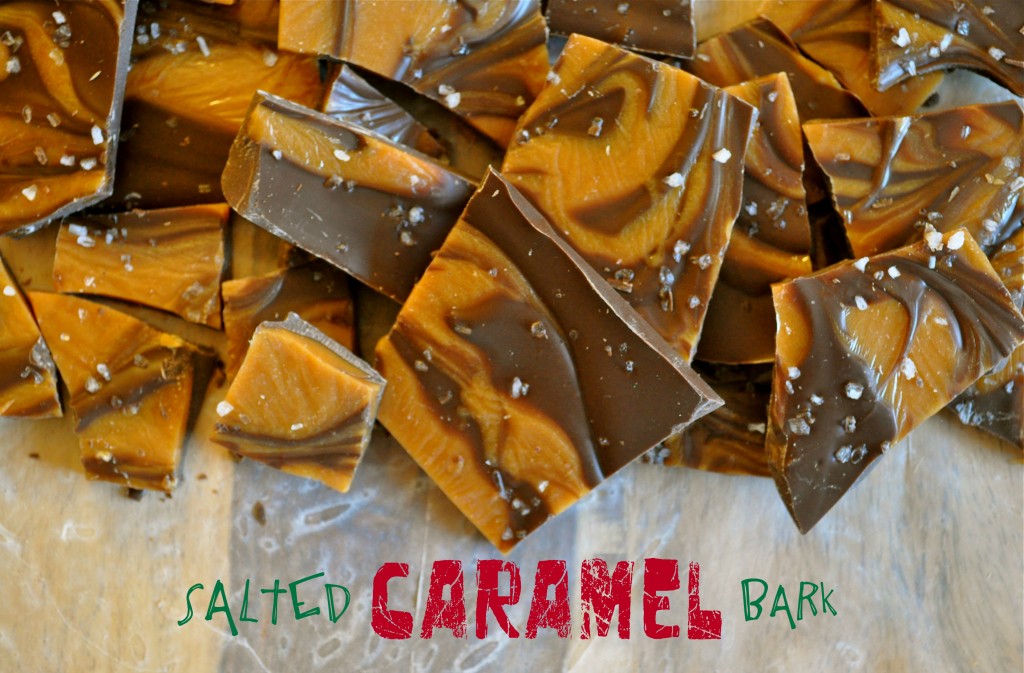 Bonjour friends!
The Christmas Countdown is on! Only two more days to go until the big day is here.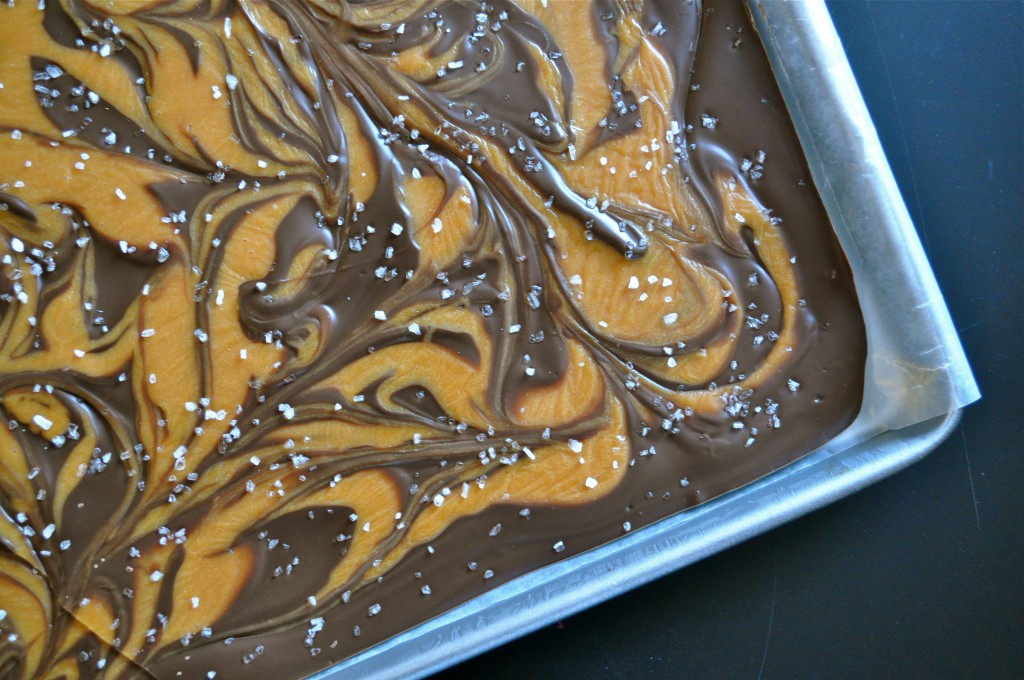 Are you ready? Is your house all decorated nice? Have all of your presents been wrapped and placed under the tree with care? Do you have your Christmas menu planned? Is your holiday baking finished? Are you sitting by the fire relaxing with a rum and 'nog, basking in relaxation? Or are you scrambling around trying to buy and wrap and bake all the things?
Never fear, I'm here to help! I've got a last minute gift idea for you. And it can be made and wrapped up in less than an hour.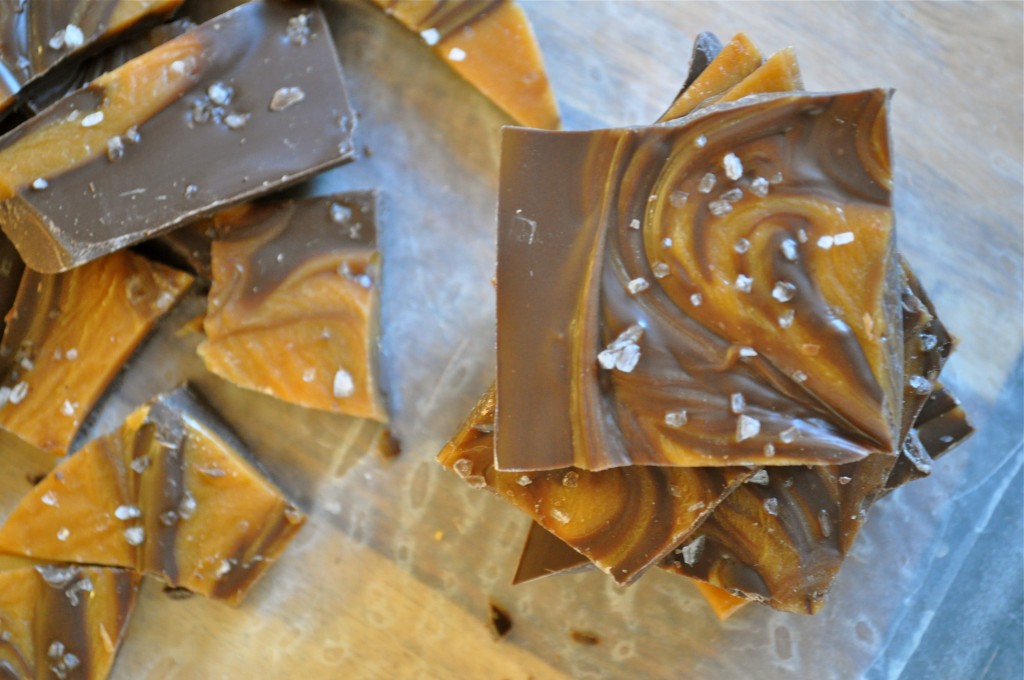 Three ingredients. Chocolate. Caramel. Sea salt. Boom! Delicious.
Chocolate gets melted and spread on a cookie sheet. Caramel gets drizzled on top. A little sea salt sprinkle, 15 minutes in the freezer to set, and salted caramel bark is born! Break it up, tie it up with ribbon in little gift bags and it's ready for gifting! Or you can totes just eat it yourself. It will be extremely difficult not to.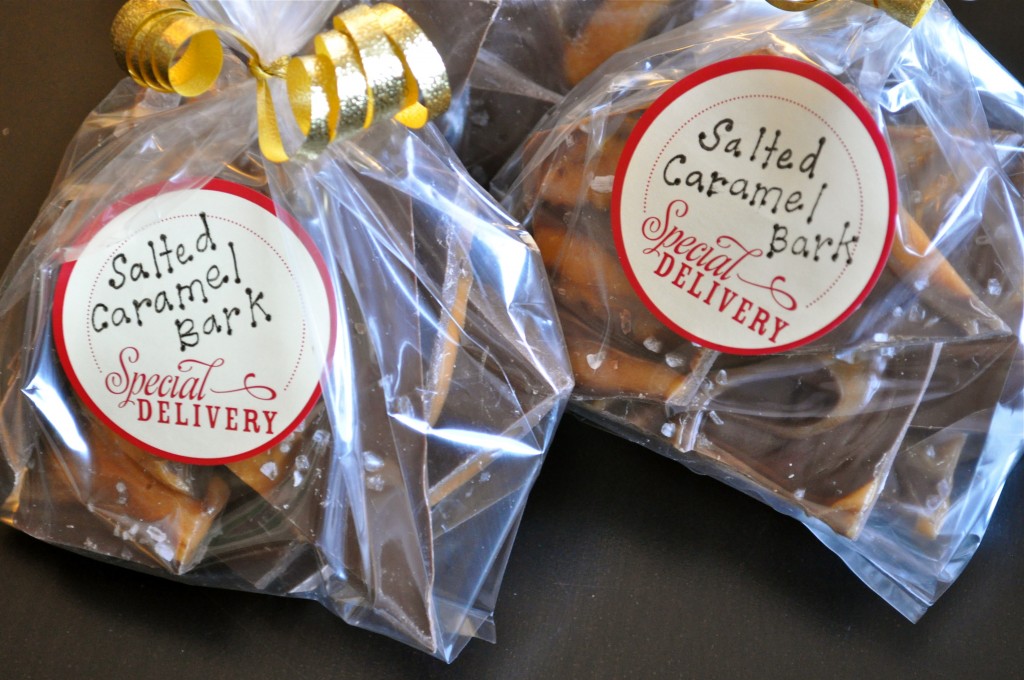 Salted Caramel Bark
You can use the chocolate of your choice in this recipe. I used chocolate wafers found in the bulk section of my local grocery store. Feel free to use higher quality chocolate; however, it tastes pretty darn good when you use the cheap stuff. 
12 oz. (~2 heaping cups) dark chocolate
12 oz. (~2 heaping cups) milk chocolate
12 oz. Kraft caramels
Coarse ground sea salt (~2 tsp.)
Cover a 9 x 13″ baking sheet with wax paper. Melt the chocolate in a double boiler. Place the caramels in a microwave safe bowl with 2 TBSP. water. Microwave for 1 minute, stir, then microwave in 30-second intervals until fully melted and smooth. Spread the chocolate onto the baking sheet evenly. Drop spoonfuls of the caramel over the chocolate and then swirl with a knife. Sprinkle liberally with the coarse ground sea salt. Place the baking sheet in the freezer for 15 minutes, or until set. Break up into pieces.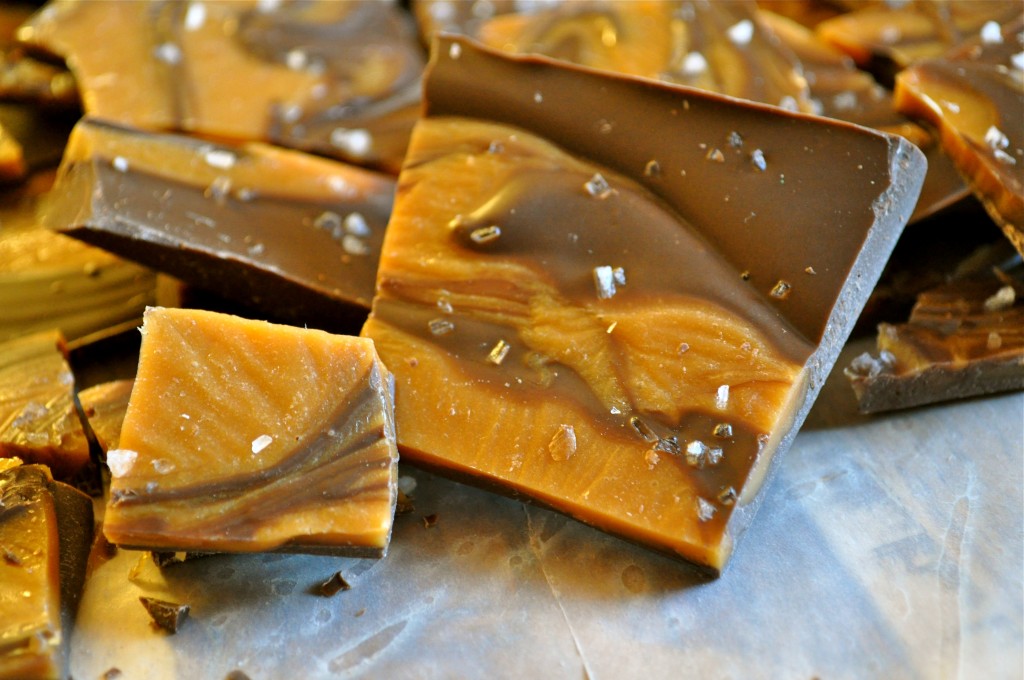 If you're looking for other easy homemade gift ideas, look no further! Check out Christmas Crack, Lemon Butter, or this long-ago post with other last-minute holiday gift ideas.