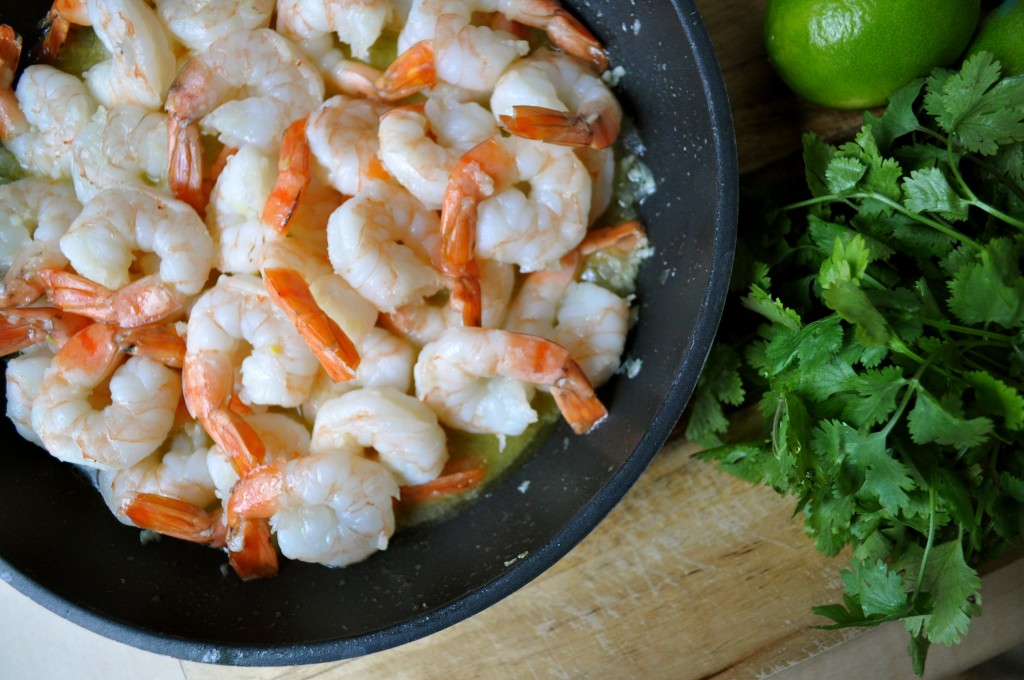 Despite the fact that all of the holiday parties are over, it is important to have a few recipes on the ready so that you're always in a position to entertain your friends. (Happy bellies = happy friends). It's kind of a shame that we smush all of these wonderful parties/gatherings into the weeks surrounding Christmas and New Year's Eve, no? I mean, it makes for a lot of partying and eating and drinking to do in a short amount of time. Forget the Freshman Fifteen. Hello Christmas Fifteen. Why not spread it out a little?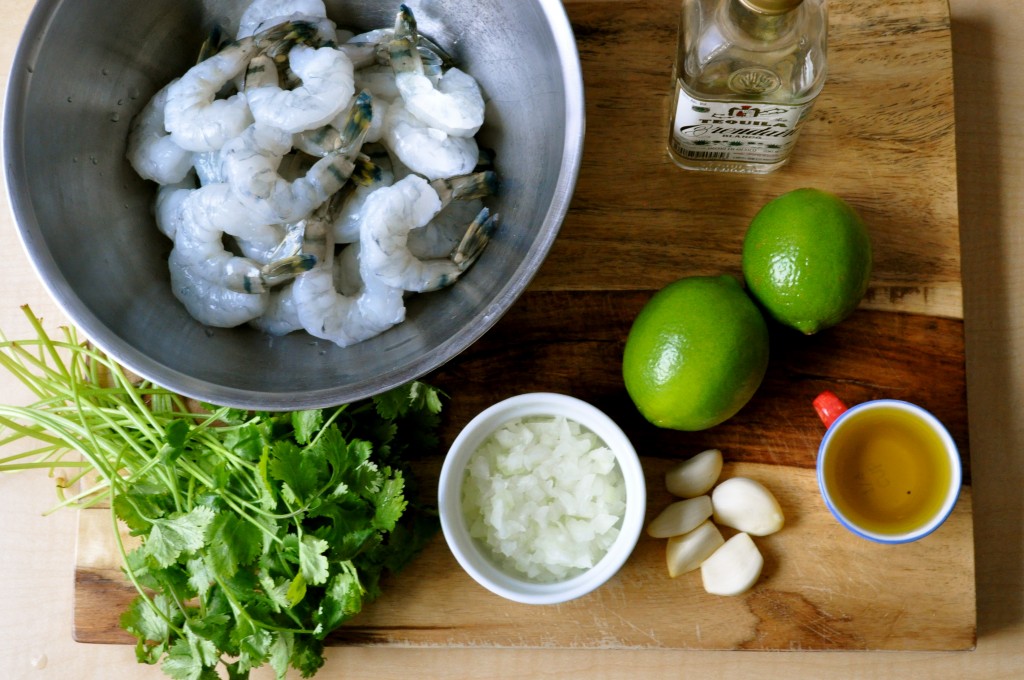 Friends, I propose that we create a new holiday. Something to get us through the rest of the winter. January and February are such dreary months! Post-holiday lows combined with cold, dark days. It's all a bit depressing if you ask me. What shall we call our new holiday?
…I am drawing a blank, but one thing I can be sure of is that it must involve lots of good food and beverages. Presents can be optional.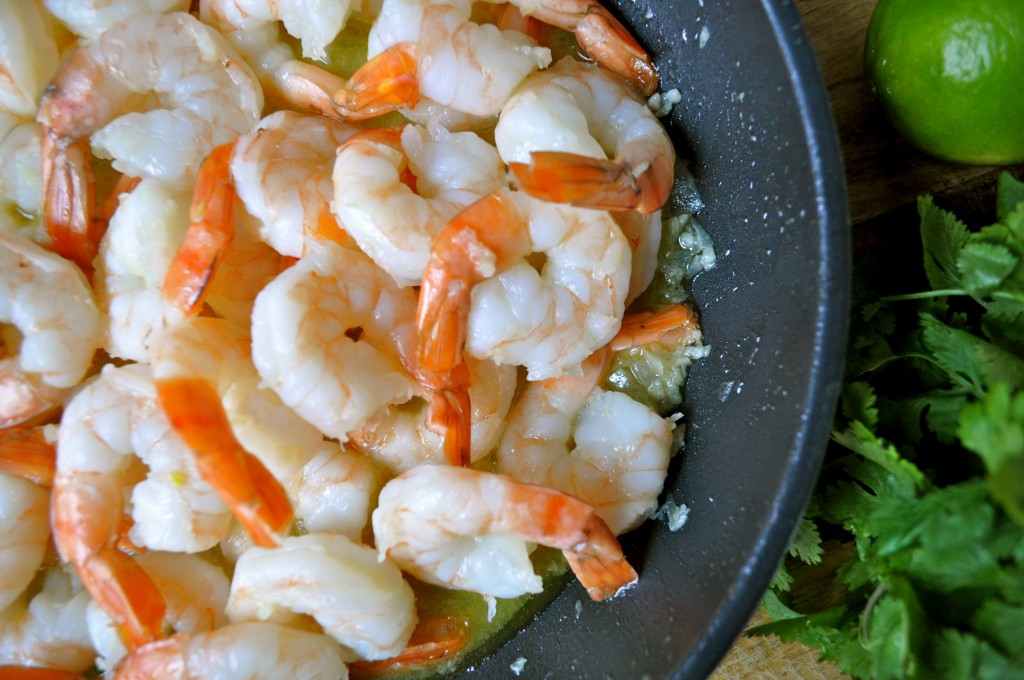 And these tequila shrimp will be a must-serve item. I mean, come on – jumbo shrimp combined with tequila, lime, and cilantro? It's like a shrimp marrying a margarita and having delicious babies. It's super simple to create too. Sauté your shrimp with some onion, garlic, and tequila – all of which can be done in advance, no less – and then serve with cilantro, lime, and salt. In a jumbo martini glass (optional – see below). I made these tequila shrimp for a holiday party I hosted a few weeks ago and they were completely annihilated. Fancy pants without being finicky or stressful. Winning! Happy…Partymus!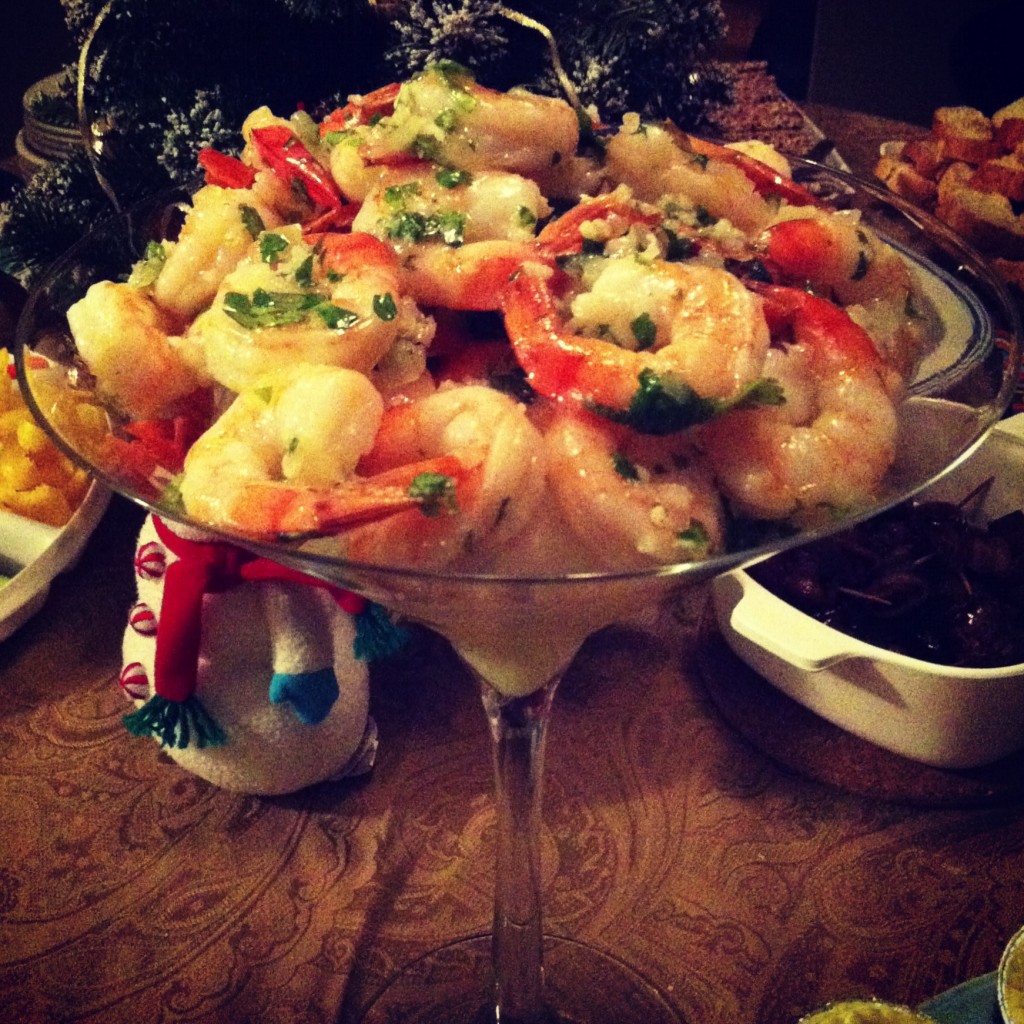 Tequila Shrimp
1/4 cup finely chopped onion
5 cloves garlic, minced
1/4 cup olive oil
2 pounds fresh shrimp, peeled and tails on (~40 large shrimp)
1/4 cup tequila
1/4 cup freshly squeezed lime juice
1/8-1/4 tsp. salt (to taste)
2 TBSP. cilantro, chopped
Sauté the onion and garlic in olive oil over medium heat for about 3 minutes. Add the tequila and the shrimp. Bring to a boil and cook, uncovered for 3-5 minutes, or until the shrimp are just pink. Refrigerate for at least two hours, or until ready to serve (up to 24 hours).
For the presentation: Combine the shrimp with the lime juice, salt, and cilantro. Toss together and serve over ice, preferably in an over-sized martini glass. Serve with cocktail sauce for dipping, if desired.
PS. While I've never tried it, I happen to think that this recipe could be turned into a rather amazing entrée. Add the lime juice, salt, and cilantro while the shrimp are still warm, and serve over freshly cooked angel hair pasta. Throw in some asparagus (or your favorite vegetable) to round out the meal. Does that sound lip-smacking good or what?