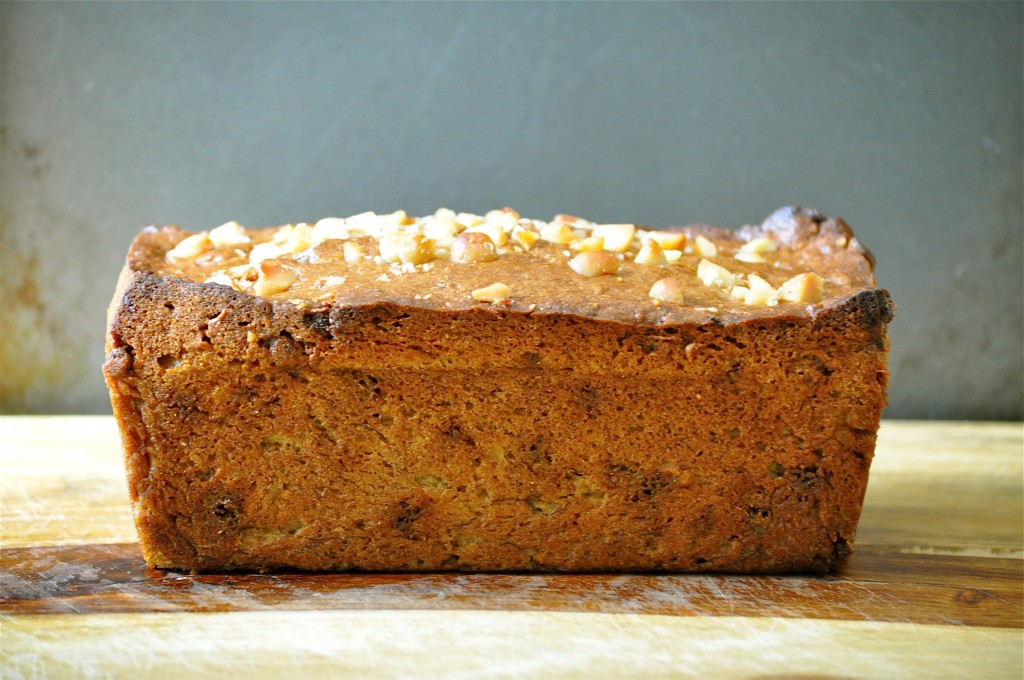 Well friends, here we are, another Monday. The furthest day of the week from the beloved weekend. As such, Mondays seem to have a bit of a bad reputation. I mean, how many times have you heaved a big sigh on Sunday night and said/thought "Ugh, it's Monday tomorrow"?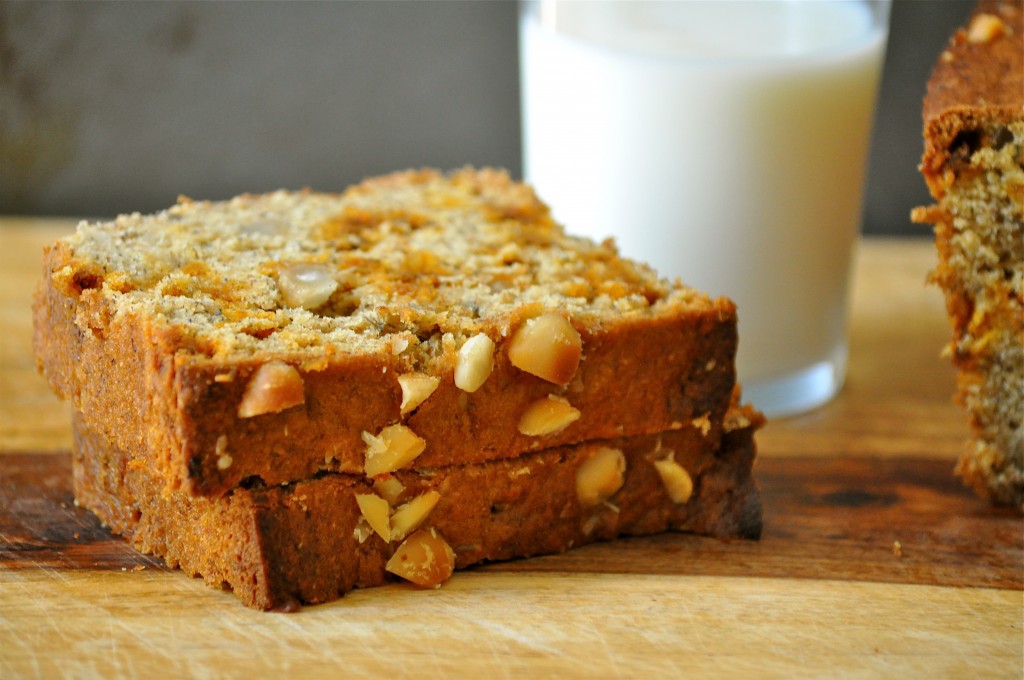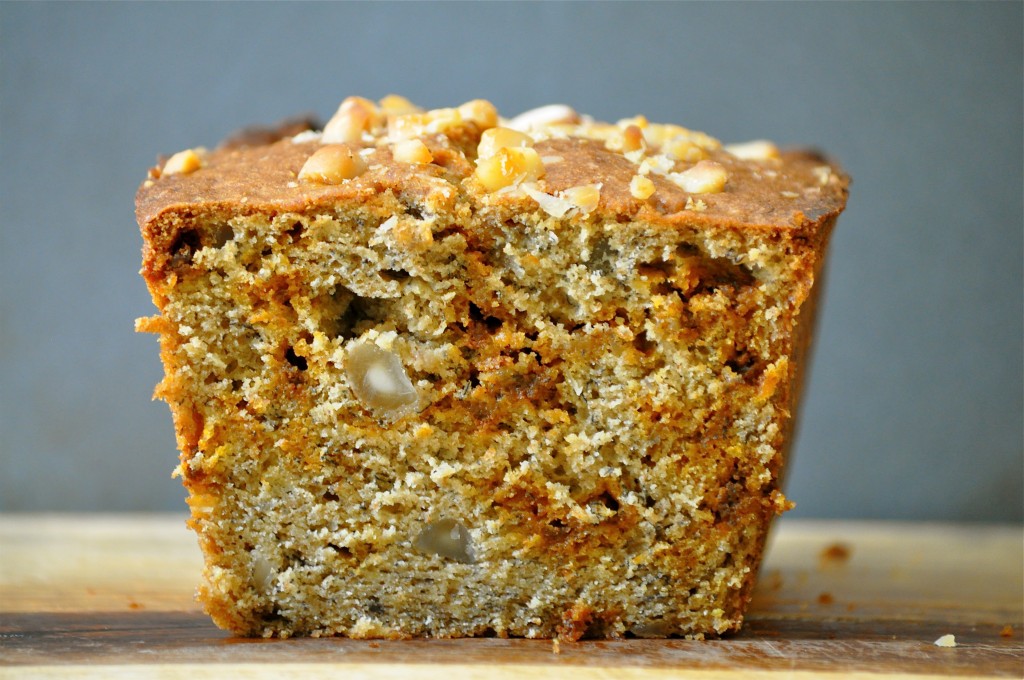 But Mondays aren't all bad. For one thing, you're probably more likely to be well-rested on a Monday, given that it follows the weekend and most people are able to sleep in and relax a bit more. On Mondays, you have the whole week ahead of you – it's yours for the taking! So spruce it up a bit – make some plans with friends to enjoy a patio beverage, plan to try that yoga/crossfit/pilates class that you've been meaning to get to, kick back and relax with a glass of wine and a good book – and enjoy the day. You might also wish to make this little diddy of a banana bread.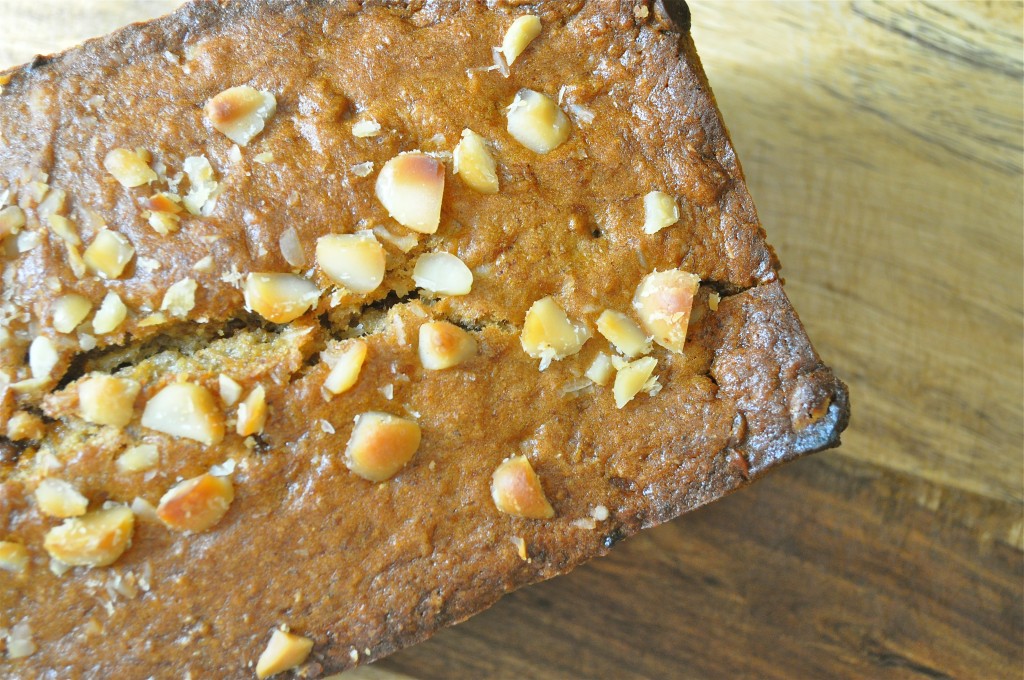 First of all, browning butter has become a bit of a trend. And it's popular for good reason – browning the butter adds depth to the flavor of the bread – it's kind of nutty and definitely insanely delicious. Try it once and you'll be hooked. Secondly, I've added macadamia nuts and cinnamon chips. As I mentioned before, I brought home a sweet little stash of macadamia nuts from Hawaii back in April. I took a bus tour of the Road to Hana during my trip and one of the stops was a little roadside food store that sold fresh coconuts (remember this?), pineapple, banana bread, and other treats. I bought a loaf of the macadamia nut banana bread, which inspired me to add some macadamia nuts to this recipe. Cinnamon chips are a fun addition and create little pockets of cinnamon goodness in each bite. Cinnamon chips are something that I haven't been able to find here at home, but I brought home a couple of bags from the same trip. They seem to be easy to find in grocery stores in the United States (in the baking section right next to the chocolate chips). If you can't find cinnamon chips where you are, add a little cinnamon flavor to the loaf with one teaspoon of the stuff.
A warm slice of this banana bread is certain to make your Monday better. That's a guarantee. Make it, eat it, share it. Let's start this week off right!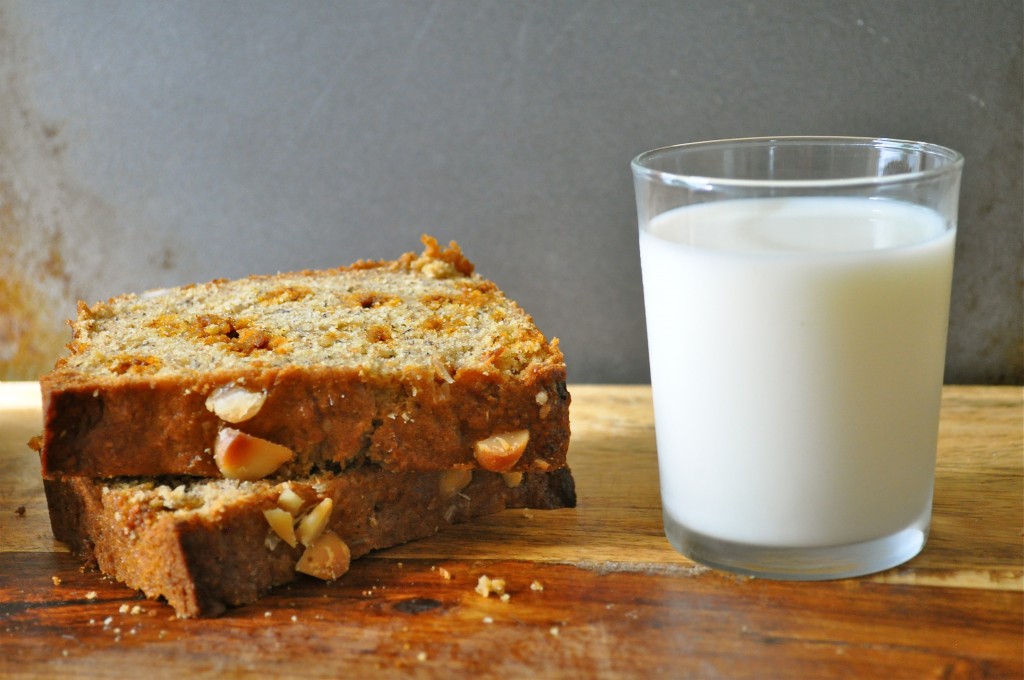 Browned Butter Macadamia Nut and Cinnamon Chip Banana Bread (inspired by Joy the Baker)
Makes one 9×5-inch loaf. 
1/2 cup (1 stick) of butter, browned
1 cup all-purpose flour
1 cup whole wheat flour
3/4 cup brown sugar
1 tsp. baking soda
1/2 tsp. salt
2 large eggs
1 tsp. vanilla
1/4 cup buttermilk (or plain yogurt)
3 large ripe bananas, mashed
1/2 cup macadamia nuts, roughly chopped
1/2 cup cinnamon chips (or 1 tsp. cinnamon)
Preheat the oven to 350°F. Coat a 9×5-inch loaf pan with non-stick spray.
Melt the butter in a small saucepan over medium heat. Swirl the pan as the butter cooks. The butter will foam and crackle, and then it will start to brown and smell nutty (this takes about 5 minutes). Remove from heat and set aside to cool.
Measure the flour, brown sugar, baking soda, and salt into a large bowl. Whisk to combine. In a separate bowl, combine the eggs, vanilla, buttermilk, and bananas. Add the cooled butter and mix well. Add the wet ingredients to the dry, and gently mix together. Fold in the macadamia nuts and cinnamon chips.
Transfer the batter to the loaf pan and gently smooth out. Bake for 50-60 minutes, or until a toothpick inserted into the center of the loaf comes out clean. Allow to cool on a wire rack. Slice and enjoy!