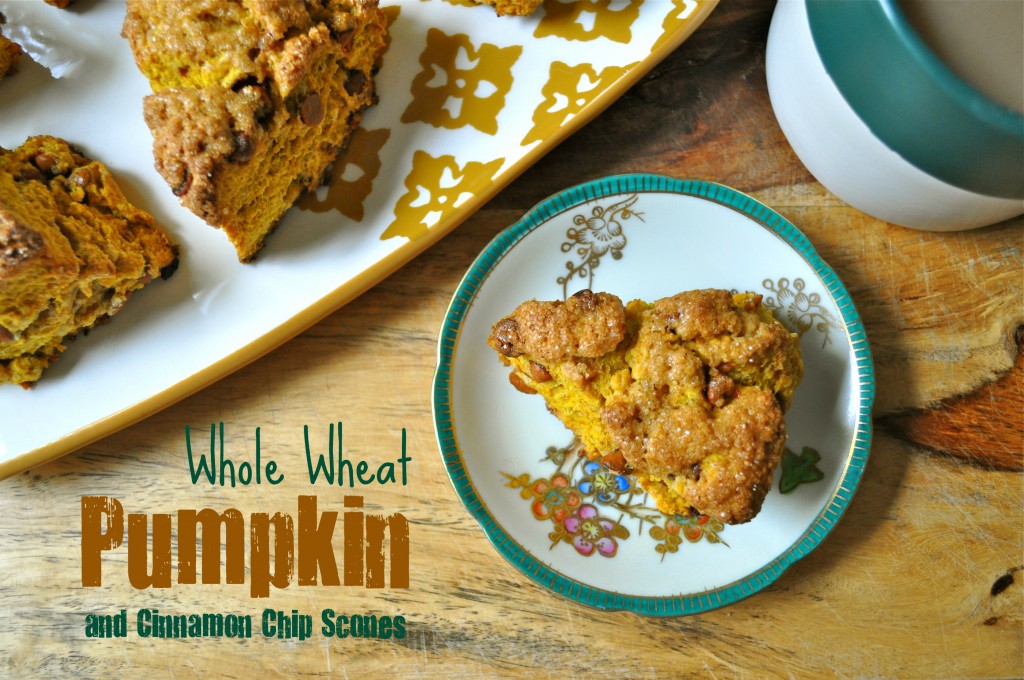 Please be warned: I am about to shove at least a couple of pumpkin recipes in your face in the coming weeks.
'Tis the season! Fall is in full bloom, yo! The colors, the crisp days, the pumpkin beer, the boots, the scarves, the pumpkin everything, even that dank, disgusting, wet leaves smell – I. Love. It. If only it could last forever. All in favor of replacing Winter with an extra-lengthy Fall, say I.
Iiiiiiiiiiiiiiiiiiiiiiiiiiiiiiiiiiiiiiiiiiiiiiiiiiiiiiiiiiiiii.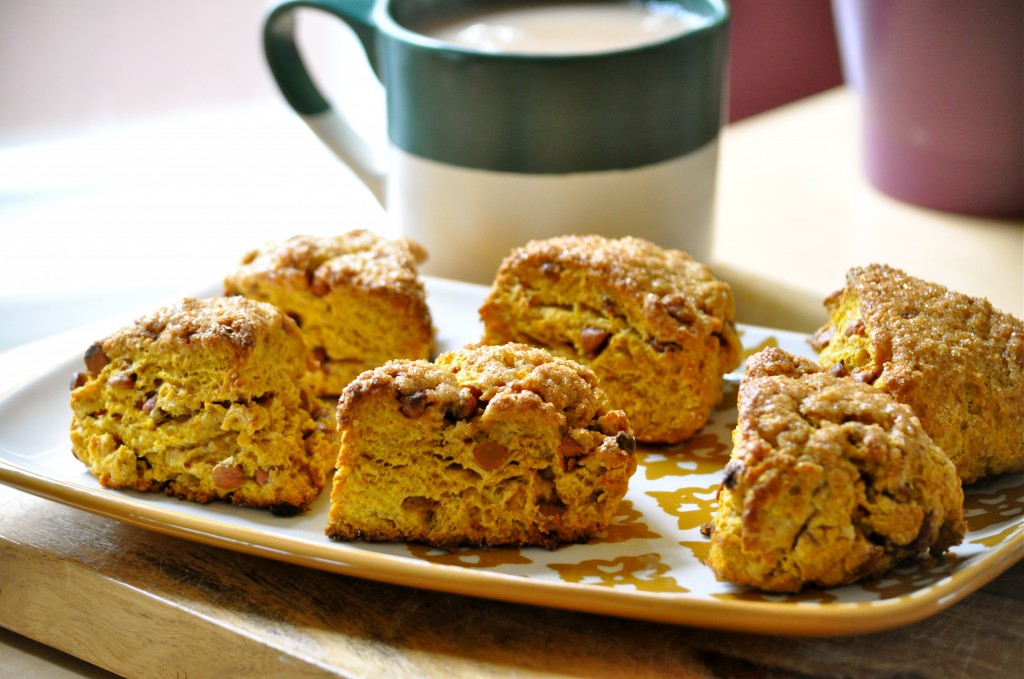 So, if you're not too sick of pumpkin yet (and I really hope you aren't), let's bake some pumpkin scones! Truth be told, I have never partaken in the delight that is a Starbucks pumpkin scone. Every year, many peoples be freaking out about the arrival of pumpkin spice lattes and pumpkin scones. But I can guarantee that you can make a far more delicious version of both at home.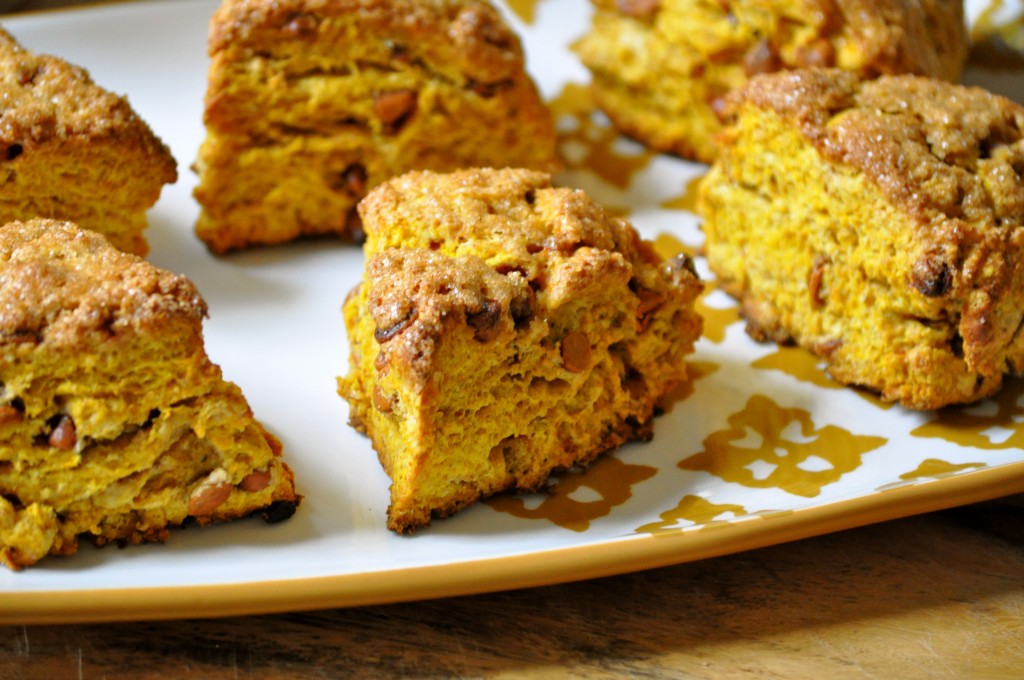 Let's start with the scones! We're going to add a little health with some whole wheat flour, and we're going to punch up the flavor with a hefty dose of spice and cinnamon chips. A generous sprinkling of raw cane sugar adds a lovely crunch to the tops of these scones. One of these little diddies alongside a cup of coffee or tea and you're living the good Fall life!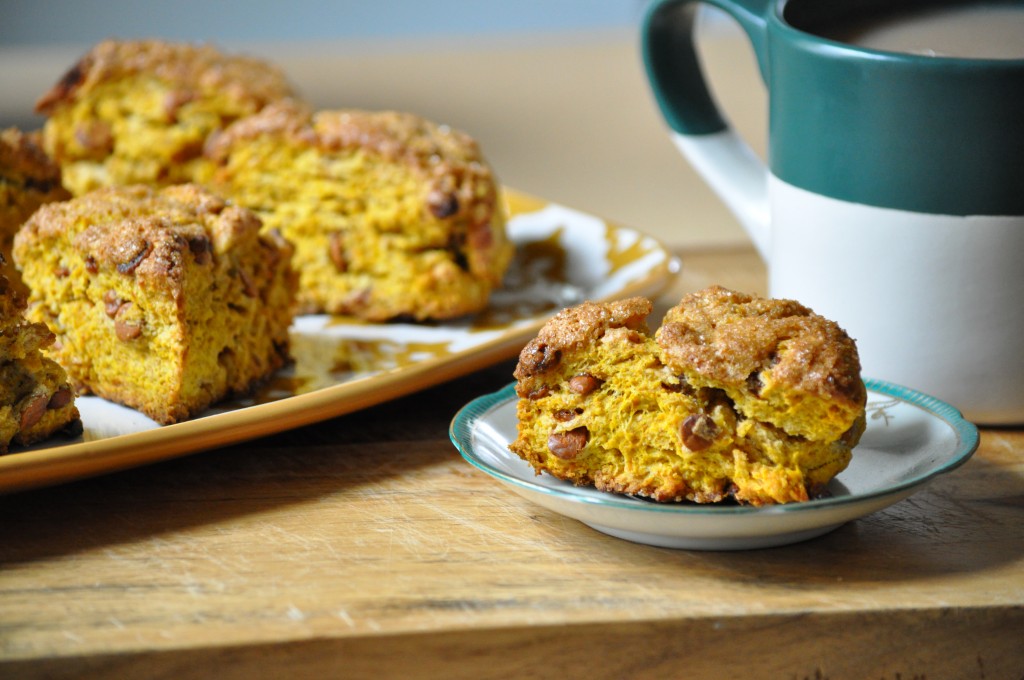 Whole Wheat Pumpkin and Cinnamon Chip Scones (adapted from King Arthur Flour)
Cinnamon chips can be found in most US grocery stores. Sadly, I have never found them in Canada (at least in Alberta), but pick up a couple of bags every time I visit the States. If you can't find cinnamon chips where you are, feel free to amp up the ground cinnamon in this recipe for a little extra cinnamon kick. The original recipe also suggests adding crystallized ginger pieces, either in place of, or alongside the cinnamon chips. However, I think the cinnamon chips really make 'em. 
1 1/2 cups all-purpose flour
1 1/4 cups whole wheat flour
1 TBSP. baking powder
3/4 tsp. salt
3/4 tsp. ground cinnamon
1/4 tsp. ground ginger
1/2 tsp. ground nutmeg
1/4 tsp. ground cloves
1/4 tsp. ground allspice
1/2 cup butter, cold
1 cup cinnamon chips
2/3 cup pure pumpkin
2 eggs
1 TBSP. milk
Raw cane sugar, for sprinkling
In a large bowl, combine the flours through to the spices. Whisk together until thoroughly mixed. Cut the butter into the dry ingredients until the mixture resembles a coarse meal. Stir in the cinnamon chips. In a smaller bowl, whisk together the pumpkin and the eggs. Add the pumpkin mixture to the dry ingredients and stir until it starts to come together. Turn the mixture out onto a floured surface and use your hands to bring everything together. Try not to overwork the dough.
Split the dough in half and form each half into a round disc, about 1 inch thick. Brush each disc with the milk and sprinkle generously with raw cane sugar. Cut each round into six equal pieces. Arrange all 12 pieces on a prepared cookie sheet, about an inch apart. Place the cookie sheet in the freezer, uncovered, for 30 minutes to thoroughly chill (this will help with rise and texture).
Preheat the oven to 425°F. Bake the scones for 22-24 minutes or until golden. Cool on a baking rack. Enjoy the scones warm, or store cooled scones in an airtight container for up to a few days. Typically scones taste best on the same day they are baked, but I liked these scones even better the second day. They're lovely with a cup of tea or coffee. Makes 12 scones.